Typical Bureaucracy: GAO Finds VA Created New Wait Times Problem To Fix Old Wait Times Problem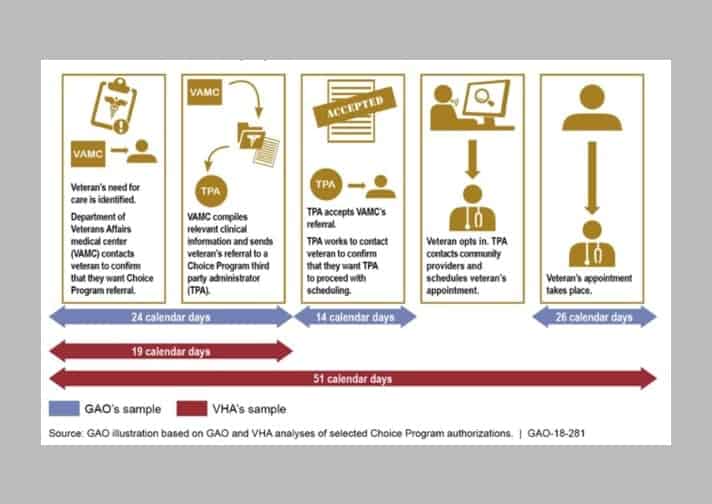 GAO just published its report following an audit into the Veterans Choice Program and how well that program has reduced wait times affecting veterans' timely access to needed or required health care. That report did not look good for veterans in need.
The audit found veterans frequently waited between 51 to 64 days for appointments with private sector doctors under the program. The lengthy approval and appointment set-up process can take as long as 70 days.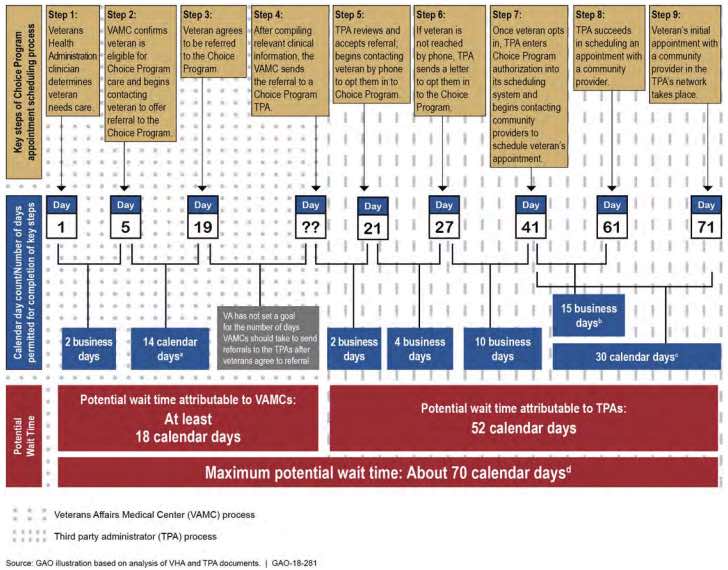 DOWNLOAD: GAO Veterans Choice Program Report
Let's remember the Veterans Choice Program was created in 2014 to resolve longer than allowed wait times beyond 30 days. So, instead of making sure veterans get to doctors quicker, the agency created a new layer of bureaucracy with additional needs for funding into the billions while not providing appointments within the timeframe sought.
Why bother? It is not much of a choice if you cannot get to the doctor in a timely fashion.
The 102-page GAO report published Monday of an audit of the Veterans Choice Program administration from April 2016 to May 2018. However, it seems to limit the actual appointment data to 2016 in its discussions meaning the facts as they sit now may be better or worse.
Right now, President Donald Trump has cleared the deck of many "Obama Holdovers" sited as being the reason why reforms were not coming quickly enough to the agency. Now that the deck is cleared, will Trump's team be able to expedite these appointments to finally fulfill what Congress intended four years ago?
It should. Congress just passed the VA Mission ACT to provide expansion of resources including funding for the initiative likely incorporating deficits addressed in the GAO report into a plan to address longstanding bureaucratic wrangling.
Map Of Third Party Administrators (TPA)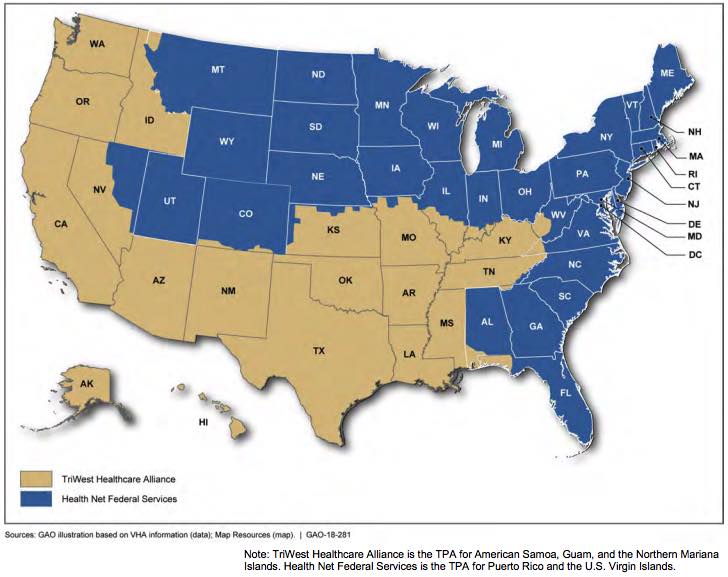 If you have experienced problems with wait times related to Veterans Choice, please let us know which TPA is responsible using the above GAO map: 1) TriWest or 2) Health Net. This image explains how the TPA referral process works.
If you have been reading this website for a while, you know I've written a time or two about both companies listed above. Here are a couple excerpts:
Senators have called on VA to intervene after Veterans Choice Program vendor Health Net failed to reform its practices to improve performance.
Centene subsidiary Health Net Federal Services is responsible for processing payments to community health care providers but severe delays have harmed the program. Eleven senators sent a letter to Secretary David Shulkin demanding VA take action last week saying they were "fed up" with how the company is managing its program.
"Our home state providers deserve better than the miserable customer service provided to them by Health Net, which appears to be devoting even less attention to the Choice Program as its expiration nears," the senators wrote.
"Moving forward, we expect VA to take immediate action to address our concerns so that the provider experience is improved," they added.
The company was recently admonished by the Office of Personnel Management's Office of Inspector General for not cooperating with investigators. The company refused to comply with requests to audit its IT systems.
TriWest will no longer schedule veterans for non-VA care as part of the government contractor's duties in the Veterans Choice Program. The move will result in VA employees again making appointments for Alaska veterans for non-VA appointments.
Veterans nationwide have complained about problems making appointments through TriWest. Alaska veterans will now be able to enjoy interfacing with VA employees again due to persistent failures that have led to numerous medical specialists outside VA refusing to care for veterans.
Hopefully, these issued have been resolved since the above-linked publications. Below is a GAO graphic explaining the process TPAs follow when securing medical appointments and how it may contribute to wait times.
No Wheels For You
Rather than reinvent the wheel here, the following in italics is what GAO found. I also took screenshots from the report that, if you are visual like me, help explain where the delays may be coming from within the bowels of the most corrupt agency in the government.
GAO Findings – Veterans Choice Program
Through the Veterans Choice Program (Choice Program), eligible veterans may receive care from community providers when it is not readily accessible at Veterans' Health Administration (VHA) medical facilities. The Department of Veterans Affairs (VA) uses two contractors—or third party administrators (TPA)—to schedule most veterans' Choice Program appointments after receiving referrals from VA medical centers (VAMC). GAO found that veterans who are referred to the Choice Program for routine care because services are not available at VA in a timely manner could potentially wait up to 70 calendar days for care if VAMCs and the TPAs take the maximum amount of time VA allows to complete its appointment scheduling process. This is not consistent with the statutory requirement that veterans receive Choice Program care within 30 days of their clinically indicated date (when available), which is the soonest date that it would be appropriate for the veteran to receive care, according to a VHA clinician. Without designing appointment scheduling processes that are consistent with this requirement, VA lacks assurance that veterans will receive Choice Program care in a timely manner.
GAO and VHA found that selected veterans experienced lengthy actual wait times for appointments in 2016, after manually reviewing separate samples of Choice Program authorizations. For example, when GAO analyzed 55 routine care authorizations that were created between January and April of 2016, it found that the process took at least 64 calendar days, on average. When VHA analyzed about 5,000 authorizations created between July and September of 2016, it took an average of 51 calendar days for veterans to receive care.
GAO also found that VHA cannot systematically monitor the timeliness of veterans' access to Choice Program care because it lacks complete, reliable data to do so. The data limitations GAO identified include:
A lack of data on the timeliness of referring and opting veterans in to the program. GAO found that the data VHA uses to monitor the timeliness of Choice Program appointments do not capture the time it takes VAMCs to prepare veterans' referrals and send them to the TPAs, nor do they capture the time spent by the TPAs in accepting VAMCs' referrals and opting veterans in to the Choice Program. VHA has implemented an interim solution to monitor overall wait times that relies on VAMC staff consistently and accurately entering unique identification numbers on VHA clinicians' requests for care and on Choice Program referrals, a process that is prone to error.
Inaccuracy of clinically indicated dates. GAO found that clinically indicated dates (which are used to measure the timeliness of care) are sometimes changed by VAMC staff before they send Choice Program referrals to the TPAs, which could mask veterans' true wait times. GAO found that VAMC staff entered later clinically indicated dates on referrals for about 23 percent of the 196 authorizations it reviewed. It is unclear if VAMC staff mistakenly entered incorrect dates manually, or if they inappropriately entered later dates when the VAMC was delayed in contacting the veteran, compiling relevant clinical information, and sending the referral to the TPA.
Unreliable data on the timeliness of urgent care. GAO found that VAMCs and TPAs do not always categorize Choice Program referrals and authorizations in accordance with the contractual definition for urgent care. According to the contracts, a referral is to be marked as "urgent," and an appointment is to take place within 2 days of the TPA accepting it, when a VHA clinician has determined that the needed care is (1) essential to evaluate and stabilize the veteran's condition, and (2) if delayed would likely result in unacceptable morbidity or pain. GAO reviewed a sample of 53 urgent care authorizations and determined that about 28 percent of the authorizations were originally marked as routine care authorizations but were changed to urgent by VAMC or TPA staff, in an effort to administratively expedite appointment scheduling.
Without complete, reliable data, VHA cannot determine whether the Choice Program has helped to achieve the goal of alleviating veterans' wait times for care.
GAO found that numerous factors adversely affected veterans' access to care through the Choice Program. These factors include: (1) administrative burden caused by complexities of referral and appointment scheduling processes, (2) poor communication between VHA and its VAMCs, and (3) inadequacies in the networks of community providers established by the TPAs, including an insufficient number, mix, or geographic distribution of community providers. VA and VHA have taken numerous actions throughout the Choice Program's operation that were intended to help address these factors, though not all access factors have been fully resolved. For example, to help address administrative burden and improve the process of coordinating veterans' Choice Program care, VA established a secure e-mail system and a mechanism for TPAs and community providers to remotely access veterans' VA electronic health records. However, these mechanisms only facilitate a one-way transfer of necessary information. They do not provide a means by which VAMCs or veterans can view the TPAs' step-by-step progress in scheduling appointments or electronically receive medical documentation associated with Choice Program appointments.
While the Choice Program will soon end, VA anticipates that veterans will continue to receive community care under a similar program that VA plans to implement, which will consolidate the Choice Program and other VA community care programs. Incorporating lessons learned from the Choice Program into the implementation and administration of the new program could help VHA avoid similar challenges.