Vatican Or Bust: Shulkin And Wife Had Second Europe Trip Planned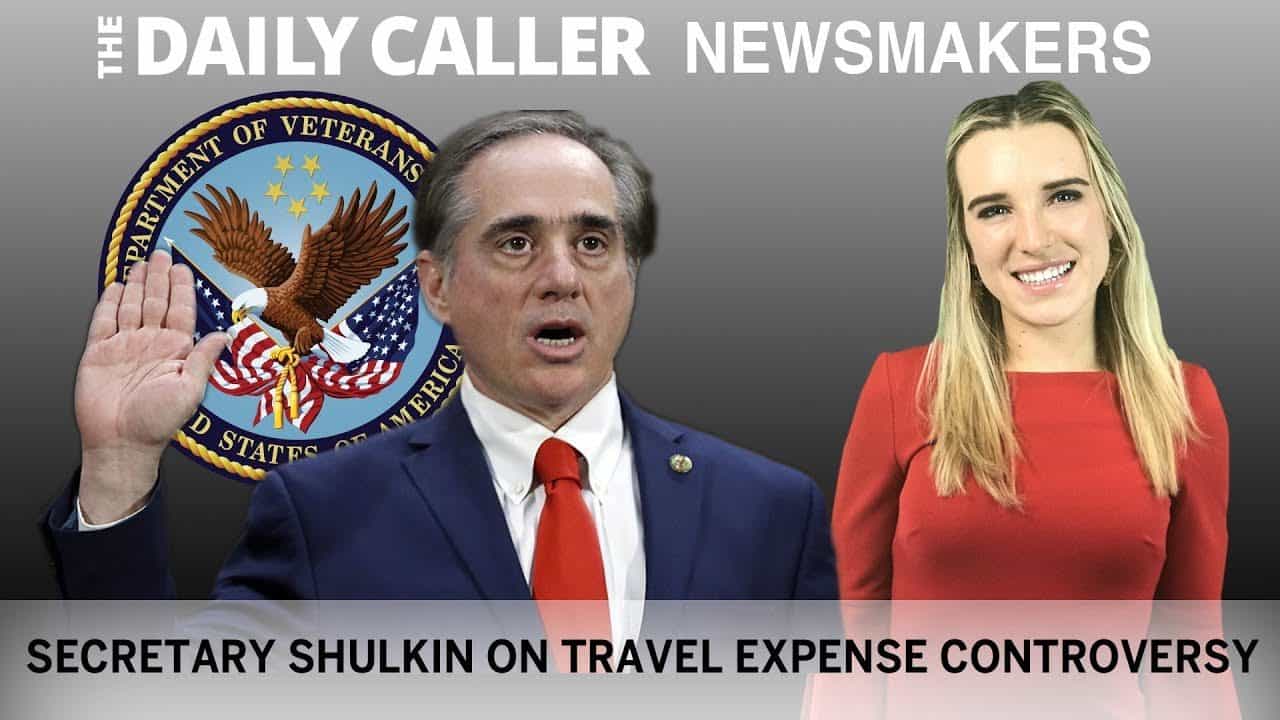 Former VA secretary David Shulkin had a second European trip scheduled with his wife that included a three-day conference at the Vatican scheduled as "work" to justify the 10-day trip.
Prior to being fired, The Daily Caller (TheDCNF) started to push the agency about allegations of a second trip. Shulkin reportedly pressured one of his subordinates, Lydia Blaha, to spin the facts to obfuscate the trip's details by letting him publish under her name.
"The Secretary receives numerous invitations each week and cannot possibly attend all of these events," Shulkin wrote in the third person. "He has declined this invitation."
The invitation was for Vatican Conference on Regenerative Medicine in Rome involving genomics and VA's research on the topic. The Vatican wanted Shulkin to speak. Shulkin orchestrated another European trip for 10 days for him, his wife, and three security personnel to attend the 3-day conference and then travel around.
A few things jumped into my mind on this.
First, why would Shulkin keep his trip scheduled after all the blowback from his previous trip? Second, why is the Vatican holding a conference on genomics? Third, how many other trips like this are going on with VA personnel that we do not know about?
Vatican Gone Wild, Shulkin's Second Europe Trip
TheDCNF first asked Shulkin about the trip during a taped interview Feb. 16 after a whistleblower saw the scheduled trip in the itinerary. When asked, Shulkin simply lied, saying, "That is not happening."
The reality behind the spin was that Shulkin refused to cancel the trip despite being actively investigated until after IG published its first report exposing how Shulkin used taxpayer funds for him and his wife to travel Europe. Only after experiencing the massive blowback did Shulkin cancel the trip.
On April 2, TheDCNF pressed the agency about the records and an agency refusal to provide comment. Specifically, the news organization asked if Blaha would stand by her earlier statement that Shulkin declined the invitation.
VA Truth On Shulkin Vatican Trip
Prior to filing the FOIA, an insider with knowledge of the scheduled trip provided the following statement:
David Shulkin was scheduled to attend the Fourth International Vatican Conference, from April 26 – 28, 2018. His attendance was confirmed with the event organizers. VA staff had been researching flight and hotel options since late December of 2017, and planned to have Shulkin fly business class at an estimated cost of $11,913.
Despite the fact that the conference was just three days, Shulkin was planning to remain in Europe for ten days from April 20 through April 29. Three specific VA protective services employees had already been assigned to go on the trip and work on an overall security plan had also begun.
Shulkin did not cancel the trip until Feb. 15, 2018, the day after the VA Inspector General released its report on his 11-day European trip last year. Shulkin personally drafted and ordered the release of the statement on the Vatican trip that was sent to the Daily Caller [sic] Feb. 23.
Keep in mind, Shulkin's mandate before the first European vacation broke in the press was to cure the agency of its culture of dishonesty and evidence-manipulation. Clearly, his mandate was more of a do as I say not as I do cultural revolution.
What blows the mind is that even after knowing Shulkin was in hot water over the first European trip, he refused to cancel the Vatican trip with his wife that would cost taxpayers $11,000 plus three security detail. Only after the press went bananas over his IG report did he finally cancel.
Then, adding insult to injury, he deceived the press claiming he declined the invitation using the name of his subordinate.
Detailed VA Communications
The following is the full email chain courtesy of TheDCNF:
From: DJS
Sent: Thursday, February 22, 2018 5:58:06 PM
To: Blaha, Lydia B.
Subject:
Lydia- please send an email to Luke at [email protected]
Please tell him that the Secretary was invited to the speak at the Vatican Conference on Regenerative Medicine in Rome. This invitation related to specific clinical genomics work VA is undertaking to help veterans with a leading medical center. The Secretary receives numerous invitations each week and cannot possibly attend all of these events. He has declined this invitation.
________
From: Blaha, Lydia B.
Sent: Thursday, February 22, 2018 3:07:48 PM
To: Hutton, James
Subject: FW: (No Subject)
Please don't share this with the others until I'm able to call you and explain. Will be at the hotel in about 10-15min
________
From: Hutton, James
To: Ullyot, John
Date: Thu, 22 Feb 2018 23:48:53
Subject: FW: (No Subject)
John,
The Secretary has instructed Lydia to provide a response to Luke Rosiak about his trip that was apparently scheduled for the Vatican.
She asked me what to do.
If she provides the answer it would have to be attributed to him.
Any thoughts?
________
From: Blaha, Lydia B.
To: Rosiak, Luke
Date: Fri, 23 Feb 2018 09:38
Subject: Clarification
Hey Luke,
Wanted to clarify something regarding the confusion about the Secretary's travel schedule.
The Secretary was invited to speak at the Vatican Conference on Regenerative Medicine in Rome. This invitation is related to specific clinical genomics work VA is undertaking to help veterans with a leading medical center. The Secretary receives numerous invitations each week and unfortunately cannot attend all of these events. Due to this, he declined this invitation.
Have a good day!
________
There we have it.
Part of the reason Shulkin was likely fired certainly must've had something to do with his unrepentant attitude about misleading journalists about his real behavior and intentions behind the scenes.
Here is a press release about the conference to give a heads up for anyone interested on why the Vatican would be interested in veterans' genomic data, just like all the Big Data companies out there right now.
Vatican Press Release On Conference
VATICAN CITY and NEW YORK, Feb. 26, 2018 /PRNewswire/ — The Vatican's Pontifical Council for Culture, the Cura Foundation, the Stem for Life Foundation and STOQ (Science, Theology and the Ontological Quest) announced The Fourth International Vatican Conference, Unite to Cure: A Global Health Care Initiative, which will be held from April 26-28, 2018 at the Aula Nuova del Sinodo in Vatican City.
The Holy Father, Pope Francis, is scheduled to receive participants during the three-day event.
World-renowned journalists will moderate discussion panels comprised of global thought leaders, covering a variety of topics, including drug development and delivery, technology, nutrition, ethics and the environment.
This historic, international event will gather the world's leading scientists and physicians, patients, families, ethicists and leaders of faith, government, business and philanthropy to engage in powerful conversations about the latest scientific innovations and hope for the future. The 2018 event will have a unique focus on advancing breakthrough technologies and disseminating knowledge that improves human health, prevents disease, protects the environment and considers cultural, religious and societal implications. "This is one of the most unique health care events in the world — it's a 'Davosfor health care,'" said Dr. Robin Smith, President of the Cura Foundation. "By uniting stakeholders and decision makers in this unique and inspirational setting, and including patient voices, we can address ways to impact human health globally."
"This event, and the three that came before, help to send a clarion call to the world that by sharing knowledge, collaborating and understanding different perspectives we can advance human health and protect our environment in an ethically viable way, preserving humanity, culture and society," said His Eminence Cardinal Ravasi, President of the Pontifical Council for Culture.
Monsignor Tomasz Trafny, Head of the Science and Faith Department, at the Pontifical Council for Culture, said: "The world all around us is changing very quickly, bringing with it both promise and peril. As the pace of innovation accelerates, and what was once thought to be impossible becomes possible, we must ask the important questions that underlie great scientific discoveries and human progress and understand the cultural and anthropological impact. We must consider the consequences for all mankind, whether ethical, sociological, anthropological or impacts on faith and beliefs. This event was born in this spirit, and we're looking forward to having an inspired conversation in April."
To learn more about The Fourth International Vatican Conference on How Science, Technology and 21st Century Medicine Will Impact Culture and Society, please visit: https://vaticanconference2018.com/. Follow us on Twitter @CuraFdn and on Facebook at facebook.com/TheCuraFoundation, and join the conversation with #UnitetoCure.
The Pontifical Council for Culture traces its origins to the Second Vatican Council and its opening up to that great, dynamic, worried and multiform world of contemporary culture. In its Pastoral Constitution Gaudium et spes, the Council Fathers expressed the need for the Church to continually place itself before the needs of the cultures of the world. It was a new period of history where a new humanism was arising, and the Church, faithful to its own traditions, was aware of the universality of its mission, entering into communion with the different forms of culture, a communion that would enrich the Church as much as the cultures. The Pontifical Council for Culture is committed to the dialogue with many realities in their relation to culture and faith such Art, Music, Cultural Goods, Cultures in the World, Mysticism, Atheism, Economics, Language & Communication, International Cultural Bodies, Sport and Science. For more information, please visit: https://www.cultura.va/content/cultura/en.html
The Science and Faith Foundation (STOQ) is a Foundation under Vatican law promoted by the Pontifical Council for Culture. The identity and mission of the Foundation have their main Magisterial references in the Pastoral Constitution Gaudium et spes, in the talks of St John Paul II and Benedict XVI on the relations between science and faith, particularly in the Encyclical Fides et ratio. The Foundation aims to give continuity to the activities of Project STOQ, which emerged from the collaboration between the Pontifical Council for Culture and Pontifical Roman Universities following the Galileo Commission and the Jubilee of Scientists in the year 2000. Among the aims of the Foundation are research and study of the themes of dialogue between science, philosophy and theology; realization of conferences and other activities of high cultural and scientific value, even at the popular level; publication of works of merit on the main arguments of the science-faith dialogue. For more information, please visit: https://stoqfoundation.org/
The Cura Foundation is a 501(c)(3) global charitable organization dedicated to the advancement of cellular therapies and technologies that improve human health, increase quality of life and enhance patient care. Through its programs and initiatives, The Cura Foundation seeks to catalyze the funding of the advancement of a wide array of cellular therapies, whether immunotherapies, adult stem cell treatments, gene therapies, technology or emerging cell-based therapies that enhance cellular health and longevity. For more information, please visit: https://thecurafoundation.org/
The Stem For Life Foundation (SFLF) is the educational and advocacy subsidiary of The Cura Foundation and is devoted to fostering global awareness of the potential for regenerative medicine to treat and cure a range of deadly diseases and debilitating medical conditions, as opposed to merely treating their symptoms. The Foundation stands at the forefront of a fundamental shift away from traditional drug treatment in favor of amplifying the body's natural repair mechanisms to vanquish disease. For more information, please visit: https://www.stemforlife.org