VA Put Veterans' Lives At Risk By Not Running Background Checks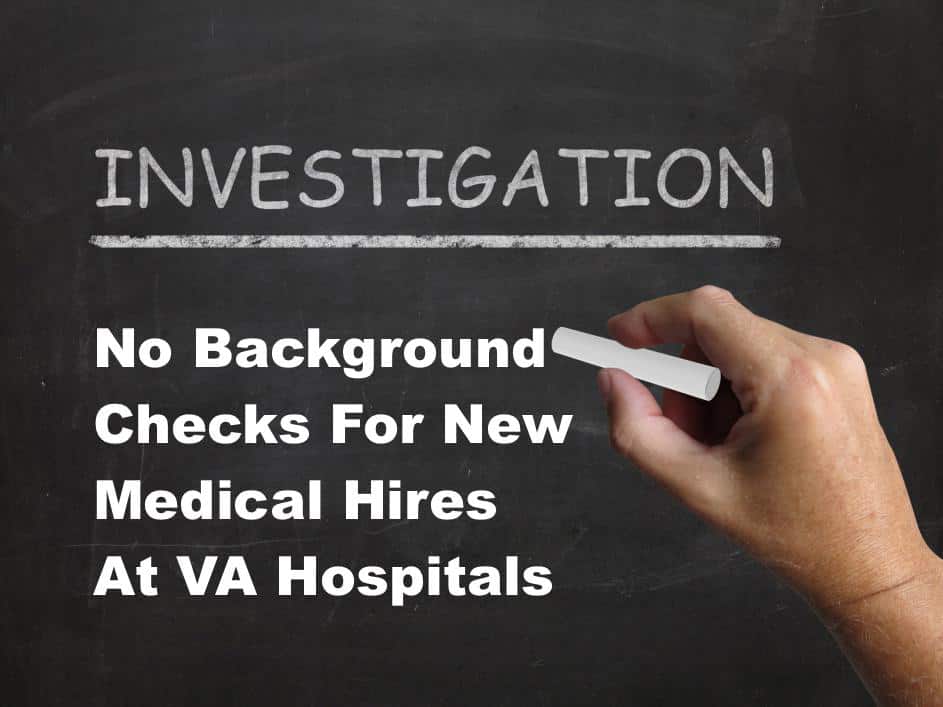 VA did not conduct background checks of any kind prior to employing over 6,000 new medical personnel according to a recent IG investigation. Additionally, another 10,400 employees, from 2012 to 2016, did not receive their background check in a timely manner.
IG confirmed allegations about the oversight and concluded the background check failure risked putting unqualified or troubled employees in charge of veterans health care. Many employees have worked for years at VA providing health care to veterans without backgrounds checks.
"Due to the lack of governance and oversight of the personnel suitability program, VA cannot reliably attest to the suitability of its largest workforce, exposing veterans and employees to individuals who have not been properly vetted," the IG said. "Unless controls are implemented and data are improved, VA and the public lack assurance that VHA has a properly investigated workforce appropriate for providing health care to our nation's veterans."
Basically, VA again did not follow through with required processes to ensure the safety and quality of health care services it provides through the personnel it hires by failing to conduct background checks.
The office responsible for conducting the background checks was understaffed and not doing its job. VHA also did not do its job by auditing the hiring process. How many laws were likely broken by failing to conduct these due dilligence investigations?
RELATED: Pelosi, Democrats Block VA Funding From Omnibus
Summary Of OIG Findings
VA did not provide effective governance of the personnel suitability program necessary to ensure that background investigation requirements were met at medical facilities nationwide. Background investigations were required for most medical facility staff, including physicians, nurses, pharmacists, and laboratory technicians. The OIG projected that about 6,200 employees who were working at the facilities did not have a background investigation initiated. The OIG also found that adjudicators had not been reviewing background investigations timely and suitability staff were not maintaining official personnel records as required.
VA could also not independently attest to the status of personnel suitability determinations. HR Smart investigation data were not reliable for reporting on the status of suitability adjudications at VA medical facilities. Fields necessary to track background investigations to conclusion did not exist and other critical data points were incomplete. VA had to rely on data from the Office of Personnel Management's Personnel Investigations Processing System to monitor the program. The OIG also had to rely on that dataset to analyze personnel suitability actions and determine the status of employee background investigations.
These irregularities were not detected and corrected timely because the Office of Operations, Security, and Preparedness (OSP) did not monitor or ensure compliance with program requirements at VA medical facilities. In addition, OSP's Personnel Security and Suitability (PSS) Program Management Office, responsible for evaluating compliance with the suitability program requirements, lacked sufficient staff to conduct regular oversight.
Without sufficient staff, the Director of PSS also did not delegate oversight responsibilities to VHA for nearly six years. As such, the personnel suitability program was allowed to operate unmonitored and without assurance that background investigations were properly initiated and adjudicated. VHA's local implementation of the program was also inadequate to achieve key project objectives. Key internal control requirements, such as quarterly reviews of facility background investigations, were largely absent at VA medical facilities reviewed.
Finally, OSP and VHA did not effectively manage their business processes to ensure that sufficient investigation data were created and maintained in support of program objectives. As a result, VA cannot reliably attest to the suitability of its largest workforce, exposing veterans and employees to individuals who have not been properly vetted. Unless internal controls and data are improved, VA and the public lack assurance that VHA has a workforce suitable for serving our nation's veterans.
What Will It Take?
Clearly, no amount of money can get VA to do its job and keep veterans safe by following basic hiring requirements. Or, is there a magic dollar amount VA needs to conduct basic background checks for doctors and nurses prior to hiring them?