Elderly Veteran Death By VA Police Obfuscated By 'Queen Of Cover-ups'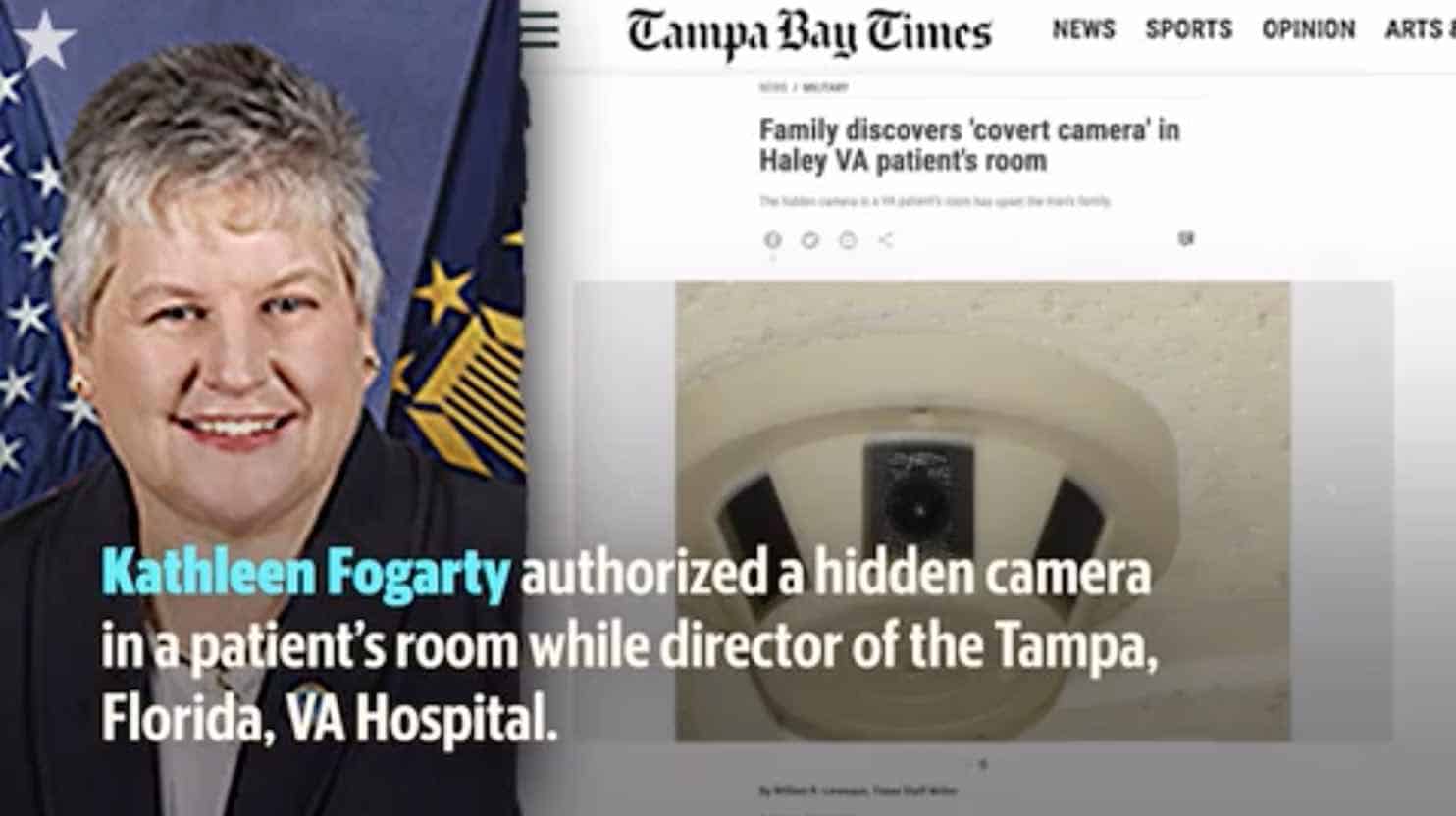 The head of Kansas City VA Medical Center is now accused of withholding details about the death of an elderly veteran at the hands of VA Police.
Local officials believe withholding of evidence and obfuscation is a pattern well known to the agency's local director, Kathleen Fogarty. Once dubbed "the VA queen of cover-ups" after getting caught approving secret recording of a veteran's family, Fogarty is no stranger to withholding information.
For some background, the problem at Kansas City VA Medical Center is all too familiar and was well addressed in a recent story by The Kansas City Star that I'm providing the cliff notes of here.
Kenneth Farhner Wrongful Death
Kenneth Farhner, a 66-year-old veteran, went to VA for hernia surgery in May 2018. The wound became infected. So, Farhner drove himself to the emergency room, but he drove the wrong way on VA property on the way to get emergency care.
VA police confronted Farhner leading to an altercation. Leaked documents published by USA TODAY showed the confrontation left the elderly veteran nearly comatose. He died two years later from a brain hemorrhage.
A couple of things jumped out at me on this issue. First, the veteran's surgical site became infected – – possibly due to poor health care at the same VA. Second, why would a member of VA Police do anything to an elderly veteran in distress that could result in death?
RELATED: Why Are VA Police Bodyslamming Veterans?
Thumbing Nose At FOIA
A local paper called The Star investigated after receiving an anonymous tip about Farhner's death. Despite filing requests for records under the Freedom of Information Act, the local VA refused to cooperate.
The Star was not alone. Members of Congress were stonewalled. And, so was Farhner's family who has since filed a wrongful death lawsuit against VA.
The agency's behavior is typical whenever local leadership is covering up wrongdoing.
Randall Barnett, the president of Vietnam Veterans of America in Kansas City, is suspicious.
"If they weren't at fault or didn't feel through their investigation they were somewhat at fault, why would they cover everything up?" Barnett asked. "Or try to cover everything up?"
Cover-Up Denied
Spokesman for Kansas City VA Medical Center denies a cover-up.
"Federal law enforcement officials have already fully investigated this matter and determined that VA acted appropriately in its interaction with the veteran," Vernon Stewart said. "VA will cooperate fully with any additional official investigations."
Fire Alarm At Tampa VA
Fogarty used to run the James A. Haley VA Medical Center located in Tampa, Florida.
While there, she ordered her staff to place a recording device inside a fire alarm to secretly record family members of a severely ill veteran.
When investigated, her subordinates provided false statements about the nature of the secret recording including stating the family consented. Documents later uncovered by The Tampa Bay Times showed staff provided many other untruthful responses about the matter. I have a clip from a hearing addressing the recording at the bottom of this article.
Why would any party place a recording device inside a smoke detector if the recording was above board? No one does that. Just use a normal recording device.
After Tampa, Fogarty was shipped off to Phoenix VA Medical Center to deal with the falsified patient wait times problem that surfaced in 2014.
Tampa Bay Times previously reported Fogarty "cut veterans' access to outside care to help overcome a multimillion-dollar deficit as director of the Tampa, Fla., VA, in 2011 and repeatedly denied publicly that she was doing it."
USA TODAY previously included Fogarty in a list of agency leaders who were "transferred to new jobs despite concerns about the care provided to veterans at the facilities they were previously managing."
VA Spokesman Calls Press Story "Irresponsible"
Stewart, the local spokesman, denied the allegations of USA TODAY and chastised The Kansas City Star for addressing the USA TODAY list within its own reporting on the Farhner battery, saying the data was "flat-out false and repeating it to your readers would be irresponsible."
"When Director Fogarty became director of the Tampa VA Medical Center in 2011, she inherited a nearly $48 million budget deficit," Stewart said. "She balanced the budget by using commonsense management principles such as not filling unneeded positions and eliminating unnecessary overtime and travel. Under Fogarty's leadership, the facility expanded its services to Veterans, and the blueprint she developed for managing the resources remains in place at the VAMC today."
However, that is not consistent with Fogarty's statements in 2014, "Fogarty said she balanced the Tampa VA budget in three years by reducing the time veterans spent in non-VA hospitals."
In 2011, Fogarty denied the facility was at a deficit.
So, who is the public to believe? Should we trust Stewart's spin about his boss's record? Or, should we trust the reporting of at least four different news organizations about Fogarty's checked track record?
Kathleen Fogarty Biography
Here is Fogarty's VA bio in italics:
Kathleen R. Fogarty was appointed by the Secretary of Veterans Affairs to serve as Director of the Kansas City VA Medical Center effective March 8, 2015. As the Director, Mrs. Fogarty oversees the delivery of health care to more than 48,000 Veterans throughout Western Missouri and Eastern Kansas and manages the daily operations of the 157 Bed Medical Center, seven (7) Community Based Outpatient Clinics, a radiation/oncology outreach clinic, and a Medical Mobile Unit. The KCVA is a principle teaching hospital affiliated with the University of Missouri-Kanas City and University of Kansas, School of Medicine. The KCVA has an operating budget of approximately $340 million dollars and more than 1600 full time employees.
Prior to this appointment, Mrs. Fogarty served as the Director of the James A. Haley Veterans Hospital in Tampa, Florida From 2011 through 2015 and the Interim Network Director for the Southwest Health Care Network VISN 18 from November 2014 through August 2015. She served as the Interim Medical Center Director of the Overton Brooks VA Medical Center in Shreveport, LA from September 2010 through August 2011 and the VA Gulf Coast Veterans Health Care System in 2009.
Mrs. Fogarty is a Senior Executive Career Development Program Graduate, a certified Fellow of the VHA Mentor program, a member of the Senior Executive Association, the American College of Healthcare Executives, and the American Dietetic Association, and a member of the Board of Trustees for the University of Saint Mary. Among Mrs. Fogarty's many awards and honors are; the Presidential Rank Award for Meritorious Executive, the Vice President Gore Hammer Award for Subsistence Prime Vendor Team and the Deputy Secretary of Veterans Affairs Scissor Award.
Fire Alarm Investigation
I covered the fire alarm issue back in 2013 when I first caught wind of it during a House Committee on Veterans Affairs hearing.
Congressman Jeff Miller, Majority Leader of the House Committee on Veterans Affairs, pressed VA's Scott Gould about the fire alarm recorder.
Ultimately, former Deputy Secretary Scott Gould stood by the VA's decision. He asserted the secretive recordings were made to preserve the safety of the veteran. In response to the allegations, Gould said, "Our greatest priority is safety and security of our patients, and we secured it with that camera."
Safety and security? Like I said before, why not put the camera out in the open if the goal was purely to ensure the safety of the veteran?
Former Chairman Jeff Miller agreed.
In response to Gould, Rep. Jeff Miller said, "Common sense would say if you're going to put a camera up, just put a camera up where people can see it." He continued, "For some reason, someone [in the VA] made the decision to hide the camera. It was installed without notice. It was installed without consent. What is interesting to me… is that there is a claim that consent is not required within a VA facility…"
The family tried to expressly state to VA that there was no consent given. Let's not forget that Fogarty's staff falsely asserted the family consented to the fire alarm recording.
Our Takeaway
What should the public think?
First, avoid VA Police when you're distressed or you might get bodyslammed. Second, always act as if someone is recording you whenever on VA property. Third, if you do get bodyslammed and die, be sure it's recorded on your iPhone because the agency will obfuscate at every stage of the investigation.