Hepatitis C – What Is Veterans Affairs Hiding For Profiteer Of Hep C Cure?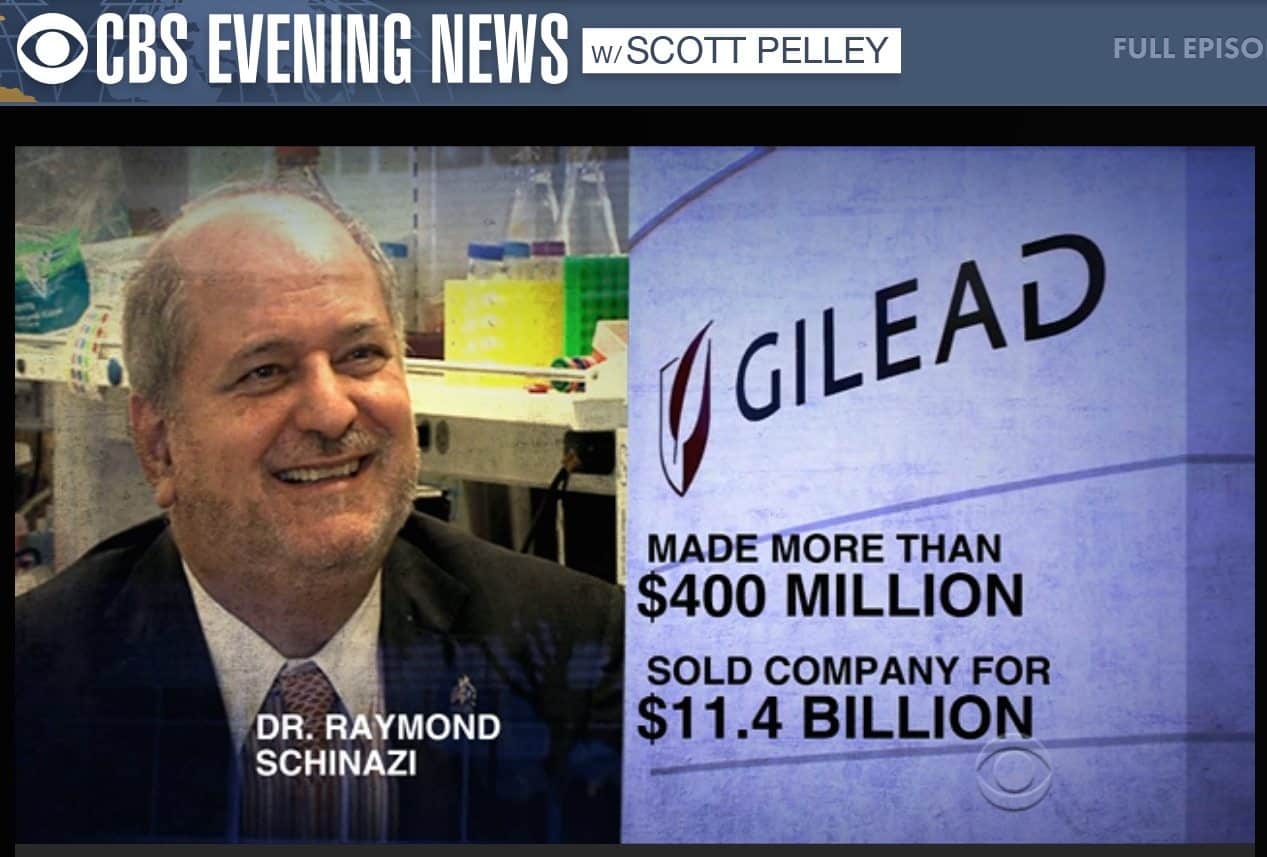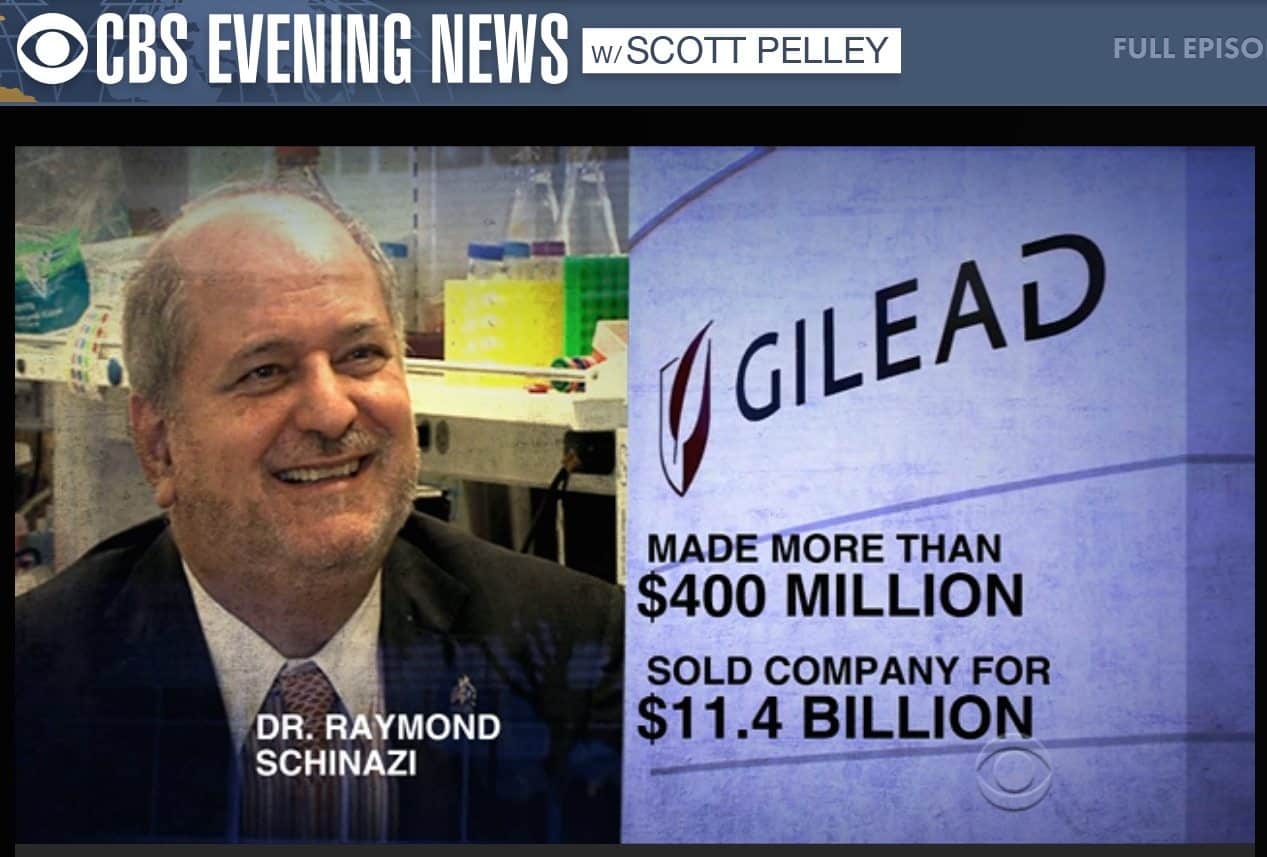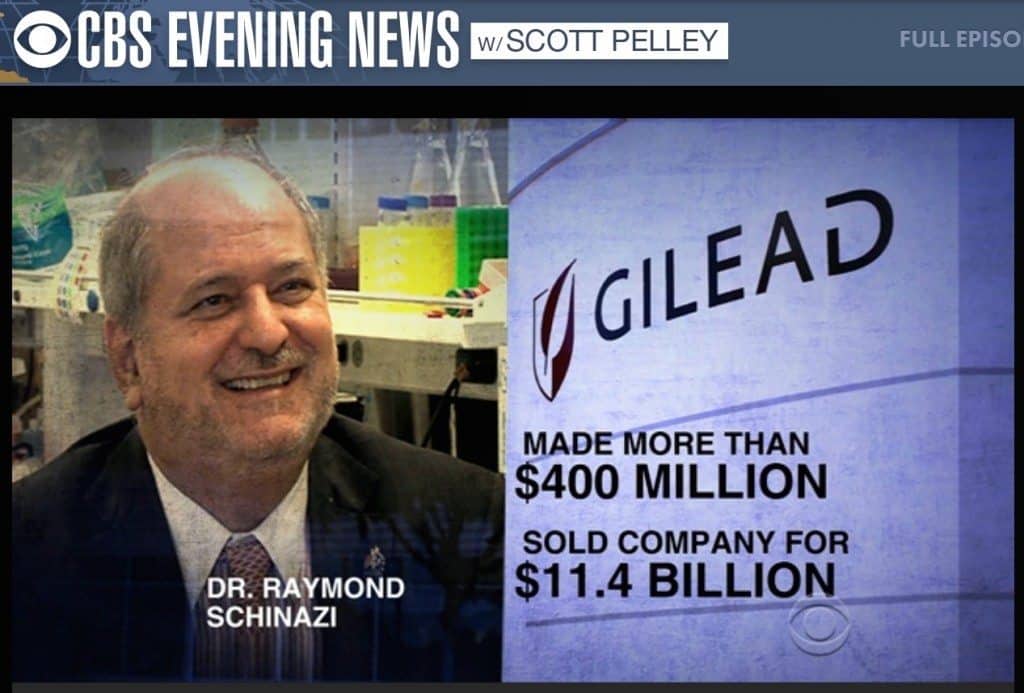 After CBS reported that Ray Schinazi made $400 million profit on a Hepatitis C cure, as a VA employee, the agency started playing a game of hide-the-pea.
The short version of Schinazi's research were his discoveries of an HIV therapeutic and Hepatitis C cure. He developed those drugs while a full-time VA employee under his company named Pharmasset. Schinazi then sold Pharmasset to Gilead for $11 billion.
The deal netted Schinazi a cool $400 million profit all while collecting full pay and benefits from VA as a researcher.
So where did he find the time to run his private pharmaceutical research firm while also working at VA? The researcher claims he only worked at VA 7/8 time, whatever that means.
You may be wondering, but wasn't he conducting the research on veterans at VA? How is it that Schinazi did not lose ownership rights given he was paid for the research by VA?
Great questions.
After the sale, Gilead's investment bankers decided the cost of the Hepatitis C cure, called Sovaldi, should be more than double what Pharmasset estimated. It then began marketing the drugs for over $1,000 per pill to the public, but sold pills to VA at a 50% veterans discount, supposedly.
Sound like a good deal?
CBS – RAY SCHINAZI
CBS did not think so, either, and sought to expose the conflict.
RELATED: CBS Story On Raymond Schinazi
Shortly after CBS ran its news story, VA awarded Schinazi the prestigious Middleton Award. More questions surfaced about the doctor, his conflict of interest, and the enormous price tag taxpayers would have to pay to cure veterans infected with Hepatitis C. Schinazi quietly retired from VA after that point.
RELATED: VA Profiteer Sold Hepatitis C Cure For Billions
HEPATITIS C CURE FOIA
I submitted a Freedom of Information Act (FOIA) request for records related to Schinazi's Middleton Award. After waiting 8 months, VA provided most of the documents but heavily redacted the panel review data and names.
The FOIA officer believed the panel of reviews should be secret as well as some of the agencies and companies of individuals affiliated with the award that year. So what exactly is VA hiding behind those redactions?
I filed an appeal yesterday, so let's hope we get to the bottom of it quickly.
The unredacted records revealed Schinazi's application was recommended by Ronald Przygodzki, MD, acting director of VA research. It was approved by Timothy O'Leary, MD.
MIDDLETON AWARD JUSTIFICATION
Here is the justification for the award:
The William S. Middleton Award was established to annually recognize an investigator who has added significantly to the understanding and improvement of health care services for America's Veterans; has inspired new VA investigators through excellence in training and mentorship; and has enhanced the national visibility and reputation of VA research. A review group consisting of VA researchers and clinicians unanimously selected Raymond F. Schinazi to receive the 2015 Middleton Award for Outstanding Achievement in biomedical research. The Director of the Biomedical Laboratory Research and Development Service and the Chief Research and Development Officer have accepted this nomination.

Dr. Schinazi is recognized for his pioneering work in the development of novel antiviral drugs that now form the backbone of combination regimens used in the treatment of human immunodeficiency virus (HIV) infection. The efficacy and safety of these medications have had a profound and transformative impact on the course of the acquired immune deficiency (AIDS) epidemic, changing HIV infection from a death sentence into a manageable chronic illness. Additionally, Dr. Schinazi's expertise in virology and medicinal chemistry has led to the development of a curative treatment for hepatitis virus (HCV) infected patients now in widespread use. His antiviral drugs have not only benefited the VA patient population immensely but have saved millions of lives worldwide.

Dr Schinazi has served in a number of leadership roles including Director of the Scientific Working Group on Viral Eradication for the NIH-sponsored Emory University Center for AIDS Research, advisory board member for the Presidential Commission for AIDS during the Clinton administration, trustee for the Foundation for AIDS Research and board member of the Global Virus Network. Dr. Schinazi has been an invited speaker, session chair, founder and organizer of numerous national and international meetings. He has received many prestigious awards including a Distinguished Scientific Achievement Award from the American Liver Foundation (2014), the Research and Hope Award for Excellence in Academic Research from the Pharmaceutical Research and Manufacturers of America Foundation (2014), the Distinguished Medical Science Award from the Friend of the National Library of Medicine (2013), induction into the Georgia Technology Hall of Fame (2012), the Charles C. Shepard Award from the Centers for Disease Control and Prevention (2009), the Distinguished Scientist Award from the Hepatitis Foundation (2006) and a Senior Research Career Scientist Award from VA (1994- present).

Dr. Schinazi brings honor to the William S. Middleton Award. He is an exemplary scientist whose career and scientific contributions embody both the letter and the spirit of the award. His work is of tremendous scientific impact in areas that are relevant to Veterans' health care. Recognition of his accomplishments would confirm VHA's commitment to excellence in research and the treatment of diseases affecting Veterans and patients worldwide. The Middleton Award Committee, the Biomedical Laboratory Research and Development Service, and the Office of Research and Development are pleased to recommend Dr. Schinazi for the 2015 Middleton Award.
DOUBLE DIPPING
I am not above someone making good money for saving lives. I am against double dipping on the American taxpayer, especially when taxes funded the research Schinazi performed.
I cannot help but wonder if VA actually has a legal right to the cure for Hepatitis C, which would certainly save taxpayers billions while also saving lives of veterans affected.
What do you think about this? Rumor has it VA is now handing out treatment options like hot cakes, which was not the case just a couple months ago. Think they struck a deal with Gilead, the new owner of the cure?
[documentcloud url="https://www.documentcloud.org/documents/3009507-IAD-Letter-16-01879-F.html"]
[documentcloud url="https://www.documentcloud.org/documents/3009505-Award-Evaluation-Responsive-Records-16-01879-F.html"]
[documentcloud url="https://www.documentcloud.org/documents/3009506-Email-Responsive-Records-16-01879-F-Redacted.html"]
[documentcloud url="https://www.documentcloud.org/documents/3009509-VAIQ-Responsive-Records-16-01879-F-Redacted.html"]