AFGE Pushes Accountability Act Repeal Citing 'Nefarious Use'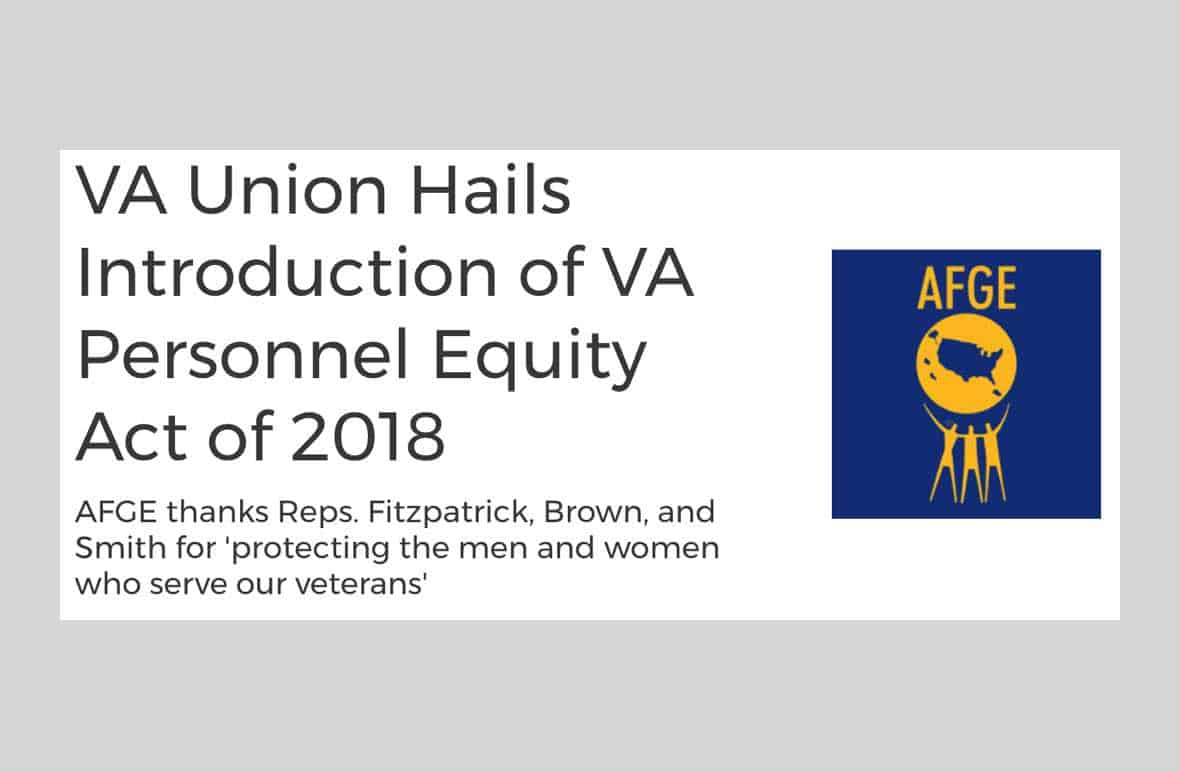 AFGE Union, the largest union of VA employees, proudly announced legislation to repeal the VA Accountability and Whistleblowers Act of 2017 citing the agency's "nefarious use" of the law intended to remove bad managers and supervisors.
In FY 2017, the agency boasted removal of 3,065 employees of the agency, up 400 from the previous year. Meanwhile, only 14 supervisors faced removal. The largest group facing the brunt of the Accountability Act are housekeeping aides, nursing assistants, and food service workers.
"President Trump and his allies in Congress told the American people he was going to fix the VA by removing bad actors. But all they've done is make it easier for managers to cover-up their malfeasance and fire workers they don't like," said Cox. Adding, "Taking away due process rights from workers at the VA – one-third of whom are veterans themselves – creates a hostile workplace where VA employees lack a fair chance to challenge unwarranted proposed removal."
RELATED: VA Employees Indicted For Bribery
To fix the issue, AFGE teamed up with Rep. Brian Fitzpatrick of Pennsylvania and co-sponsors Rep. Anthony Brown of Maryland and Rep. Chris Smith of New Jersey to pen H.R. 6101 – The VA Personnel Equity Act of 2018.
While VA seems to be focusing on removing low-level employees as the fix needed to reboot VA, AFGE argues the agency's failure to appropriately staff 49,000 vacancies as the root cause of inefficiencies and other maladies impeding on providing services and benefits to veterans.
"With vacancies at the VA trending upward in recent years, we should be finding new ways to attract workers who can care for the men and women who have served our country," said Cox, who served as a registered nurse at the VA for more than 20 years. "While we were working to fully-staff and fund the country's largest and best health care system, President Trump and his allies were celebrating their newfound ability to fire veterans and cripple the only health care system tailored to their needs."
RELATED: AFGE Protests Staff Shortages
"But now, thanks to Representatives Fitzpatrick, Brown, and Smith, the men and women who have dedicated their lives to caring for veterans can once again receive the due process rights they deserve and have a fair opportunity to protect their jobs and advocate for patients in the face of arbitrary management actions and whistleblower retaliation," said Cox.
There is no question the failure to appropriately staff any organization or company would result in massive shortfalls in services. ANYWHERE.
I still believe VA should be preserved. I also believe VA leadership are sandbagging low-level employees by placing the blame for poor performance on their shoulders rather than firing corrupt leaders.
Why is anyone in Congress not holding VA's feet to the fire for failing to address high-level agency corruption?
Regardless, corrupt agency leadership and corrupt low-level employees should be fired more swiftly, and there is no question the Accountability Act disparately impacts low-level employees while still protecting the high-level criminals inside the agency earning six figures.
Source: https://www.prnewswire.com/news-releases/va-union-hails-introduction-of-va-personnel-equity-act-of-2018-300666809.html