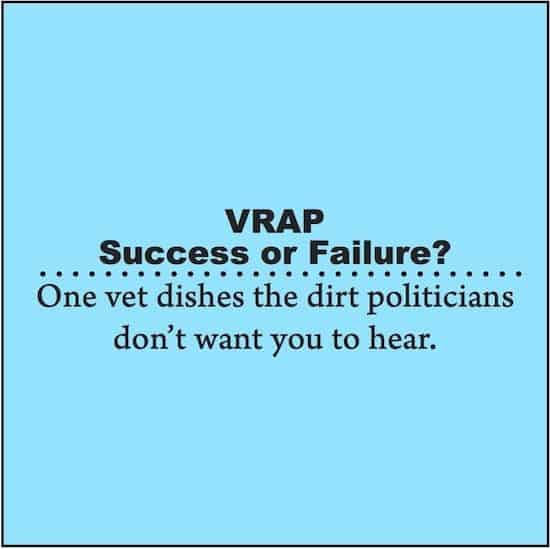 Veteran "Mark" commented on another post about VRAP. Politicians who supported this "success" should check with vets first before bragging.
Mark's comments were worth repeating as their own post. Here is what he had to say about the VRAP program:
Found this page via the search phrase "VRAP vets now in debt." This is my guess as to the "fall out" regarding this poorly conceived program. My first impression was that it was a hollow, posturing gesture from Obama.

The major drawback, here in the Information Age, was that online programs weren't approved. A joke on applicants. You can imagine how I felt to learn that even web design courses had to be taken "on site"…. Where you have to go to the school and take their courses; ONLINE!!! Joke's on me.

Now, this is what I was lead to believe; by them. Lo and behold, some VA rep emails me seven months later – after pulling my hair out in searches and enduring their online application process FOUR times (each time taking up to six hours!!) – saying there are approved Online programs. They do have a limited array of IT programs specific for VRAP.

However, they complicated this issue (as well) by offering the courses as bundles. Meaning you had to choose between prearranged packages as to personalized or streamlined choices. The one I wanted was (thus) over $7k.

As we know, there's no tuition aide. So, in essence, what's the point? I am single, no major habits, no spurious spending etc. Even here though, I need about 1300 to get by each month – where nothing else happens like with the car etc etc. They dole just over 1500 a month. I simply couldn't commit.

Another course was 10k. Some were just under 4k but again, they let me on to this After I had already shot my bolt attempting to hook up with three consecutive schools. In any case, I'm not even prepared to take on a 3k debt in this economic climate. The 3k bundle was for PC tech training for the  A+ (and Network +) btw, which I got back in the 90's. No one hired me.

I'd love to know how many completed their course, avoided serious debt and got hired. This is akin to "A Bridge Too Far" methinks. But I'm sure some got through and maybe the VA will spread their stories around for all to hear.

Don't know how the other poster was allotted over 5k in grants as I was only eligible for 2k.

Although unrelated to VRAP directly, due to one of the school's politically correct witch hunt on all things well, politically incorrect, I wound up in jail for 50 days. While matriculating I told an offhand joke which they thought otherwise. So I've endured some stressful times due to this VRAP illusion.