Webinar is UP: College, Disability and Vocational Rehabilitation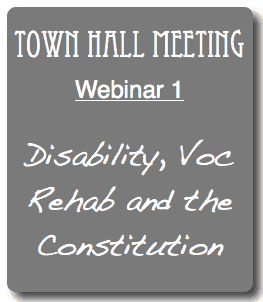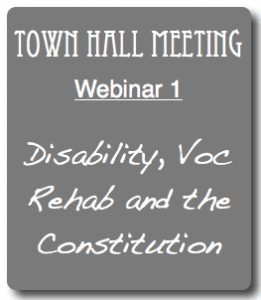 We just held the first Town Hall Meeting for veterans last week, and I put it into a free webinar for all of you to see.
Here's the deal this year. We, as veterans, are tired of feeling kicked around by society. For many, you sacrificed a lot. Many did not come back the same as they were before enlistment in the military. Meanwhile, the American public wants to treat the impacts of war like "business as usual."
But business as usual is not good enough for me. It's not good enough for veterans and disabled veterans trying to move on with their lives. For us, we want to get what was promised and not engage in a second battle – the battle for veterans benefits. Unfortunately, this is one battle you do not get to volunteer for. Disabled veterans needing essential assistance do not have the luxury of hitting "redo" or "muligan."
While Congress and the Dept of Veterans Affairs argue back and forth about how the job is not getting done, we veterans need to take the bull by the horns – pull ourself up by the bootstraps – or just pick your own metaphor.
Whatever it is we need to do, it needs to happen, now. Not in four more years, not after the next election cycle. It needs to happen now.
Acknowledging this, I and a handful of other veterans have decided to start holding regular Town Hall Meetings for veterans, disabled veterans, and their family members.
At these meetings, we will exercise our First Amendment rights to talk about the erosion of our other Fundamental Rights.
So, tune in often to the site and sign up for the next Town Hall Meeting. My goal is to hold at least one a month, if not more frequently.
For now, I have posted our first webinar of the year. Click on the title below to watch it:
Webinar 1: Disability, Vocational Rehabilitation and the Constitution
https://www.disabledveterans.org/webinars/webinar-1-disability-vocational-rehabilitation-and-the-constitution/
I set this meeting up as the first of the year. It covers numerous topics and questions from veterans about the Dept of Veterans Affairs, Vocational Rehabilitation, Disability Compensation, GI Bill, college and related issues. The topics of discussion are below.
Where we were in 2012
1,000,000 Disability Claims Backlog
Attacks against Constitutional Rights
1st Amendment Free Speech
2nd Amendment Gun Ownership
5th Amendment Due Process for Veterans
Where we are going in 2013
Hell in a hand basket
VA continues to ignore Congress and the law
Veterans rise up