POLIFACT: Clinton Claim Trump Says He Will Privatize VA 'Mostly False'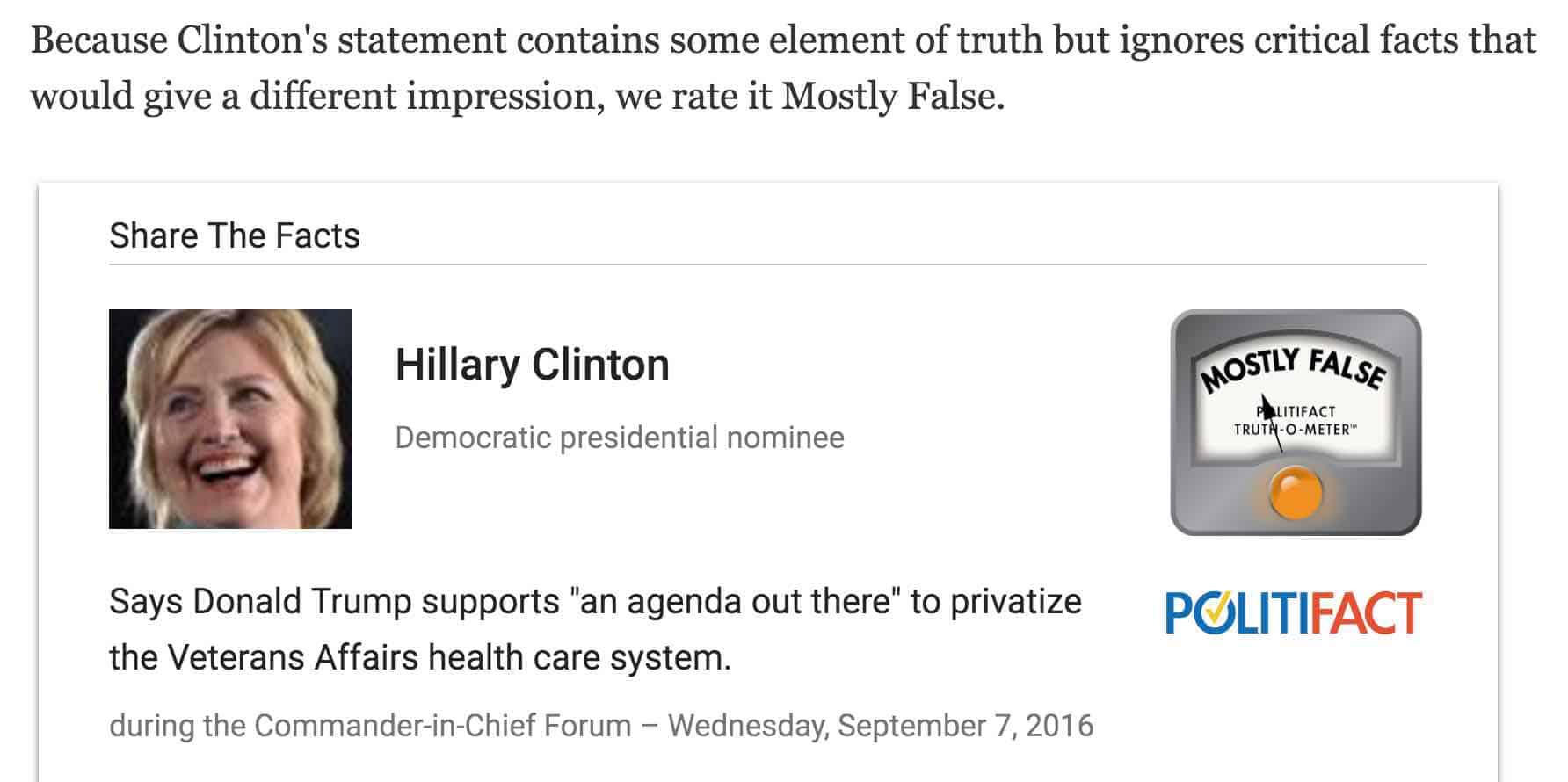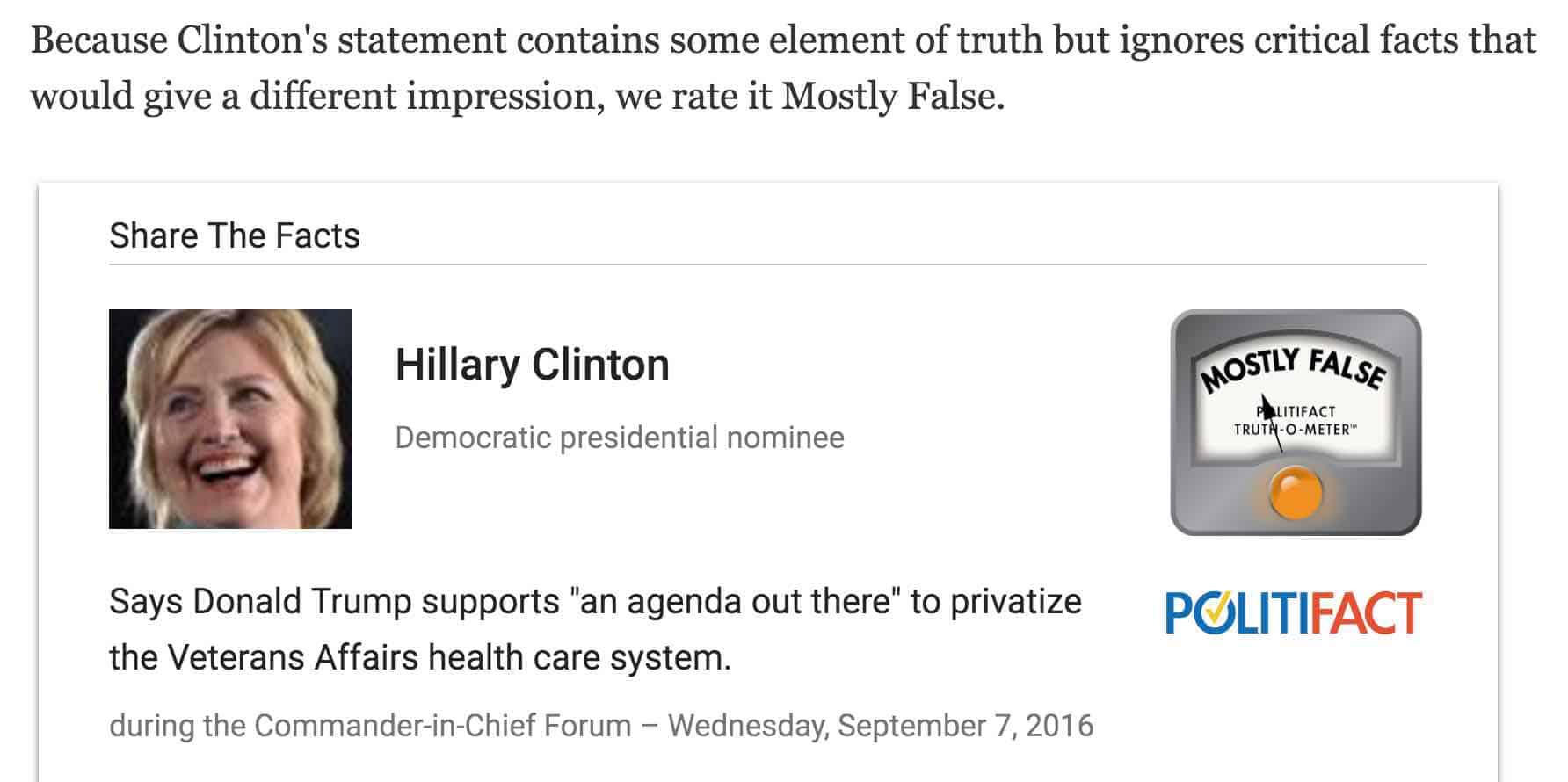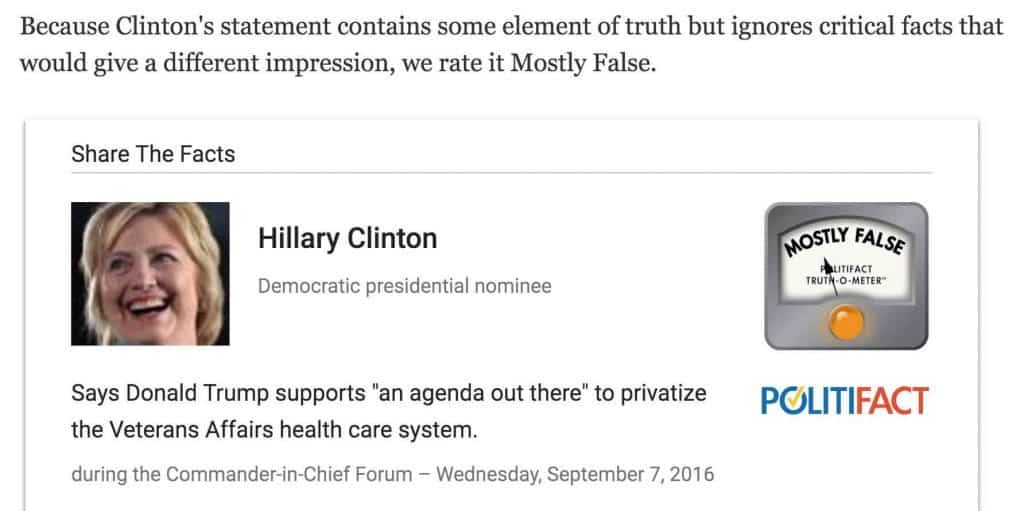 Polifact evaluated the Hillary Clinton claim that Donald Trump says he will privatize VA and concluded Clinton's assertion was 'mostly false.'
So what else is new?
There has been a lot of posturing, mainly at the request of the Union, to fight back against "privatization" of VA health care. This has come at the expense of veterans lives and even potential fixes to the system called Veterans Choice Program.
TRUTH BEHIND CLINTON CLAIM ON VA
The latter fix was a bipartisan solution birthed out of the disgusting and criminal aftermath of the Phoenix VA wait list scandal, where veterans died waiting for health care. VA OIG then tried to cover it up.
VA's Sloan Gibson IV then shut down the Office of Medical Inspector which forced the investigation back into the filthy trenches of the same facilities orchestrating the criminal behavior. In all, the agency orchestrated one of the greatest criminal fraud cover-ups in history within the walls of one agency.
Clinton got a lot of heat last October when she asserted on Rachel Maddow that the wait list fraud was more of a right wing conspiracy instead of a legitimate scandal. She proceeded to allege anyone asserting otherwise is attempting to privatize VA.
What Polifact got right was that Trump supports more "choice" and less totalitarian decisionmaking within that system. This is what America wants… with the exception of Unions, certain Veteran Organizations, and VA leadership.
Otherwise, the veterans who need care want a choice. It makes sense to me.
The false premise here is that VA was not already well on its way to being privatized to begin with. Under Bill Clinton, Hillary worked hard to strip VA of many government rolls in favor of outsourcing those same roles to corporations under their "Reinventing Government" plan.
This plan is well known to have been a failure and created a talent vacuum within the government, which is now dependent on government contractors to function.
Since that time, VA has not put the breaks on outsourcing jobs including relying on government contractors to provide health care and disability compensation examinations. This is well known within veteran circles, but the media has been slow on the take.
Instead, they seem to believe Trump is somehow a trailblazer with this concept, but the idea of outsourcing health care has been underway since 1993. President Obama made no attempt to slow down that process.
So while Polifact called out Hillary for being "mostly false" their conclusion is based on a false assumption that Trump is calling for more outsourcing than is already in the works.
I do not think Trump is actually calling for more privatization than is already in motion, and no more than what would occur under a Clinton presidency. The fact is, Clinton directed these changes while First Lady.
Perhaps the difference between the two candidates is that Trump would likely placate less to the Unions than Clinton.
About Clinton: She is a serial liar who flouts the law and truth and the trust of Democrats while in reality being a true Corporatist who supports Wall Street and Saudi Arabia ahead of the interests of the majority of Americans.
Source: https://www.politifact.com/truth-o-meter/statements/2016/sep/07/hillary-clinton/hillary-clinton-says-donald-trump-supports-privati/
UPDATE:
I voted for Bernie Sanders in the primary. So anyone who calls my website a "tea party" website just because I called out your queen, Serial Liar Hillary Clinton, can take a hike.