Antique VA Circular On Subversive Political Organizations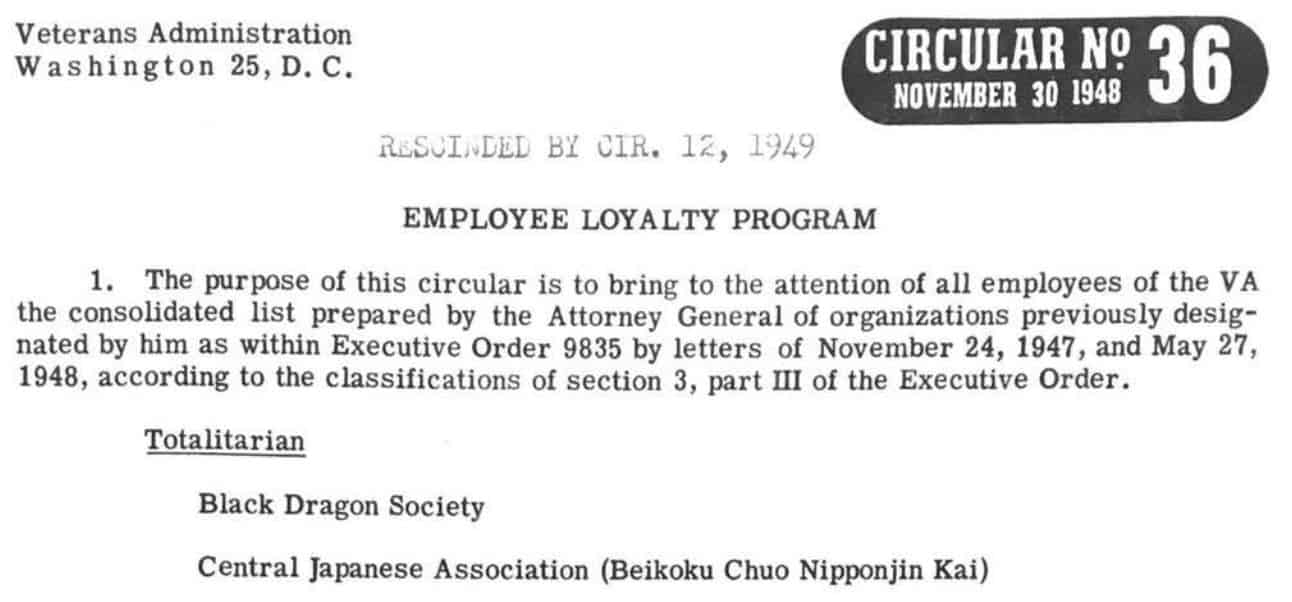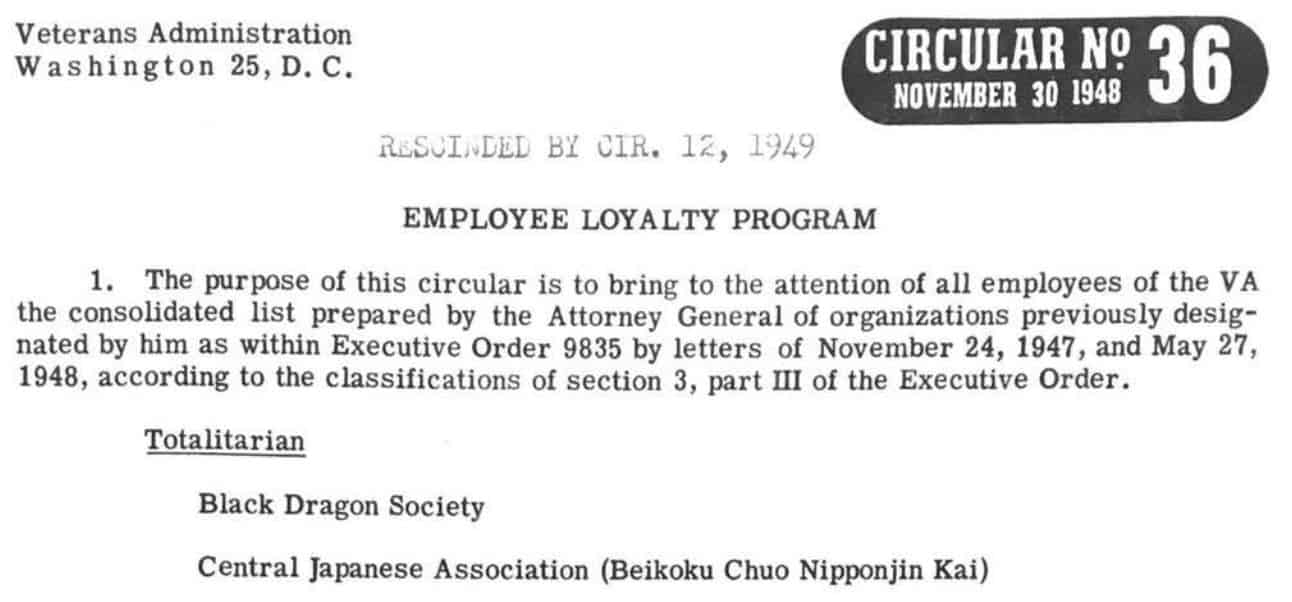 Following the debate last night, I wanted to post about an old VA employee loyalty that called out subversive organizations like the Communist Party USA.
These kinds of historical documents are useful for many reasons, which is why I thought to post about it today. Two of those reasons that I find most important in this context is that they give us a better understanding of our place in history today. They also give us insight into previous standards that may be useful in guiding forward-looking perspectives.
Today, we have numerous organizations within the United States that appear to have subversive agendas inconsistent with American ideals and the Constitution, and it seemed appropriate to me to highlight this document given what is happening right now.
We have seen numerous scandals within the Department of Veterans Affairs that resemble "sabotage" as prescribed by an old CIA instruction booklet originally published by the OSS during WWII.
RELATED: CIA Sabotage Tips At Core Of VA Scandals?
[Note: The linked article above has the OSS manual attached for your review]
We have an agency promoting horrible managers while admonishing whistleblowers. Great employees are not receiving the upward mobility they should. All the while, the AFGE Union seems to be doing everything in its power to undermine VA's mandate for greater accountability.
RELATED: AFGE Union Beats Back Senate VA Accountability Bill
All the while, the AFGE Union seems to be doing everything in its power to undermine VA's mandate for greater accountability. The union's president, J. David Cox, even went as far as to say he would "whoop" Bob McDonald's "ass" if the Secretary did not get on board with the AFGE Union.
RELATED: AFGE Union President Will "Whoop" VA Secretary's "Ass"
How is that? Aren't the employees there to perform their duties at the direction of the Secretary? Or is someone else their master? Is AFGE, in itself, a subversive organization intending to subvert the Constitutional mandates of the Department of Veterans Affairs?
If VA had these kinds of publications before, what do you think they have today? Are veterans' names or organizations on any present list of subversive groups at the agency?
I would like to know.
Download Source: VA Circular 36 Employee Loyalty Program
A Little Background
As some of you know, I am spending time at the VA Board of Veterans Appeals to represent the interests of veterans struggling with VA appeals at both the Board and the Regional Office. Yesterday, I spent time digging through the Board's exclusive library of antique VA documents it uses to adjudicate claims in the past.
RELATED: Board Seeks Veterans' Perspective At Forum
Many Americans are unaware of the Department of Veterans Affairs' vast libraries both at Central Office in Washington DC and elsewhere. One amazing resource is the Board.
While there yesterday, I stumbled across this interesting circular calling out employee loyalty and highlighting subversive organizations. The way our organizations used to talk about subversive activities is certainly something of a bygone era to say the least.
Subversive Political Organizations
One list from Circular 36 were organizations that "seek to alter the form of government of the United States by unconstitutional means" were:
Communist Party, U.S.A.
Communist Political Association
Socialist Workers Party
Workers Party
Young Communist League
Another list including organizations that "adopted a policy of advocating or approving the commission of acts of force and violence to deny others their rights under the Constitution of the United States" where were:
Columbians
Ku Klux Klan
Protestant War Veterans of the United States
Silver Shirt Legion of America
An Aside About This Election
Curiously, according to a new Project Veritas video, the Democratic National Party could be added to this list if it were created today. To give you an idea of what I am talking about, I recently came across some videos on point.
As an independent voter, I found the videos below, which documented DNC involvement in using unlawful acts of violence to deprive voters rights, alarming and disappointing.
I have voted "Democrat" in the past (voted for Bernie during the primaries), but I will not go that route this November with Hillary Clinton because of the behind the scenes garbage.
The below video of documented and unlawful tactics certainly resembles behavior of the National Socialist German Workers' Party pre-Nazi Germany more than anything else I have seen in this election cycle. It will keep me in the independent category this coming November:
More On VA Employee Loyalty Program Circular
That aside, here is the explanation of the circular and the primary list of organizations it addressed when highlighting concerns of employee loyalty:
"The purpose of this circular is to bring to the attention of all employees of the VA the consolidated list prepared by the Attorney General of organizations previously designated by him as within Executive Order 9835 by letters of November 24, 1947, and May 27, 1948, according to the classifications of section 3, part m of the Executive Order."
Here is the list of other organizations by type (some of the spelling of these may be distorted by the transfer, so I apologize for any typos I was unable to change on my laptop):
Totalitarian
Black Dragon Society
Central Japanese Association (Beikoku Chuo Nipponjin Kai) Central Japanese Association of Southern California
Dai Nippon Butoku Kai (Military Virtue Society of Japan or Military Art Society of Japan)
Heimuska Kai, also known as Nokubei Heieki Gimusha Kai, Zaibel Nihonjin , Heiyaku Gimusha Kai, and Zaibei Heimusha Kai (Japanese Residing in America Military Conscripts Association)
Hinode Kai (Imperial Japanese Reservists)
Hinomaru Kai (Rising Sun Flag Society–A group of Japanese War Veterans) Hokubei Zaigo Shoke Dan (North American Reserve Officers Association) Japanese Association of America
Japanese Overseas Central Society (Kaigai Dobo Chuo Kai) Japanese Oversas Convention, Tokyo, Japan, 1940
Japanese Protective Association (Recruiting Organization) Jikyoku tin Kai (Current Aff airs Association)
Kibei Seinen Kai (Association of U. S. Citizens of Japanese Ancestry who have returned to America alter studying in Japan)
Nanka Teikoku Gunyudan (Imperial Military Friends Group or Southern California War Veterans)
Nichibei Kogyo Kaisha (The Great Fujii Theatre)
Northwest Japanese Association Peace Movement of Ethiopia
Sakura Kai (Patriotic Society, or Cherry Association–Composed of veterans of Russo-Japanese War)
Shinto Temples
Sokoku Kai (Fatherland Society)
Suiko Sha (Reserve Officers Association Los Angeles)
Fascist
American Patriots, Inc.
Ausland-Organization der NSDA P, Overseas Branch of Nazi Party Association of German Nationals (Reichsdeutsche Vereinigung)
Central Organization of the German-American National Alliance (Deutsche­ Amerikanische Einheitsfront)
Citizens Protective League
Dante Alighieri Society
Federation of ltalian War Veterans in the U. S.A.,
Federation of ltalian War Veterans in the U. S.A.,Inc. (Associazione Nazionale Conbattenti Italiani, Federazione degli Stati Uniti d' America)
Friends of the New Germany (Freunde des Neuen Deutschlands) German-American Bund (Amerikadeutscher Volksbund)
German-American Republican League
German-American Vocational League (Deutsche-Amerikanische Berufsgemeinscha1t)
Kyff haeuser, also known as Kyffhaeuser League (Kyff haeuser Bund), Kyffhaeuser Fellowship (Kyffhaeuser Kameradschaft)
Kyff haeuser War Relief (Kyffhaeuser Kriegshilfswerk) Lictor Society (Italian Black Shirts)
Mario Morgantini Circle
Communist
Abraham Lincoln School, Chicago, Illinois
American League Against War and Fascism
American Association for Reconstruction in Yugoslavia, Inc. American Committee for European Workers' Relief American Committee for Protection of Foreign Born
American Committee for Yugoslav Relief, Inc.
American Council for a Democratic Greece
American Council on Soviet Relations American Croatian Congress
American League for Peace and Democracy
American Peace Mobilization
American Polish Labor Council
American Russian Institute (of San Francisco)
American Slav Congress American Youth Congress
American Youth for Democracy
Armenian Progressive League of America
California Labor School, Inc., 216 Market Street, San Francisco, California
Central Council of American Women of Croatian Descent, aka Central Council of American Croatian Women, National Council of Croatian Women
Citizens Committee of the Upper West Side (New York City}
Civil Rights Congress and its affiliates Committee to Aid the Fighting South Communist Party, U. S. A.
Communist Political Association Connecticut State Youth Conference
Congress of American Revolutionary Writers
Congress of American Women Council on African Affairs
Council for Pan-American Democracy
Dennis Defense Committee Friends of the Soviet Union
George Washington Carver School, New York City
Hollywood Writers Mobilization for Defense
Hungarian-American Council for Democracy
International Labor Defense
International Workers Order, including People's Radio Foundation, Inc.
Jefferson School of Social Science, New York City
Jewish Peoples Committee
Joint Anti-Fascist Refugee Committee
Labor Research Association, Inc.
League of American Writers
Macedonian-American People's League Michigan Civil Rights Federation
National Committee for the Defense of Political Prisoners
National Committee to Win the Peace
National Council of Americans of Croatian Descent
National Council of American-Soviet Friendship
National Federation for Constitutional Liberties
National Negro Congress
Nature Friends of America (since 1935)
Negro Labor Victory Committee
New Committee for Publications
Ohio School of Social Sciences
People's Educational Association
People's Institute of Applied Religion People's Radio Foundation, Inc.
Philadelphia School of Social Science and Art
Photo League (New York City) Proletarian Party of America
Revolutionary Workers League
Samuel Adams School, Boston, Massachusetts
School of Jewish Studies, New York City
Seattle Labor School, Seattle, Washington
Serbian Vidovdan Council
Slovenian-American National Council
Socialist Workers Party, including American Committee for European Workers'
Relief
Socialist Youth League
Southern Negro Youth Congress
Tom Paine School of Social Science, Philadelphia, Pennsylvania
Tom Paine School of Westchester, New York
United Committee of South Slavic Americans
United Harlem Tenants and Consumers Organization
United May Day Committee
United Negro and Allied Veterans of America
Veterans of the Abraham Lincoln Brigade
Walt Whitman School of Social Science, Newark, New Jersey
Washington Bookshop Association
Washington Committee for Democratic Action
Wisconsin Conference on Social Legislation
Workers Alliance
Workers Party, including Socialist Youth League
Young Communist League
Subversive
Communist Party, U.S. A.
Communist Political Association
German-American Bund
Socialist Workers Party
Workers Party
Young Communist League
Download Source: VA Circular 36 Employee Loyalty Program