At Least 60,000 Veteran Suicides Over Past Decade Report Says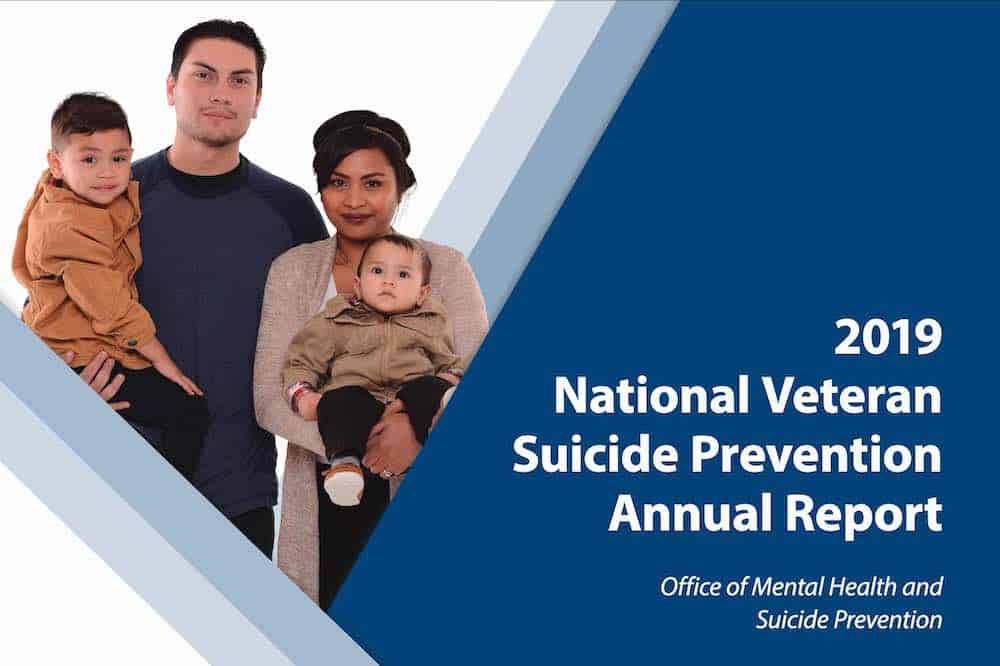 The Department of Veterans Affairs released a report on Friday revealing at least 60,000 veterans died by suicide over the past decade.
Despite reassurances and millions in funding each year, the agency has repeatedly failed to make a substantive dent in veteran suicide. Until 2017, the agency spent tens of millions in taxpayer dollars annually with advertising agencies to create ad campaigns and glitzy events to raise awareness, supposedly, without slowing the tide.
Last year, President Donald Trump caught a lot of flack for cutting back on veteran suicide "awareness" campaign spending citing a lack of oversight.
Maybe they knew the writing was on the wall for such programs.
Remember Veterans For Common Sense?
One part of the story that few people may remember is the class-action lawsuit brought by Veterans For Common Sense and Veterans United For Truth. The Court eventually concluded it could not get involved in oversight of agency benefits that impact the treatment of PTSD and suicide prevention.
Rumor has it agency officials were not straight with the 9th Circuit on agency data, which influenced the outcome of the litigation.
So, we now know VA instead spent lots of money on glitzy advertising and little on genuinely impactful programs or mental health hiring – – at least not in a substantive way.
RELATED: VA Shuts Down Long-term PTSD Therapy Program
The National Veteran Suicide Report
VA's 2019 National Veteran Suicide Prevention Annual Report showed that while the total population of veterans declined, the data suggest the suicide rate is increasing.
To address the impact of the numbers, VA is using a few new tactics – – create a new algorithm to calculate the veteran suicide rate.
A few years back, the veteran suicide rate was around 22 veterans per day.
VA then changed how the data was tabulated, so we ended up with 20 veteran suicides per day.
Now, VA says the new algorithm shows 17 veterans commit suicide per day by removing some of the populations they previously included.
RELATED: Advocates Sue VA Over Delay To Grant Vietnam Veterans' Benefits
An example of the now excluded groups is National Guard and Reserve members who were not federally activated when they served meaning they do not qualify for VA services.
Meanwhile, the report shows the number of veteran suicides increased by 2 percent from 2016 to 2017, an overall increase of 8 percent since 2008.
VA is also blending trends of suicide within the general population with veteran suicide, and also suggesting the issue to too complex for the agency specializing in veteran mental health to address.
Basically, the report reads like, "Fixing suicide is really hard," after blowing through hundreds of millions in taxpayer dollars over the past decade without much to show for it.
RELATED: VA Police Brutality Settlement
Agency Statement
In a statement, Secretary Robert Wilkie said VA is unable to address veteran suicides without support from local governments.
"VA is working to prevent suicide among all veterans, whether they are enrolled in VA health care or not," Wilkie said. "That's why the department has adopted a comprehensive public health approach to suicide prevention, using bundled strategies that cut across various sectors — faith communities, employers, schools and health care organizations, for example — to reach veterans where they live and thrive."
Other Veteran Suicide Prevent Solutions?
Now, one obvious solution, at least in my mind, would be for the agency to stop screwing veterans when we try to get our benefits. Adjudicate the claim in an honest and transparent manner. And, do this as fast as possible.
Take the recent Blue Water Vietnam Veteran stall tactic. After decades of fighting, Navy veterans won a massive legal battle to receive benefits for herbicide exposure. Rather than pay up, VA lobbied its veterans organizations to push legislation to help it stall adjudicating those claims for six months.
So, while the Vietnam veterans impacted are dying while waiting for benefits, VA is working to stall out a few more. Why didn't VA have a system in place since they knew the agency's position was completely absurd?
Or, VA could stop knowingly using unqualified medical professionals to conduct highly complicated disability exams for conditions like Traumatic Brain Injury.
Back to my one obvious solution. Stop screwing veterans using absurd legal arguments to hold back the money they are entitled to.
Sound like a plan?
Maybe step two should be to stop wasting money on crony deals with government contractors that provide little tangible benefit to veterans as a whole. Then use that money to hire more mental health experts.
Maybe step three could be to develop a Vocational Rehabilitation & Employment (VR&E) hybrid with the VA Home Loan to help certain veterans buy a Tiny House attached to a small organic farm. I like that kind of idea…
Maybe expand self-employment offerings at the agency and stop fighting veterans seeking economic freedom as hard as the program has done in the past.
As a Veterans Rights Attorney representing veterans denied Voc Rehab benefits, I sometimes suspect some of its counselors would do well to remember they were hired to serve veterans and not the other way around.
What ideas do you have that could help?
If you or someone you know is having thoughts of suicide, contact the Veterans Crisis Line to receive free, confidential support and crisis intervention available 24 hours a day, 7 days a week, 365 days a year. Call 1-800-273-8255 and Press 1, text to 838255, or chat online at VeteransCrisisLine.net/Chat.
UPDATE: September 26, 2019 – The original version of this story listed the incorrect nonprofit in the Veterans For Common Sense litigation. The correct co-litigant with VCS was Veterans United For Truth and not Swords to Plowshares.