Caregivers Take Fight Right To McDonough, Issue 'Remy Challenge'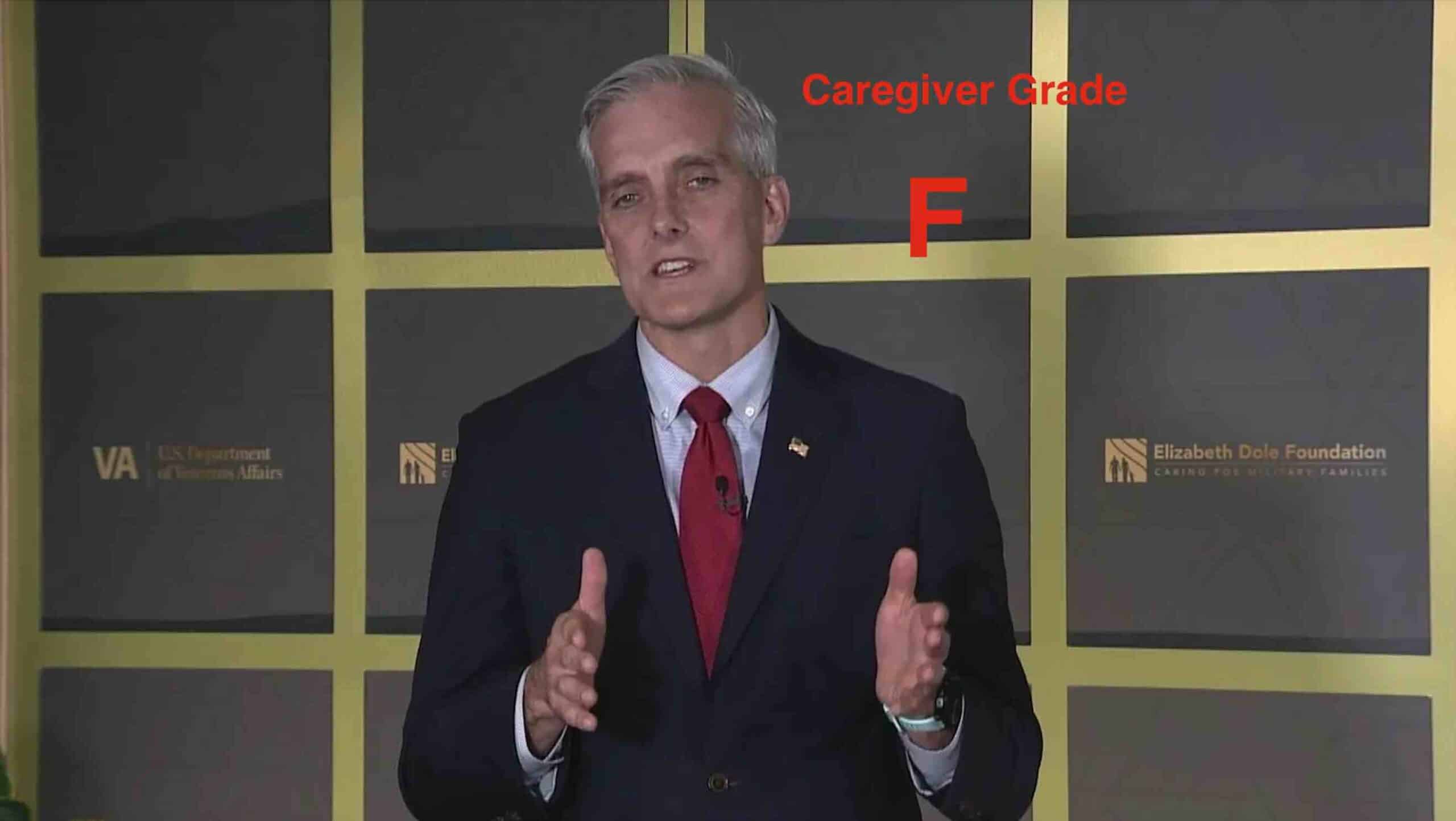 Caregivers tired of continued lip service from Secretary Denis McDonough issued the "Remy Challenge" to call out the agency for current practices.
Over the summer, caregivers disenfranchised with the VA Caregiver Program and its managerial cheerleaders within the Elizabeth Dole Foundation (EDF) started speaking out and digging in.
Subscribe to our weekly newsletter and stay up to date.
By speaking out, I mean speaking to advocates in news media like myself and Richard Leonard since no national media outlets were paying much attention.
And why would the national press care?
They were too busy covering galas and parties rather than drilling down into the problems caregivers face outside Capitol Hill and the Beltway surrounding it.
With glitzy annual galas held by EDF and the annual national convening, national press not familiar with the plight of caregivers would come away with the impression that problems within the program are being addressed fairly and promptly.
Wrong.
That is, despite the recent efforts spearheaded by social worker Meg Kabat, SES and senior advisor for Families, Caregivers, and Survivors Office of the Secretary, that resulted in a sudden and suspicious purge of 90 percent of caregivers from the program.
Caregivers receive financial support averaging $1,500 per month to compensate them for their sacrifices to take care of a loved one in the home. Caregivers are wives, husbands, children, parents, or friends often willing to forego a career to provide costly in-home care to a veteran.
The cost savings for VA is enormous. Instead of paying a caregiver $1,500, the agency would likely pay between $6,000 to $15,000 per month for adult living or in-home care by a registered nurse per veteran.
Without the purged caregivers, what would the VA Caregiver Program be spending its $1.8 billion to support?
Good question.
On September 2, 2022, I sent Secretary McDonough the Remy Challenge? What is the "Remy Challenge" you may ask?
It was a challenge for the Secretary to hear out the concerns of disenfranchised caregivers who do not feel VA or EDF represent their interests. Deputy Secretary Donald Remy seemingly issued a challenge for people to present VA with the "bad and the ugly" when it comes to the Caregiver Program at the EDF seventh annual national convening earlier this year.
Remy Challenge Email
Here is what we emailed the Secretary:
Re: The Remy Challenge: The Bad & the Ugly of the VA Caregiver Program
Dear Secretary McDonough, et al,
My name is Benjamin Krause. I am a disabled veteran, journalist, and veterans rights attorney.
I am sending you what has been coined as a Remy Challenge following his comments at a Caregiver event in March. Steve Schwab cited the Dep Sec as saying he wants to hear more about the Bad and the Ugly, not just the good.
https ://www. disabledveterans.org/2022/08/31/concerned-caregivers-fight-to-have-a-voice/
We are taking the Dep Sec up on the challenge to present the Bad and the Ugly for you and him to hear and address as your schedules allow.
Over the past couple weeks, I have investigated and reported on concerns of a group of veteran caregivers who are disenfranchised. They do not feel their concerns and interests are being adequately presented to you by officials of the VA Caregiver Program or the omnipresent Elizabeth Dole Foundation (EDF).
It would be a tremendous act of "good will" for you to assign a senior advisor to talk with these caregivers. The senior staffer must be outside the control of Meg Kabat and her office. The past deeds and involvement of Kabat and EDF as reflected on Caregiver FAC recommendations has eroded their trust.
Please have a senior advisor or leader (that reports to you) reach out to me to facilitate the discussion. The preference would be Dep Sec Remy or your chief of staff.
Please also provide an official comment through your Public Affairs team as to whether you will provide an audience that can be published on DisabledVeterans.org and elsewhere in honor of Labor Day.
IF YOU READ NOTHING ELSE:
Secretary, the caregivers will want to know, "Will you give us a voice?" Please have Public Affairs provide your answer by COB today and confirm receipt of this request.
Respectfully,
Benjamin Krause
Did VA Respond?
Yes.
What happened?
Rumor has it the "challenge" was reviewed by at least Remy and possibly McDonough.
Press secretary Terrence Hayes promptly responded the next business day seeking additional information about the caregivers' concerns. For anyone reading this, a prompt response from the Secretary's team is a solid sign they are paying attention.
Progress.
I will post the response from the caregivers we are speaking with below.
The Richard Leonard Show Caregiver Interviews
Now, for some additional backstory, I have covered this with my friend Richard Leonard on The Richard Leonard Show over the past month.
You can see information about the first show and watch it here: Concerned Caregivers Fight To Have A Voice.
EDF apparently relayed the content of our first show to its "attorneys" for review. This response seemed a bit 'bush league' to me for an organization with over $7 million in disclosed annual revenue in 2020. A better response would have been to reach out to Leonard.
In the second show, Richard Leonard challenged Elizabeth Dole or any of her nonprofit's staff to come on his show to address any concerns or correct any perceived errors.
EDF Challenged To Come On Leonards Show
Crickets from EDF.
To put this in perspective, EDF has an incredible budget and large public following. It selects premier caregivers to serve as ambassadors commonly called Dole Fellows. Their public relations budget is huge with big dollar annual parties and even a gala where senior VA leadership are invited for dinner.
All this and crickets?
Leonard Interviews Severely Disabled Veteran In Caregiver Program
The coverage did not stop.
Last Sunday, Leonard aired his interview of Dwayne Gertner, a severely disabled veteran with a caregiver impacted by the purge. Gertner is a fighter who requires daily assistance from a friend's mother to eat, bathe, and live. His caregiver was caught up in the purge.
Caregivers List Top 6 Concerns
In response to the Secretary's team, our caregivers provide for the first time a top list of their concerns about the VA Caregiver Program and mismanagement in the program.
#1 Congressional Intent or VA's Ill-Intent……………………..Congressional Intent
VA proposed to make several changes to the regulations for PCAFC in order to comply with the MISSION act of 2018. Although VA claimed it was required to create new regulations, the MISSION's act only ever tasked VA to expand eligibility to Veteran's of all era's. Over the years, Congress has counseled VA to not make any regulatory changes that might restrict or prevent access to PCAFC. Senators Tester and Takano issued a statement about the expansion.
"We are disappointed that when VA finalized the regulations for the PCAFC expansion in July 2020, which go into effect today, the Department ignored input from key stakeholders and organizations that support veterans, caregivers, and their families and chose to tighten eligibility in a manner not intended by Congress. These new rules will remove current program participants and limit the enrollment of many disabled veterans and their caregivers."
Gone is the time where VA can claim they couldn't have foreseen this outcome. It has come to pass that over 90% have been removed from the caregiver program. Now is the time to hold leadership accountable, and move forward with the best of intentions for the Veterans and caregivers that this program is meant to serve.
#2 Expansion or Restriction……………………. Restrictive Regulations
The final ruling for the Program of Comprehensive Assistance for Family Caregivers (PCAFC), that went into effect on October 1, 2020, has resulted in a 13% approval rate. Over 90% of legacy participants are on track to be discharged. A legacy participant is a veterans/caregiver that was in the program prior to October 1, 2020. The veteran must have a service-connected rating of 70%-100%. Once the rating has been confirmed, the veteran then moves on to determine if they the VA thinks the veteran needs the "hands-on" assistance.
When codifying the "hands-on" portion of the final rule, VA neglected to account for the many veterans that may be able to complete, or partially complete, an ADL some of the time. This makes all veterans that may be able to complete an ADL in the morning, but not in the evening, ineligible. PCAFC supports caregivers who provide hands on assistance with activities of daily living "each" time the ADL is performed. PCAFC no longer supports caregivers who assist veterans with Instrumental activities of daily living (iADL), although the legacy model of PCAFC allowed this. An example of the difference can be seen as such:
Assistance with an iADL is described as the veteran requiring assistance to plan, purchase, and cook the meal. Assistance with an ADL is when the veteran needs assistance to physically bring a spoon to their mouth in order to eat.
Veterans with neurological/musculoskeletal impairments may be able to partially assist with an ADL at the beginning of the day, but as the day progresses, would require assistance.
By requiring that assistance is needed "each" time the ADL is performed, and by removing iADL's from the eligibility criteria, the VA has restricted PCAFC eligibility so much that it is near impossible to be approved. Also, the need for assistance cannot be tied to a service-connected rating, although an award of aid and attendance should be an automatic qualifier, since VA has already deemed the Veteran in need of a caregiver. The VA has made a very loud statement with the new regulations. VA only cares if the veteran survives at home and could not care any less if the veteran thrives at home. Our veterans deserve better than this, especially when it is within the authority of VA to provide this service in a cost-effective way, that is equitable for all.
#3 Social Workers Should NOT Rule the World……………………Primary Care Providers Input
In most cases, the Veteran's Primary Care Provider has been excluded from Caregiver Support Program decisions. In fact, it is frowned upon for the primary care team to engage in participation for eligibility determination. Evidence-based research, conducted by Meg Kabat Senior Advisor for Veterans Families, Caregivers, and Survivors, found that "Interdisciplinary teams can help mitigate potential harm to therapeutic relationships." The new PCAFC policy has been implemented to ensure the primary care teams "biased opinion" does not affect the Centralized Eligibility and Assessment Team's (CEAT's) decision for eligibility. By allowing CEAT's to operate outside of their scope of practice, the new PCAFC policy has ultimately opened the VA to potential medical malpractice lawsuits.
Significant cost savings could be seen by dismantling the Centralized Eligibility and Assessment Teams altogether. If VA reverted the policy back to afford the primary care provider the authority to determine eligibility, VA could see a higher rate of application approvals, from having the primary care providers complete a questionnaire at the veteran's annual visit, while simultaneously eliminating the overhead cost of operating the CEAT's and the caregiver program assessment staff.
#4 Social Workers operating outside of their scope of practice………………….Retract Inaccurate Assessments and CEAT decisions.
Veteran's, and their caregivers, must complete an annual assessment in order to stay compliant with PCAFC. As the years have passed, these assessments have become more redundant, time consuming, and dehumanizing. The most recent round of assessment has resulted in thousands of complaints by Veteran's, and caregivers, that social workers have placed inaccuracies into the veteran's medical records. This has been proven to be harmful. Veterans have received inadequate medical care. Providers have ceased dispensing of medication. There have been reviews of veteran's ratings. These inaccuracies from the assessments to the CEAT decisions must be retracted from the medical chart. This ensures the best quality of service is received on all fronts, from medical care to the benefits side, in order to avoid any potential liability in the future.
#5 Oversight or Overreach ………………. Caregiver Support Oversight
In 2018 the Office of Inspector General found that "VHA failed to effectively run the Family Caregiver Program because it did not establish governance that promotes accountability for program management." The failed implementation was underneath the leadership of Meg Kabat, National Director of the caregiver program. Furthermore, the Office of Inspector General found several other issues that stemmed from her failed leadership, including that eligible veterans and their caregivers did not always receive consistent and appropriate access to the Family Caregiving Program. VA would benefit from removing Meg Kabat from her role as Senior Advisor for Veterans, Caregivers, Families, and Survivors, as it isn't a needed service.
There has not been a current OIG investigation into the most current mass discharge. VA would greatly benefit from an investigation into caregiver program leadership, and an external audit of the budget/finances associated with said program, especially when one considers the unwarranted budget increases that happen yearly. In the spirit of transparency, VA should be happy to ensure that they are being the best steward of tax payers funds.
#6 Financial Security is the way to Cost Savings…………………. Cost Savings Proposals
Caregivers of PCAFC receive a monthly stipend from VA to recognize the sacrifice of caregiving. This stipend is never to be seen as an employment relationship between the Secretary of Veterans Affairs and a caregiver. What if we turned that upside down? Imagine what it could look like if caregivers were acknowledged as a self-employed workforce! If VA issued each caregiver a 1099 NEC, caregivers could contribute to social security, while simultaneously giving them the ability to obtain a mortgage using countable income. By giving caregivers this small slice of financial security, we ensure that VA doesn't stretch itself too thin by replacing caregivers with commercial home health aide, whose salary for full time personal care services would far exceed the small amount afforded to family caregivers through PCAFC.
There are many ways in which VA could incorporate cost savings. Caregiver spouses of veterans with a 100% permanent and total rating are eligible to receive ChampVA benefits. If these caregivers already receive ChampVA, there is no reason to fund this same benefit through PCAFC. By calculating how many caregivers do NOT need this civilian insurance plan underneath PCAFC budget, VA could cut costs. If VA implemented a case mix tool, it could avoid a duplication of services (ex. Cannot use VDC homemaker if you are in CSP), to avoid paying a caregiver twice from the Patient Care Services budget.
McDonough Caregiver Report Card 2022
The caregivers also created a report card based on the apparent lip service Secretary McDonough provided at the Sixth Annual National Convening of the Elizabeth Dole Foundation, October 29, 2021.
The ironic title of VA's article was, "Caregivers have been overlooked, those days are over, VA secretary says".
"Our job at VA and EDF is to help those caregivers to find ways to make their lives easier – both because that's the right thing to do, and because supporting caregivers improves outcomes for Veterans," Secretary Denis McDonough said.
Well, if that is the job of both VA and EDF, our caregivers believe both organizations are doing a horrible job, but the fault really falls at the feet of McDonough.
"This is the type of stress that leads caregivers to suffer from anxiety, depression and health issues more often than most Americans," McDonough said. "And it means that our shared mission to care for those caregivers has never been more important than it is right now."
How did VA do?
VA attempted to remove 90 percent of caregivers that would have freed up most of the money paid to those same caregivers.
Has EDF ever used its "attorneys" to litigate the matters to protect caregivers such as before or after the purge? No. Veteran Warriors, a self-funded organization, sure did. Our caregivers believe EDF has not done enough to protect their interests.
Despite EDF's shortcomings, our caregivers primarily blame Meg Kabat for her errant policies and guidance literally initiated around the time of the event to remove the key support veterans and caregivers need.
Meg Kabat presided over the Caregiver Program in a leadership capacity for nearly one decade before leaving the agency at the tail end of the Trump Administration. She was then brought back in as an SES appointed by the White House to lead the program.
What did she do? She gave McDonough and President Joe Biden a black eye.
In follow up to the Top 6 Concerns list, the caregivers also provide the Secretary with this report card to let him know exactly how he is doing following the promises. I say "he" because the buck stops with the Secretary. The failings of his subordinates including Meg Kabat are his responsibility to correct.
The Caregiver Report Card


Caregiver Inclusion – F
Caregiver Inclusion: "I know that at times, throughout VA's history, caregivers have been overlooked," he said. "Or not included. Or not appreciated for the back-breaking work they do, and the incredible service that they provide. But I'm here today to say, to any caregiver watching, that those days are over. Let me repeat: those days are over."
Caregivers are not included in care decisions for their Veterans. The Campaign for Inclusive care was supposed to include the caregiver in all discussions/decisions related to the Veteran's care. The Campaign has fallen extremely short of that mark. Until VA re-trains medical staff, the culture of overlooking caregivers will continue.
The back breaking work which you speak of is being recognized at a financial rate that is less than minimum wage for the hours of service provided.
You have received a failing grade for Inclusive Care.
Doing The Right Thing – F
Doing the Right Thing: "Our job at VA and EDF is to help those caregivers to find ways to make their lives easier – both because that's the right thing to do, and because supporting caregivers improves outcomes for Veterans," he said.
Caregivers are navigating the VA health care system to get the best possible care for their veterans. It seems like offering a comprehensive support package (including financial compensation) would be the "right thing to do", yet we are currently experiencing the third PCAFC pause in discharges. VA research shows that caregivers enrolled in PCAFC increase veteran health care utilization costs by seeking primary care, mental health care, and specialty care appointments for the veteran they care for. Caregivers have every reason to think that because we have increased health care utilization costs, the Secretary of Veterans Affairs is denying PCAFC caregiver support to save money on medical care for Veterans.
You have received a failing grade for Doing the Right Thing.
Advocacy – F
Advocacy: "McDonough said VA will continue the close collaboration with the Veterans' Family, Caregiver, and Survivor Advisory committee – which is chaired by Senator Elizabeth Dole. VA's dedication to caregivers shows, with its first ever senior advisor for caregivers: Meg Kabat advises the secretary on families, caregivers and survivors."
The advocacy provided by former Senator Elizabeth Dole, through the Veteran's Family, Caregiver, and Survivor Advisory Committee seems to mirror her legislative priorities more than they align with the needs of the caregiver community. The former Senator has chaired the committee for far too long, and under her leadership has made recommendations (with unethical input from Meg Kabat) for a Senior Advisor position to be created at the VA. Not only did Meg help create the position, she was appointed to this position as well. Maybe this is why the VA failed to maintain functioning ethics links for the Advisory Committee website from April 2016- August 2022.
Meg Kabat, Senior Advisory for Families, Caregivers, and Survivors has been at the helm each time the VA has needed to pause the program due to an enormous amount of veterans and caregivers being purged. The caregiver program may not have failed under your leadership in the past, Mr. Secretary, but it is failing under your current leadership.
You have received a failing grade for Advocacy.
Access – F
Access: "We'll move heaven and earth to get caregivers timely access to their VA resources," he said.
Continuing to allow the restrictive regulations to remain in place has prevented over 90% of post 911 Veterans access to PCAFC. Once enrolled in PCAFC, the extensive list of resources is very miniscule when compared to what exists. The travel portal that allows caregivers access to their travel benefit doesn't waive the deductible as stated at https://www.va.gov/healthbenefits/resources/publications/10-512_Beneficiary_Travel_July22.pdf. Financial and Legal Planning Service are still largely in contract stages.
"During the pandemic, the Elizabeth Dole Foundation partnered with VA to provide more than $500,000-worth of free, professional respite services to caregivers who needed it. On top of that, VA has vaccinated more than 85,000 caregivers and given personal protective equipment, all while delivering more care and benefits than ever before."
Although approval for respite care has been painless, there aren't enough providers to accommodate veterans needs once approved. Caregivers have noted the access to vaccines, and PPE, while at a VA medical center, but to our knowledge masks were never distributed to any of us outside of the facility setting. Caregivers don't see you lifting more that your eyebrows at us, so when we will see the heaven and earth shift? We are waiting Mr. Secretary!
You have received a failing grade for Access.
Outcomes – F
Outcomes: "Because as you know, the health and happiness of caregivers is inextricably tied to the health and happiness of the Veterans they serve," McDonough said. "In other words, by improving caregiver outcomes, we improve Veteran outcomes – and we at VA are going to stop at nothing to do both."
Caregivers cannot remain happy, nor healthy, when there is a constant fear that a social worker will deem their veteran ineligible for PCAFC, severing the caregivers support, even when there has been no clinical change in the veteran's health or in the medical chart. The VA continues to allow social workers to treat caregivers like leeches. VA cannot expect good outcomes for veterans when the hospital staff itself is the reason for the discontent. VA staff needs to have a cultural shift, where caregivers are respected for their service to this great country.
You have received a failing grade for Outcomes.
Lip Service – A
Lip Service: [noun] an avowal of advocacy, adherence, or allegiance expressed in words but not backed by deeds.
Caregivers continue to hear about all the great things that VA is doing for us, yet we continue to find access to PCAFC blocked by Senior Advisor, Meg Kabat, who has been tasked with representing us. We stand firm in our conviction that Meg Kabat is responsible for the necessity of a third PCAFC pause. We once again ask for Meg Kabat's removal as Senior Advisor for Families, Caregivers and Survivors.
You have received an exceptional grade for Lip Service.
Excellence – F
Excellence: From VA resources –" I CARE Core Values and Characteristics are codified in our VA regulations at 38 C.F.R. Part 0 and define the standards of ethical conduct and related responsibilities of all VA employees. These regulations include CX Principles — Trust, Ease, Effectiveness and Emotion — as guiding principles for how all employees deliver services to Veterans, their families, caregivers and survivors. The E in I CARE represents Excellences and is described as: Strive for the highest quality and continuous improvement. Be thoughtful and decisive in leadership, accountable for my actions, willing to admit mistakes, and rigorous in correcting them." (emphasis added)
In order to achieve excellence, the VA must first want to improve. Second, the VA has been thoughtful in leadership for Dr. Colleen Richardson. She is the right person for the job of resuscitating PCAFC. She has accomplished a lot in a short amount of time. She has earned the respect of caregivers by engaging us to see what support we need. She fixes problem that she has the authority to fix, but unfortunately Meg Kabat has the ultimate authority to enact change. Lastly, VA must accept accountability, by starting with a change in leadership, and members, for the Veterans' Family, Caregiver, and Survivor Federal Advisory Committee. Caregivers also want a complete investigation of the Program of Comprehensive Assistance for Family Caregivers. as well as a thorough investigation of Meg Kabat, Senior Advisor to the secretary of Veterans Affairs, along with a full audit of the caregiver program finances during her tenure.
You have not yet received a grade for Excellence, Mr. Secretary. Your performance to date is lacking, but together, VA and caregivers can move forward with PCAFC. By working together, we can create a functional program that is equitable for all.
Next Steps
We are following the developments and next steps taken by the VA Caregiver Program very closely. Leonard has vowed to continue regular coverage of the agency's actions.
Let's hope the Secretary takes these words provided by concerned caregivers to heart. He should consider promoting Meg Kabat into a less influential position while providing additional staff support to Dr. Richardson to help turn this titanic away from the iceberg.
How do you think our caregivers did pulling together their Top 6 assessment and report card? Do you agree? Is there anything you would add?
Post your comments below!