VA Doctor Invented Hepatitis C Cure, Sold It For $400 Million Profit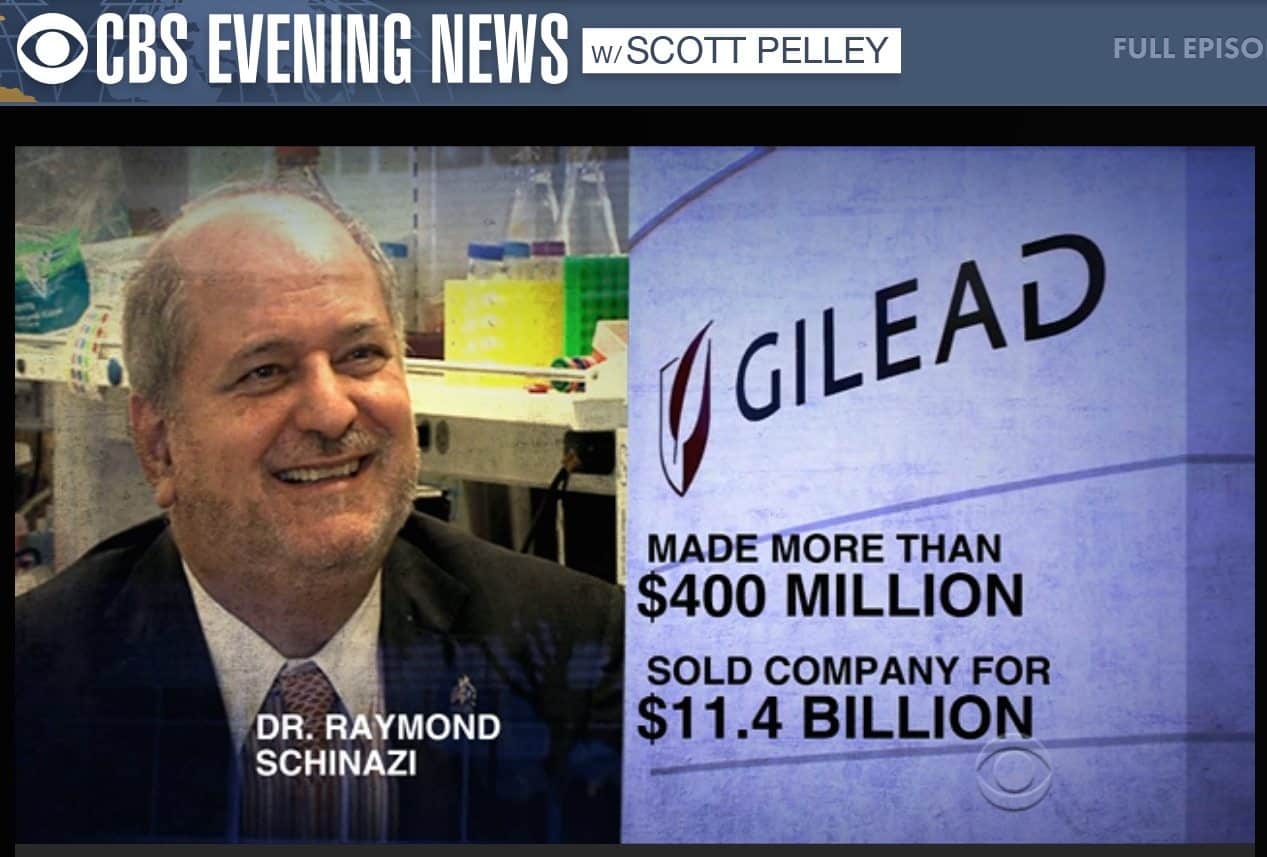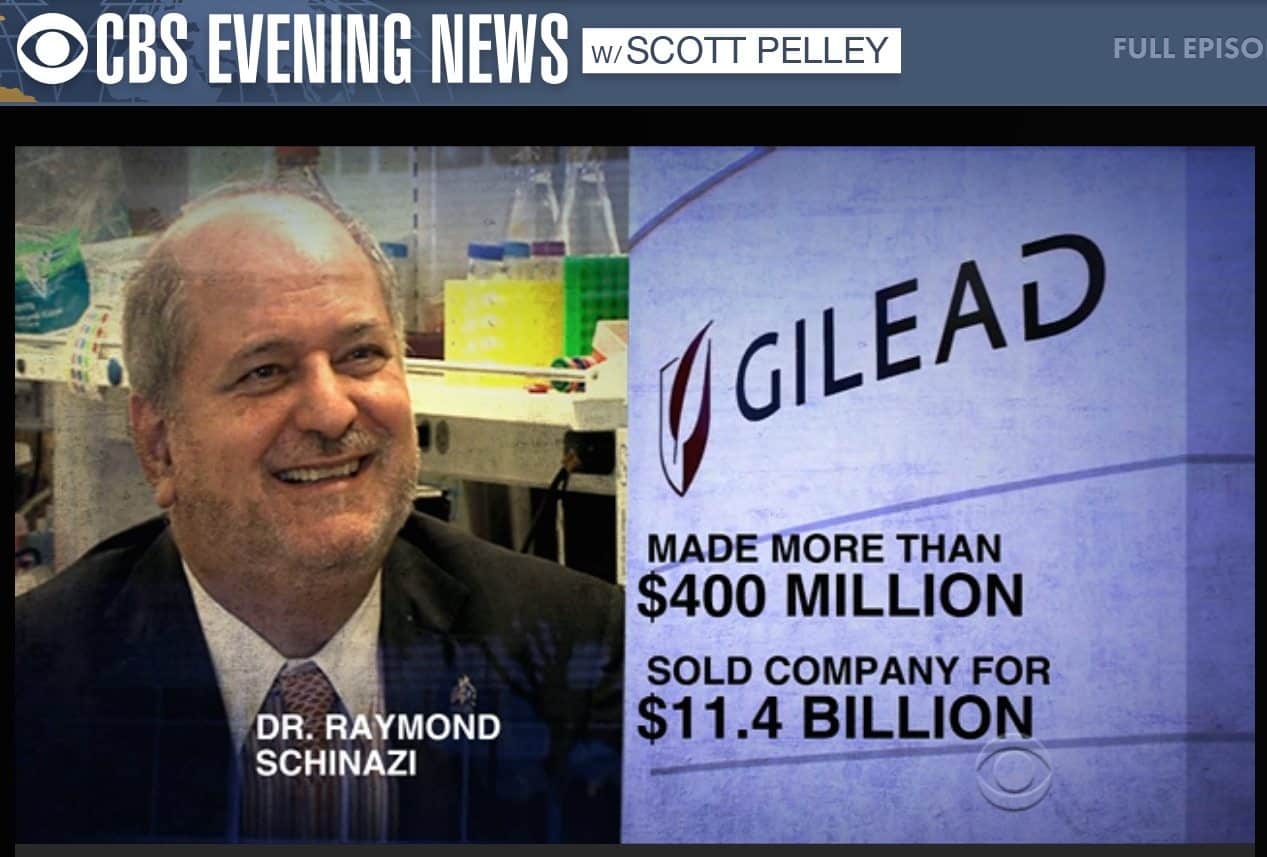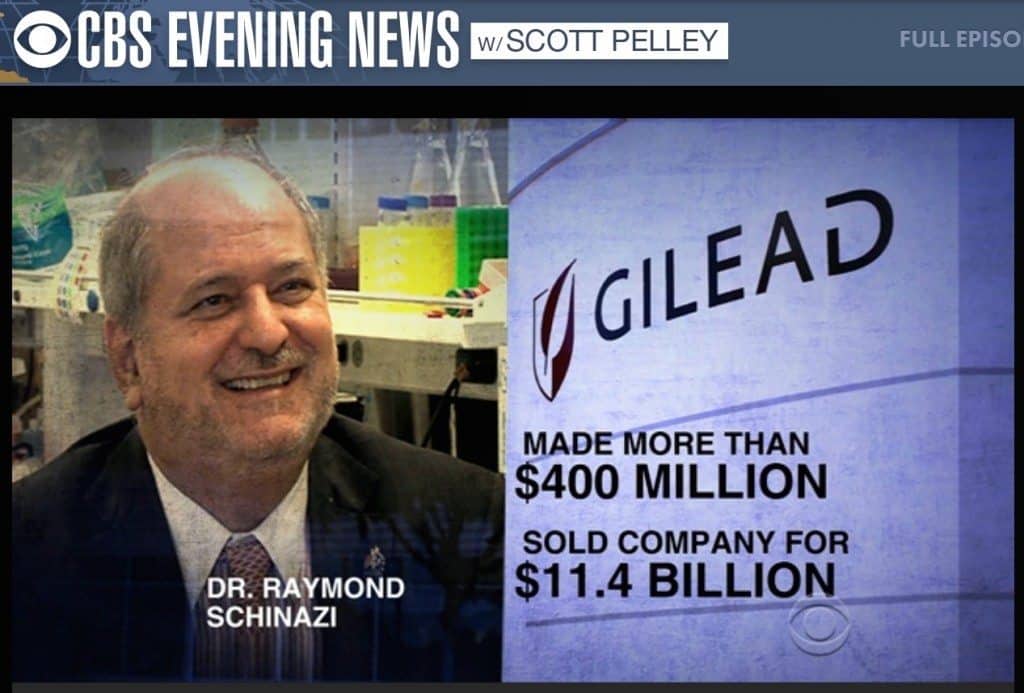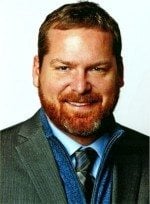 Atlanta – Inventor of hepatitis C cure worked as a VA doctor when he invented the drug that now sells for $1,000 per pill. It only costs $16 to make.
The pill is vital to treat infected veterans dying from careless administration of vaccines during Vietnam without following standards to protect spreading of diseases between soldiers.
Apparently, Dr. Raymond Schinazi, a VA doctor since 1983, founded a company named Pharmasset and led the scientific team that discovered sofosbuvir while working at VA. That is the substances used in current hep C pill treatments.
So who really owns the hepatitis C cure? Taxpayers or the VA employee who invented it while a full-time VA employee? Dr. Schinazi claimed it was all his.
WATCH: Fantastic CBS Story On Hepatitis C Profiteer
DR. SCHINAZI EMPLOYMENT AT VA
Dr. Schinazi claims he was only a government employee 7/8 of the time.
He further claims that in the remaining 1/8 of his time he invented drugs needed for very sick veterans that cost $84,000 for a 12-week regimen. However, it costs only $1,400 to manufacture that same 12-week regimen. In 2012, Dr. Schinazi sold Pharmasset to a Gilead for $11 billion. Of that, Dr. Schinazi netted $400 million in profit.
Are you are scratching your head on how a Federal employee working for the agency was able to develop a drug, keep rights to the property, and then sell it back to the government?
Me too. I recall being told in the military that anything I invent was the property of the government. Similarly, most corporations claim ownership over inventions of employees when the creation occurred using tools and time of the company.
VA claims it is perfectly legal for its employees to invest in companies. But the real question here is whether a conflict of interest exists in this instance and if taxpayers are the true owner of the hepatitis C cure.
VA'S "DISCOUNT" FOR HEP C CURE
Luckily, VA gets a 50% discount for the treatment, but it is still so outrageously expensive that many sick veterans cannot get the drug. So far, approximately 15% of the veterans sick with hepatitis C have been afforded the treatment.
When CBS asked Dr. Schinazi what he thought about those upset about his profiteering while being a Federal employee, he responded, "I'm sorry you're taking it personally."
I am still baffled at how his invention that was likely researched on veterans was still able to earn the guy such a shocking profit on the backs of sick vets. What do you think?
UPDATE
EXECUTIVE ORDER 10096 ON GOV EMPLOYEE INVENTION
My friend Eric Hughes did some preliminary digging on the law in this matter and found a case with similar circumstances from 1976. It involves Executive Order 10096 where the 7th Circuit held that EO 10096 was Constitutional. The court explained the EO as follows within this context in Kaplan v. US Veterans Administration, 545 F.2d 1073 (7th Cir. 1976):
The basic question for review on this appeal appears to be whether the district court erred in holding unconstitutional Executive Order 10096, which provides in substance that the United States shall obtain title to any invention made by any Government employee during working hours, or with a contribution by the Government, or which bears a direct relation to, or is made in consequence of, the inventor's official duties.
Executive Order 10096 was promulgated by then President Harry S. Truman on January 23, 1950, "by virtue of the authority vested in (him) by the Constitution and statutes, and as President of the United States and Commander in Chief of the armed forces of the United States in the interest of the establishment and operation of a uniform patent policy for the Government with respect to inventions by Government employees." 15 F.R. 389 (January 25, 1950).
The court went on to overturn the lower court's decision and upheld the EO as being Constitutional.
The next question is whether Dr. Shinazi used any government resources while creating his invention. Some veterans familiar with the story claim Dr. Shinazi used veterans as walking incubators to conduct his research but left them without a cure once he reach his research goals. This claim is not verified yet but if anyone has some specific evidence on this subject, I would like to see it.
WORLDWIDE LOCATIONS OF HEP C TRIALS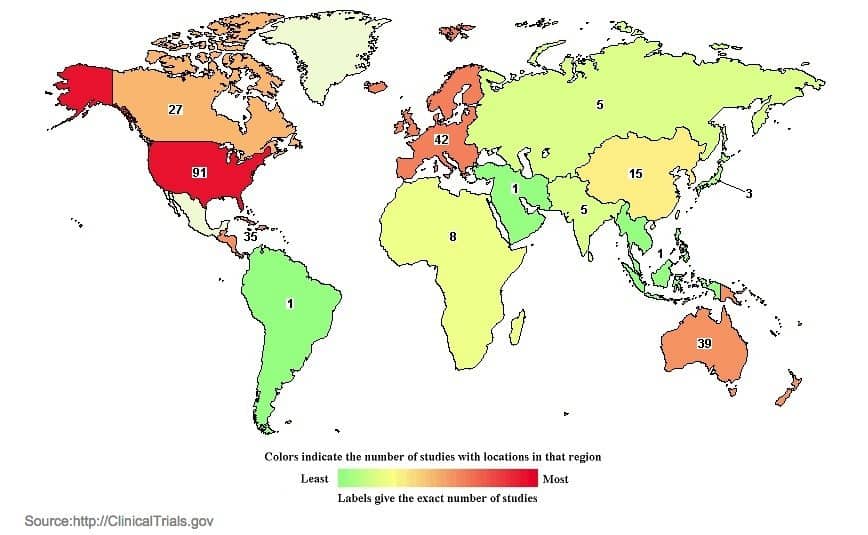 Here are three test trials where the word "sofosbuvir" and "veteran" were used in the search that were in existence before Dr. Schinazi sold his company:
Please click "Contact" and send me an inquiry to dialogue.