Congress Turns Its Back On Spina Bifida Children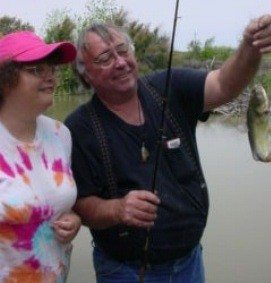 New Harmony, Indiana – "I can't allow myself to feel," said Ron Nesler. "Her heart attack is the result of VA's failure to provide care." Ron told me that his daughter, Honey Sue, suffered a heart attack on Monday at the age of 41. She is currently recovering in a cardiac ward.
After two Congressional hearings and countless calls with the House Committee on Veterans Affairs, Honey Sue is still unable to get the health care to which she is legally entitled. In light of her deteriorating condition, she may never see the health care Congress intended her to receive.
Honey Sue's story is a sad one. She is the child of a Vietnam veteran exposed to Agent Orange. Due to her birth father's exposure, Honey Sue was born with spina bifida (Latin for "split spine).
Since 2008, the Department of Veterans Affairs (VA) has been obligated to provide Honey Sue, and the 1,200 other children like her, with comprehensive health care. The VA has yet to make good on this obligation.
During our conversation, Ron talked about the benefits they are supposed to receive from the VA. "After Congress took action, in 2008, we thought, 'Now there's going to be justice.' But it never happened."
He went on to describe his daughter's experience. "Honey Sue began having problems right when she started the VA Spina Bifida program."
"We took her to the doctor because she couldn't sleep. They prescribed her [paroxetine, generic Paxil]. After she started taking it, the drugs caused some kind of reaction in the brain where she could not sleep for 4-5 days. She became violent and all kinds of things."
"Five years later, we got her medications sorted out so her mood swings have leveled off. If we could get this care, she would feel good about herself, and we would finally have some peace of mind. There would be justice."
The care Ron is talking about is "Home Care" and "Rehabilitative and Habilitative Care." The VA must provide these two forms of health care if a doctor prescribes it. Honey Sue's doctors have prescribed the care for over a year. However, the VA refuses to approve it.
The program responsible for funding this health care is called Purchased Care, which is based in the Denver, Colorado, VA Regional Office. It is headed in part by Kevin Jobes and Lisa Brown, two VA employees. These are two of the decisionmakers within the VA who refuse to approve care requests.
The Neslers have worked with Lisa Brown for years to try to get health care for their daughter. Every time they request care that is clearly covered by the program, Lisa Brown and others deny their requests with no clear justification. On at least two occasions, VA did not even follow its own rules for Due Process.
Ron at one point forwarded a recorded conversation with Lisa Brown to me. He made the tape to ensure she would not twist his words. It is an amazingly insightful resource to hear how VA twists the laws to avoid covering spina bifida care for Honey Sue.
In the recording, Lisa Brown states Honey Sue cannot get care unless there is a treatment plan. She goes on to state that only a case manager can provide a treatment plan. But after years, the VA has failed to provide Honey Sue with a case manager in a manner that can only be considered obstructionist.
Honey Sue is not alone. In fact, of the over 800 children actively in the program, only seven have ever received case management services. If what Lisa Brown says is true, this means that only seven children have received comprehensive health care when case management is required.
Congressman Mike Michaud and Congressman Jeff Miller, leaders of the House Committee on Veterans Affairs, have both been asked to intervene. Despite their early actions back in 2008 and 2011, there has been no progress. In fact, the House Committee now ignores Honey Sue and children like her.
The House Committee does not believe there is enough support to require the VA to follow the law as Congress intended. Thus, due to their inability to require VA officials like Lisa Brown to act in line with the laws, they have instead told Honey Sue and her family to go to the back of the bus.
I asked Congressman Jeff Miller's office to provide a quote on his position regarding spina bifida. His office merely said that there is not enough support to push through yet another bill on the subject. Their responses impliedly mean that Honey Sue just missed her window of opportunity. With the backlog looming, bigger headlines can be grabbed through focusing on disability compensation. So, Congressman Miller's office decided to punt.
Likewise, Congressman Mike Michaud was asked to provide a quote on spina bifida. This is what he had to say, "Providing comprehensive health care to our veterans and eligible children is a commitment that as a nation we must uphold. As we move forward this Congress, I'm looking forward to continuing to work with my fellow committee members, the VA, and our veterans to ensure we meet that obligation."
Notice that there was no mention of "spina bifida." I circled back around to get a more specific quote but his office declined.
There is a growing consensus among veterans advocates that it appears that Congress is afraid of the VA. Congress refuses to swear in VA officials prior to testimony. Congressman Miller was cited last November as having a "truce" with VA official behind the scenes prior to the hearing. During that hearing, VA refused to provide straight answers to Congress about who went where and how many taxpayer dollars were really spent on frivolous trips.
These kinds of actions leave the veteran community baffled. Further, it erodes our confidence in the system. Instead, we are forced into a Veterans Benefits Backlog to try to resolve any claim whatsoever.
When it comes to Honey Sue, she will need to appeal to get access to the health care she needs to survive. Sadly, her claim for health care is lost behind the 900,000 pending disability claims that the VA cannot seem to sort through.
Meanwhile, on the Senate side, there is hope now that Senator Bernie Sanders has assumed control of the Veterans Committee. Word has leaked out that the Senate Committee on Veterans Affairs is investigating the VA Purchased Care operation. It could not come a second too soon.
Senator Joe Donnelly (IN) is looking into the matter on behalf of Honey Sue. She is constituent of the Senator's.
Director of Communications Elizabeth Shappell said the following on behalf of the Senator, "Senator Donnelly is dedicated to ensuring that our nation's veterans and their families receive the benefits they have earned. Senator Donnelly's office is working with the Senate Veterans Affairs Committee to address the VA's implementation of the Spina Bifida Program."
While momentum is shifting, the Neslers are not sure if the change will come quick enough. With Honey Sue in the hospital, Ron and his wife Sue have resigned themselves to the very real possibility that the lack of health care could kill Honey Sue sooner than hoped.
Children with spina bifida have shorter life spans than average people. Honey Sue was told she would only live to be 30 years old. So far, she has proven them wrong. However, now that she is having heart troubles, the end may not be too far off.
In an email to VA officials today, Ron asked me to write the following, "Congratulations VA. You might not have to provide Home Care, Rehabilitative and Habilitative Care, and other forms of care to Honey Sue because she might die first."
In my opinion, it would be pathetically ironic if Honey Sue died because VA withheld comprehensive health care. That health care may have pretreated her conditions and prevented this heart attack.
Honey Sue has had two Congressional hearings wherein she was specifically named. These hearings were intended to give her health care because she is severely handicapped at no choice of her own.
Further, her birth father had no choice either when he was doused with Agent Orange enlisting in the Marines. No American should have to go to such lengths to get health care only to be denied access to health care entitlements plainly stated by Congress.
We encourage you to take action now. Send Congress a note using our Popvox email widget below.