Ding Dong Thomas Murphy Is Demoted Following IG Report Release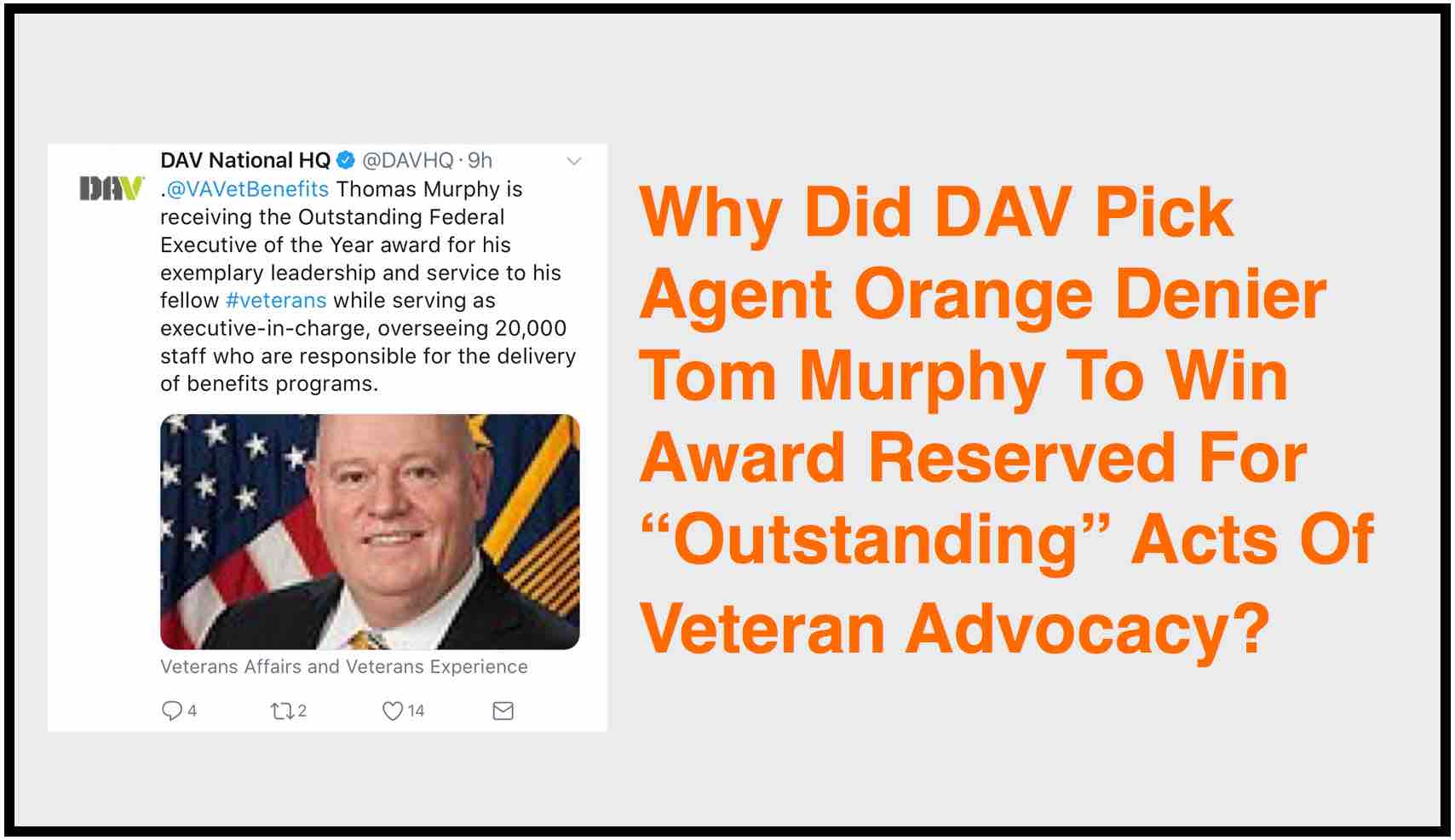 In an email to coworkers today, acting Under Secretary for Benefits (USB) Thomas Murphy announced he is no longer the acting USB, and no longer working from Washington DC in Central Office. The announcement comes one week after IG released a whitewashed report that implicates Murphy and his subordinates in a contract deal gone bad.
Instead, Murphy is taking a new position as Midwest Area Director out of St. Louis.
Yes, this is a demotion on its face, but there is more to the story.
It comes as no surprise that Murphy lost his spot since he was not selected as a nominee for confirmation to run Veterans Benefits Administration, but his punt out of Central Office may surprise some following the IG report release that confirms at least some allegations of wrongdoing under Murphy's watch.
(I plan to cover that next week with an inside report.)
Insiders familiar with the move say, under anonymity, that Murphy orchestrated a job for himself to protect his retirement since he lacked the number of years necessary to earn such. That means, Murphy, a well known Agent Orange denier, will never been held accountable for his direct actions wrongly denying severely disabled veterans the benefits to which they are entitled.
The move basically insulates Murphy from being called to the House Committee on Veterans Benefits and so long as he keeps his nose clean will ensure his retirement. Normally, such a move would be a demotion, but it is instead more akin to what Diana Rubens and Kimberly Graves orchestrated for themselves.
In 2015, Graves and Rubens got hot water for orchestrating their own demotions by removing subordinates and taking the reigns at St. Paul RO and Philadelphia RO, respectively. The two fraudulently accepted moving bonuses reserved only for senior executives who are moved as a result of a management decision outside their control.
Think Murphy will try to avail himself to a moving bonus?
Murphy quickly ascended the ranks within VA after reportedly contributing to the campaign of former President Barack Obama. He ran the San Jose VA Regional Office two years after 2008 and was selected to run Disability Compensation by former Under Secretary of Benefits Allison Hickey. Hickey resigned as a direct result of political pressure for allowing the Graves / Rubens move.
RELATED: Under Secretary Pay To Play
Murphy was promoted to run both Compensation & Pension under Danny Pummill. Pummill then stepped down for his role in the Graves / Rubens move.
RELATED: Tone Deaf DAV Recognized Murphy For "Outstanding" Veterans Advocacy
Since 2016, Murphy has run Veterans Benefits Administration. He was considered by the Trump Administration to be formally confirmed into that role but the suggestion was rejected once the Trump team reportedly learned of Murphy's support for Obama.
RELATED: Trump To Replace Murphy, Finally
Thomas Murphy Demotion Letter
From: Murphy, Thomas, Acting Under Secretary for Benefits
Sent: Friday, May 11, 2018 2:07 PM
To: VBACO_VBA_ALL_USERS
Subject: VBA Update
VBA Team and Partners,
I want to take this opportunity to let you know that my time as your acting Under Secretary is coming to a close after nearly two years, but my VBA journey is not over. My next call to serve takes me to St. Louis to assume the role of Midwest Area Director.
The VBA mission is personal for me. I have always had one priority in my service to this organization: Mission first. In July of 2016, I was asked to be the Acting Under Secretary for Benefits. I was honored to be asked, and I accepted wholeheartedly. I now accept the new position before me as the Midwest Area Director with the same motivation and desire to serve as you have always shown me.
I always felt that my most important role as Acting Under Secretary was to support you and the Department as we worked to improve the lives of Veterans and their families. The list of your accomplishments is noteworthy, ranging from improving claims processing in the National Work Queue environment, implementing Decision Ready Claims, revamping the pre-discharge program to reduce processing times for transitioning Servicemembers and most recently, your production efforts leading to the lowest backlog number in modem history. At the same processing times for transitioning Servicemembers and most recently, your production efforts leading to the lowest backlog number in modern history. At the same time many of you were setting production records across Comp, you were helping every single business line achieve records in benefit delivery to Veterans and their families in Education, Pension and Fiduciary, Loan Guaranty, Voc Rehab, and Insurance. And we did this through the support of Acquisition, Facilities, OBPI, Human Capital, PA&I, and ED&T. The list could go on and on. I want to thank you for your hard work and commitment to keep going, even under the most challenging of circumstances. 
I've traveled to regional offices across the country and watched you put this good work into practice for Veterans every day. I know as we welcome aboard Paul Lawrence, our new Under Secretary for Benefits, you will continue to serve as impressively as you always have. Mr. Lawrence is a Veteran himself who believes in our mission and will be equally committed to VBA's success. I know we will all give him the utmost support as he takes the helm.
It has been the greatest honor of my career to serve as your Acting Under Secretary for Benefits. I look forward to continuing to be a part of such a dedicated team with the noblest mission in government.
Thank you,
Tom