DEA Investigates Drug Diversion At VA Facility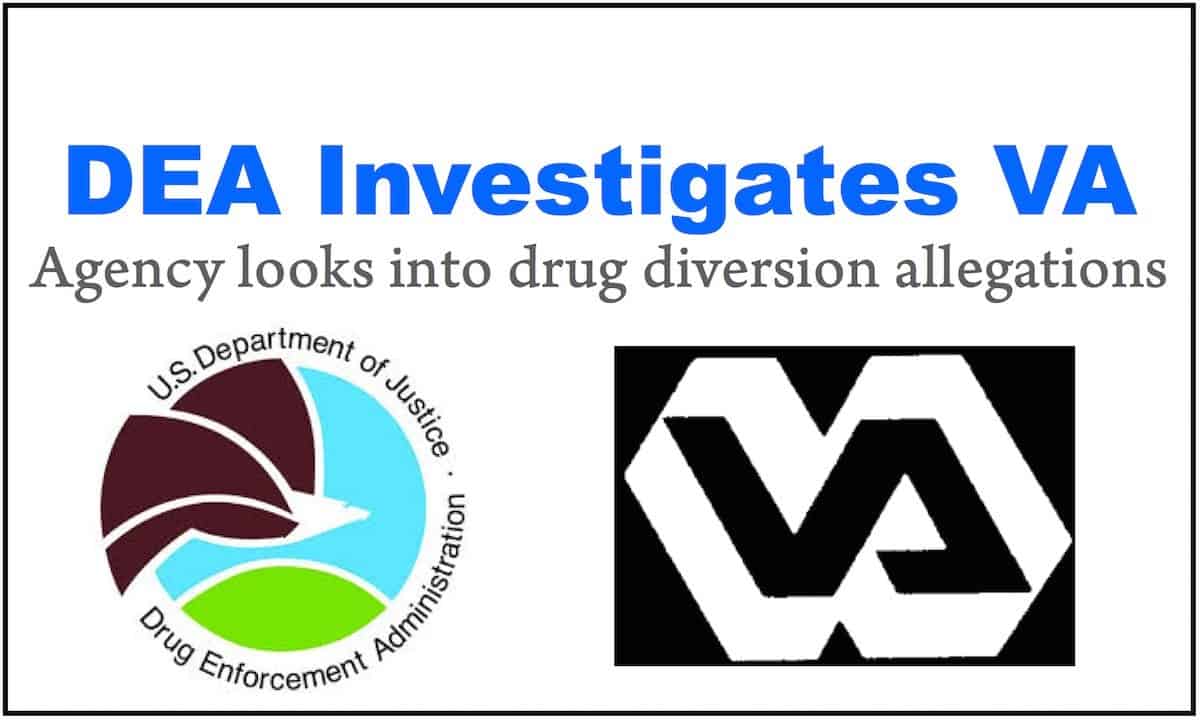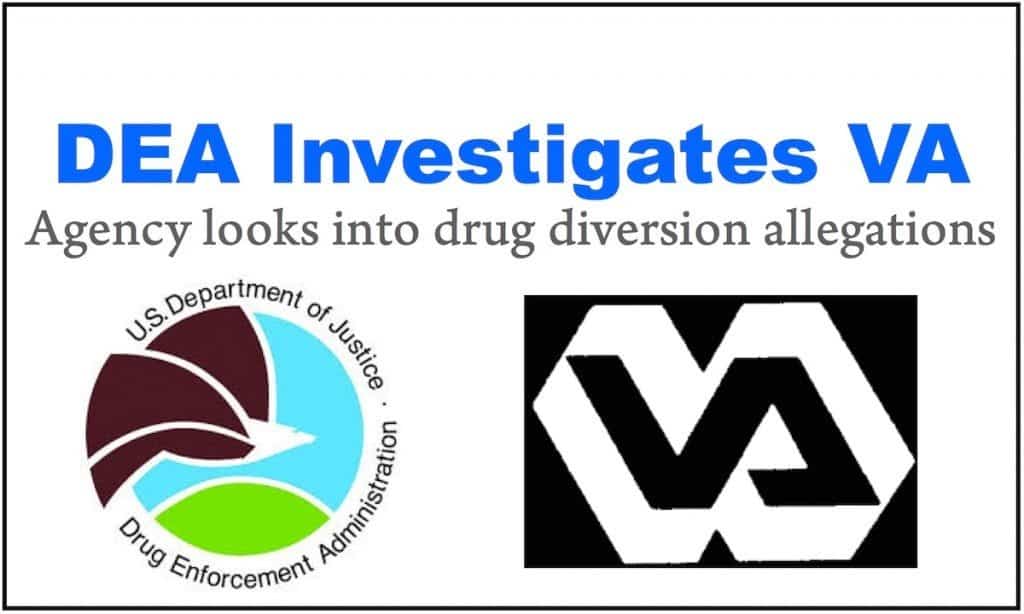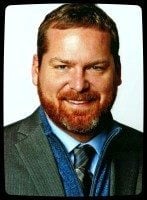 VA released its previously withheld Tomah VA investigation report yesterday, which embarrassingly revealed the agency is under an active investigation by DEA into drug diversion and inappropriate prescribing of narcotics. The investigation has now taken on renewed vigor with the State of Wisconsin also investigating wrongdoing at Tomah VA alongside DEA.
Drug diversion is the illegal act of patients or doctors peddling prescription medications like opioids to third parties, and the Drug Enforcement Agency (DEA) does not look kindly on such practices. In fact, the practice is highly illegal. Still, drug diversion is believed to be at the center of the investigation into veteran deaths and linked to the harmful prescriptive practices utilized by Tomah VA health care providers.
DOWNLOAD: VA OIG Report on Tomah VA
The report basically concludes that no one was responsible for the outrageously high over-prescriptions occurring at Tomah VA, but that VISN 12 at Hines should look into it in case they conclude someone should be responsible. It goes on to point out that the adversarial environment at the facility should be addressed but stops short of clearly stating a specific person (or group of people) is creating adversity. Get it?
It is as if VA OIG is saying, "No one is at fault but if there were, then someone else will need to burn that bridge on their own at some future point no matter how many veterans die between now and then. No one is accountable so no one will need to fear reprisal later."
Buried in a footnote on Page 5, the VA OIG Tomah VA report revealed:
"Additionally, during the course of their investigations of a few deceased veterans they had noted large quantities of prescribed controlled substances in their (the veterans') residences. However, no law enforcement actions were being taken. Early in this inspection we became aware that DEA was actively investigating complaints of inappropriate prescribing and drug diversion at the Tomah VAMC."
Isn't it a little early to boldly conclude there are no law enforcement actions being taken, when there is an ongoing investigation by DEA? VA likely has no idea what kind of law enforcement action is in the works behind DEA's iron curtain of secrecy.
The VA OIG report's author diminished the scope of drug diversion by placing any blame at the foot of the veterans in its own response,"[The] Tomah police department reported suspicions that certain Tomah VAMC patients were misusing their prescribed controlled substances in various ways including drug diversion." It then listed the above footnote that many readers would miss.
Do you get an impression that VA OIG is diminishing any blame its own employees should bear in light of the circumstances? Notice there is no mention of an ongoing DEA investigation into drug diversion related to inappropriate prescriptive practices within the main body of the text. OIG only mentions talking with DEA in one other place in the report.
But doesn't that seem like an important element worth highlighting even more than what the local police are doing? Is this a form of manipulation aimed at protecting VA mental health care professionals at the expense of veterans caught in the same illegal scheme?
'DR. Z' IS DR. DAVID HOULIHAN
The report highlights a "Dr. Z" throughout the text as being a primary suspect accused of inappropriate prescriptive practices and employee abuse. This "Dr. Z" is commonly known to be Dr. David Houlihan. You can deduce that from reading the report or reading the comment from Dr. Houlihan's attorney that was published yesterday.
Houlihan's attorney, Frank Doherty, confirmed Houlihan's identity in relation to the report within statements to reporter Daniel Bice boasting that Houlihan was cleared in this initial VA OIG investigation. ""Dr. Houlihan will fully cooperate with the investigation and will be cleared of any alleged wrongdoing, just as the VA cleared Dr. Houlihan of 32 mostly anonymous allegations after a two-year comprehensive investigation." Comprehensive investigation, like in Phoenix VA?
Keep in mind, VA is now re-investigating the Tomah VA and Dr. Houlihan, who was removed from the facility and not allowed to treat veterans for the time being. It would be great if the rumors were allegations were false, but my contacts indicate such an outcome is unlikely pending forthcoming evidence from the new investigations by DEA and the State of Wisconsin. It will be interesting to see if OIG follows suit.
Attorney Doherty is a La Crosse, WI, attorney at Hale, Skemp, Hanson & Sleik and former JAG. Doherty has also leveled many threats to sue for defamation against reporters (Aaron Glantz, Donovan Slack, etc) on behalf of Houlihan, against the Tomah VA whistleblower, Ryan Honl and even me for what I wrote on this website citing Glantz's investigation. The lawsuit threats appear to be little more than SLAPP suit threats intended to silence free speech aimed at holding government officials accountable. SLAPP is short for "strategic lawsuits against public participation."
Most states including my home state of Minnesota have laws against SLAPP suits. Unfortunately for those domiciled in Wisconsin, that state does not protect free speech in the same manner as elsewhere.
<< Send the Hale Skemp law firm your thoughts on SLAPP suits: Contact Frank Doherty. >>
For a little backstory, Houlihan's attorney is trying to make these claims (Houlihan is innocent and everyone else is lying) in part due to the obscenely high standard VA OIG uses when investigating employees. This standard of guilt virtually forecloses any reasonable chance of justice when a VA employee is accused of mistreating a veteran. Attorney Doherty is able to claim Houlihan was cleared because there existed no "conclusive evidence" that Houlihan's prescriptive practices resulted in known drug diversion or the death of any veterans.
In investigations like these, VA OIG makes use of the "conclusive evidence" standard in its conclusion of guilt, which is a difficult standard to meet when investigating anonymous allegations. The term "Conclusive Evidence" means, "That which cannot be contradicted by any other evidence; for example, a record, unless impeached for fraud, is conclusive evidence between parties."
Since such a standard would allow wrongdoers to roam free, it is not used in many instances within our nation's courts including criminal law.
In this case, do you think any doctor would be foolish enough to write in a record, "Diverted drugs from my patient to John Doe today."?
Now, does the lack of "conclusive evidence" mean Dr. Houlihan is innocent? Absolutely not. Likewise, it obviously does not mean he is guilty, either.
It only means VA OIG did not catch Houlihan with any evidence like that of watching a bank robber with no mask rob a bank on video. According to VA OIG, Houlihan did not write that he diverted drugs or knew of such diversion in anyone's medical record or in an email. This means that, if nothing else, we can conclude Houlihan may be a lot of things but a fool is not one of them.
Will DEA reach the same conclusion as VA OIG? I think it is unlikely DEA will whitewash this investigation, while it does appear VA OIG did whitewash its investigation in the same way it whitewashed Phoenix VA right down to its use of "conclusive evidence."
Luckily, the State of Wisconsin only uses the "preponderance of the evidence" standard when trying a doctor for licensure infractions. This is synonymous with saying "more likely than not," which improves the probability that whoever is guilty of drug diversion or having knowledge of it will be held accountable.
In this instance, Wisconsin has the authority to revoke the license of Dr. Houlihan and any other licensed health care provider who is licensed by the state.
Perhaps VA OIG should take notes from Wisconsin? Or, maybe Congress should cut off VA OIG's metaphoric silver tongue so that the watchdog actually does its job?
This kind of rhetorical ploy used by VA OIG and implicitly touted by Houlihan's attorney was similar to that of Phoenix VA head Sharon Helman. Maybe it is no coincidence that Helman spent a little time at VISN-12, to which Tomah VA belongs, before landing her queenship at Phoenix VA prior to the well-known wait list scandal that left numerous veterans dead in Arizona. Maybe unorthodox and sometimes harmful treatment of veterans in Phoenix was like a metathesized cultural cancer that started outside Chicago and grew across the country.
In Phoenix, VA OIG also concluded there existed no "conclusive evidence" that the wait list caused the deaths. Of course, unless the person dies from paper cuts, obviously a wait list will not cause the death. Instead, the death is caused by the disease or injury, but waiting for health care may have instead contributed to an untimely death. Yet, VA OIG did not miss the opportunity to evade agency accountability by going after the sound byte that there was no conclusive evidence.
Ready for a little justice? Send a note if you are aware of drug diversion by any Tomah VA health care workers.
Sources:
https://www.jsonline.com/news/wisconsin/candy-man-prescriber-at-tomah-va-threatens-to-sue-whistleblower-b99441495z1-291286871.html
https://www.disabledveterans.org/wp-content/uploads/2015/02/Tomah-VA-OIG-Investigation-Report-2014.pdf