Facebook Flags Veterans Affairs Vets.gov Video, Might Be "Fraud And Spam"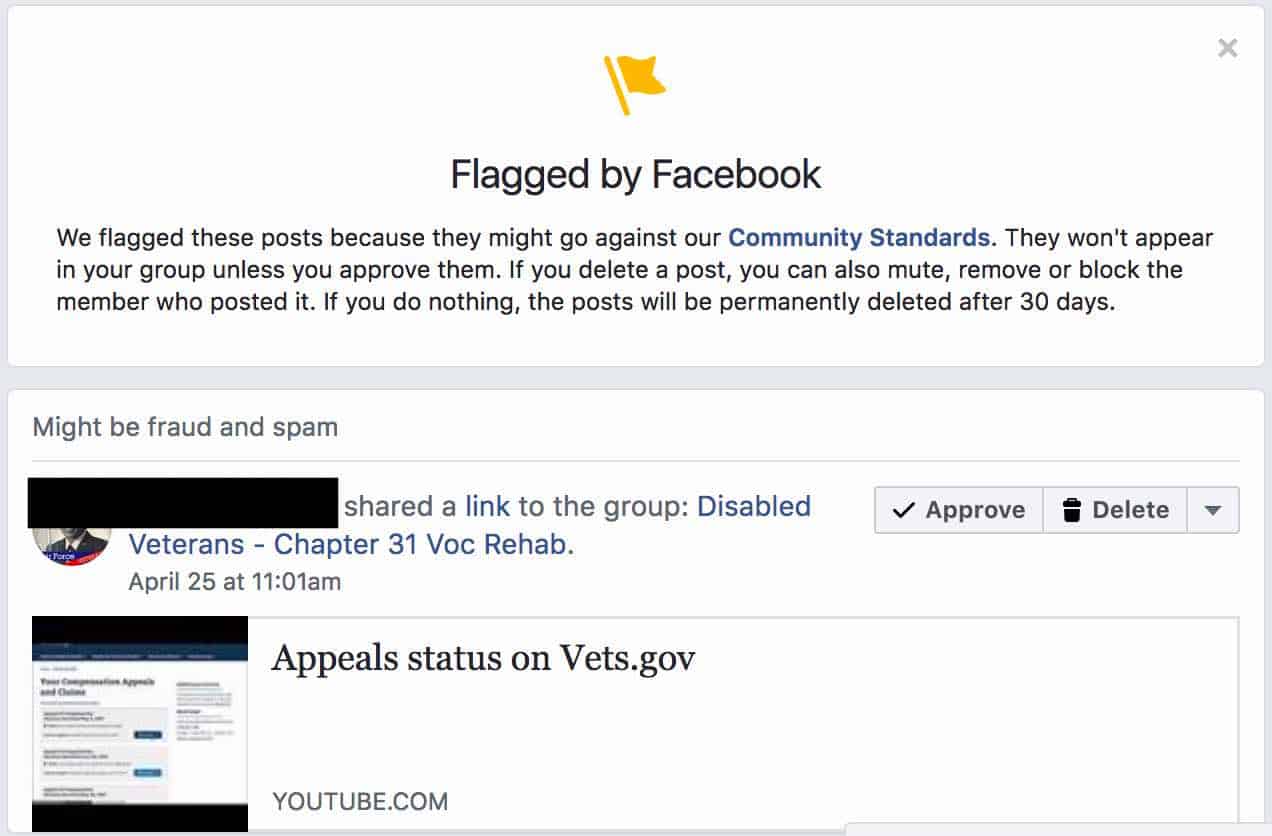 Yesterday, Facebook flagged an instructional video from the Department of Veterans Affairs Vets.gov website as possibly being "fraud and spam". The video was posted to our Facebook group Disabled Veterans – Chapter 31 Voc Rehab by a member and flagged for deletion by Facebook for possibly violating the company's Community Standards.
For the past year, veterans have complained about Facebook censoring posts related to veterans' comments about firearms or the First Amendment. One PTSD awareness group was even shutdown. Some of my Facebook Live videos, critical of the federal government, were deleted and our notifications were shut off for some time.
Now, Facebook is apparently taking its algorithm the other way by auto-censoring videos from government-sponsored channels like Vets.gov.
The video in question was simply titled Appeals status on Vets.gov. It instructs veterans about the new platform and how to access status of a veteran's appeal at the Board of Veterans Appeals.
The website seems to be a duplication of eBenefits.gov, but what else is new when it comes to the federal government shoveling out money to government contractors at breakneck speeds.
That aside, Senator Claire McCaskill called on VA and the Department of Labor to explain why both agencies created similar or duplicate websites that will confuse veterans.
The websites in question are Vets.gov and Veterans.gov.
RELATED: Voc Rehab Counselors Pushing Veterans Out Of Program
The latter was created by Labor for employment opportunities while the former was created by VA for benefits.
"I have no doubt the intention behind the decision to do this was good, but the practical effect is confusing and needs to be fixed," McCaskill said. "Men and women who've served our country in uniform have earned the benefits laid out on these sites; it's unnecessary to make accessing them more complicated than it already is."
In a letter to the Secretary of Labor and the Acting Secretary of Veterans Affairs, McCaskill called for answers on what the agencies could do to share information between the websites and combine them into one site. "Despite Vets.gov's purported goal of providing a single portal through which veterans can access all of their benefits, the website fails to alleviate the possible confusion generated by the existence of Veterans.gov," McCaskill wrote. McCaskill requested details from the agencies by May 18th on the steps they will take to address this issue.
Regardless, the video in question from Vets.gov appears to be an authentic video posted by the agency on March 18, 2018.
A little about the Facebook group in question. Eight years ago, I created Disabled Veterans – Chapter 31 Voc Rehab to increase transparency about the program. Since then, it grew to over 26,000 members all fighting for their rights or helping others achieve success.