Disabled Veterans: From Disability to a Square Deal
What's the Square Deal all about with Voc Rehab?
Oh the elusive Square Deal for disabled veterans. Some of you have asked me to explain what it is. Well, it's a lot of different things for a lot of different veterans. The idea is based on the quote from Theodore Roosevelt:
"A man who is good enough to shed his blood for his country is good enough to be given a square deal afterwards. More than that no man is entitled, and less than that no man shall have."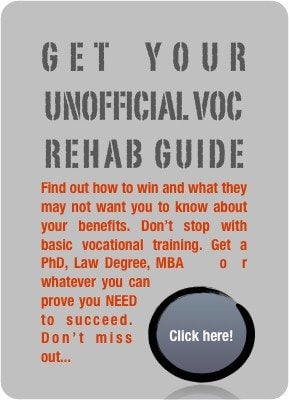 That's really the gist of the Square Deal and why this site was developed. Many disabled veterans are returning from the Middle East with no clear direction relating to their benefits. The government in charge of ensuring veterans and disabled veterans are cared for following their tours seems to have continually failed it's own audits of the system in place. While we have fulfilled our end of the deal after raising our right hands, to swear to protect this great country from all enemies, foreign and domestic, our own government has failed to uphold its end of the Deal in taking care of us after we bare the brunt of the sacrifices.
Now, disabled veterans, such as myself, have taken up the fight in this great era of cyber journalism to help fellow veterans get the benefits they deserve from the Department of Veterans Affairs. It's that simple. This site is here to help you get your VA benefits, and more. Why the hand? The hand is the symbol of the fight many of you will undertake in getting the benefits you deserve. To enlist, we raised our right hands. To get our benefits, you'll need to aggressively take what you're entitled to. Thus, the hand is open and ready for anything.
Over the coming months, disabled veterans will be able to gain insight and strategy in their pursuit for what is rightfully theirs, their Square Deal. Now go get yours and good luck.