Facebook Deletes Viral Veterans PTSD Awareness Page With 246k Followers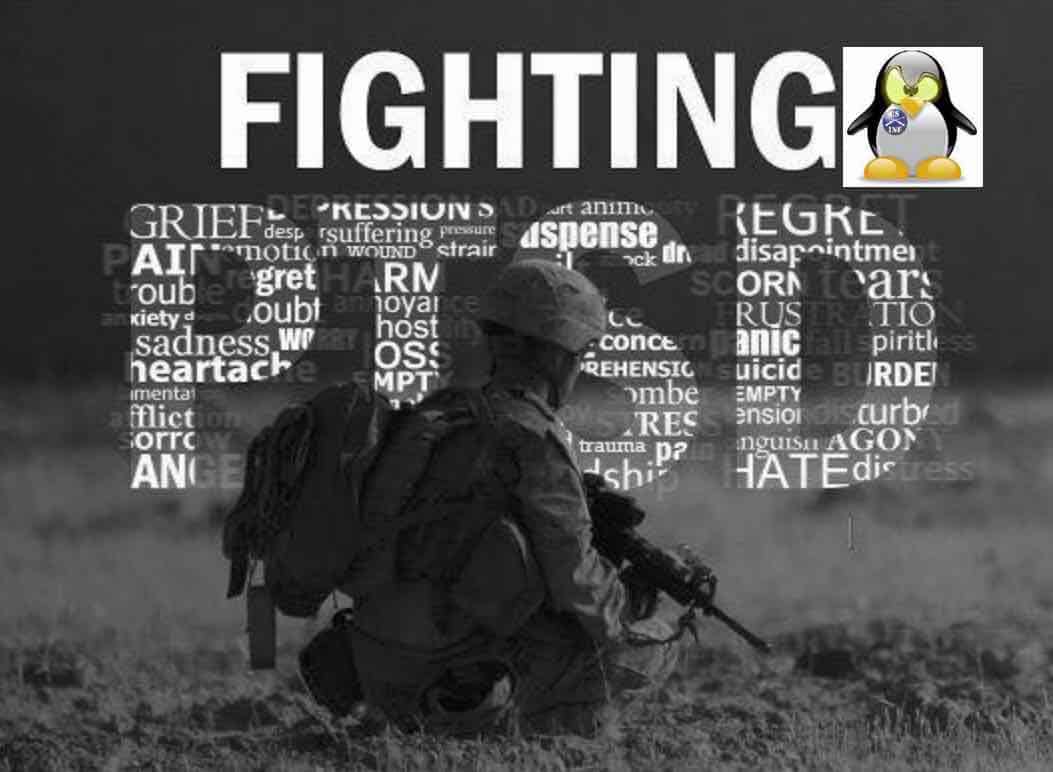 Facebook recently deleted one viral and extremely popular nonpartisan veterans PTSD awareness page called Peter the PTSD Awareness Penguin.
The group, founded in 2012, enjoyed over 246,000 followers with massive viral power that used humor to help veterans cope with PTSD. But after the new year, the page was suddenly deleted from Facebook, destroying the content and contacts between thousands of veterans working with each other to create a community based on common understanding and humor.
Want to see the offending meme or image? Facebook apparently deleted them because of the Penguin mascot after six years: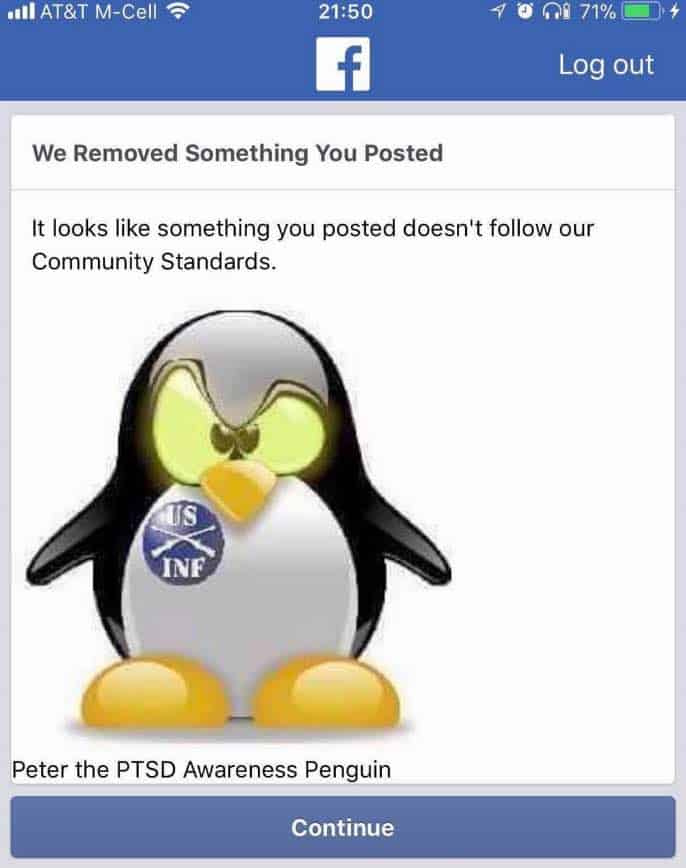 So move over Paul Walker memes (these will get you banned these days), the image of Peter will also get you banned, at least one.
Founders started a new page with the same name dubbed Peter the PTSD Awareness Penguin v2 and must now start from scratch to rebuild what took six years to accomplish.
Two days ago, I needed some humorous meme action and looked for the page with no luck. I could not look it up and a search on Facebook did not reveal anything. Some of my own readers were aware of what happened and linked me to the new page.
Meet Peter The PTSD Awareness Penguin
Here is some background about what is happening on social media with some groups and why this page's deletion matters to me.
I personally liked the page and frequented it regularly. It was awesome. It was funny. And yes, sometimes the page would add one of my Bad VA Art memes making the topic viral.
Win-Win.
So, the power and benefit conveyed to veterans was the community the page created. The threat to any establishment entity was its ability to take any veteran-centric topic and make it viral.
For some brief background, the page's moderators, a group of veterans with PTSD, used funny memes to keep veterans entertained. That is at least how it started. Over the years, the moderators developed a community willing to talk with others who needed someone with whom they could share their experiences and struggles.
And, like I said, some topics they posted might go viral.
I asked one of the founders how they settled on the awesome penguin mascot, "Peter itself was born of my love of alliteration and animal mascots. It worked out kind of perfect as Penguins, besides being adorable and afforded the admiration of many, are also one of nature's most resilient creatures."
For the non-poets reading this, by alliteration he is reference Peter-Ptsd-Penguin. The "P" sound repeated is easy to remember and used in poetry, songwriting, etc. It is a pretty clever idea that should be on T-shirts and coffee mugs (hint, hint guys, get that image copyrighted).
I won't name the founders because they are generally private, but they do have a clever platform to help veterans and without a budget created a viral sensation.
For some perspective, VA pays its propaganda (i.e. public relations) vendors tens of millions to do the same. Take a look at the very expensive Make The Connection program VA runs through the very for-profit marketing firm JR Reingold.
The Post-Trump Apocalypse
Enter the post-Donald Trump apocalypse where Facebook and other social media websites were caught allowing troll farms to promulgate "fake news" to sway sentiment during the election.
The politicians and the public demanded those companies crack down on fake accounts, and a crackdown followed.
Over the past two months, Facebook, YouTube, and Twitter stepped up their policing of accounts. For example, YouTube just got caught "mistakenly" deleting a bunch of channels linked to traditionally Conservative viewpoints using speech police from the Southern Poverty Law Center.
One channel was the Miltary Arms Channel that teaches viewers how to safely use firearms and instructs the public about such weapons. Quick work by that group's founder was able to save the page after it was suspended.
Facebook meanwhile deleted a few pages of its own including a group helping to reduce harm from drugs.
As for Peter the PTSD Awareness Penguin, he somehow got caught up in the mix and Facebook deleted the viral Facebook page after 6 years.
In one push of a button, some dork in Silicone Valley (or bot) flushed the relationship between 246,000 people down the toilet.
Group founders filed an appeal following deletion, but their appeal resulted in the admins involved in the appeal being suspended from Facebook for 30 days.
Since deletion, page founders started up a new page simply named Peter the PTSD Awareness Penguin v2 with 1,373 followers.
Once you have a look at the memes on the page, you should check back in here to let us know whether you think Facebook was justified in deleting the page and the 6 years of hard work put in by veterans with PTSD.
Be sure to give a shout out to those guys. And maybe even throw a comment at the Facebook moderators to see if anything sticks.