John Ullyot Put On Extended Vacation After Failed Coup Of VA Secretary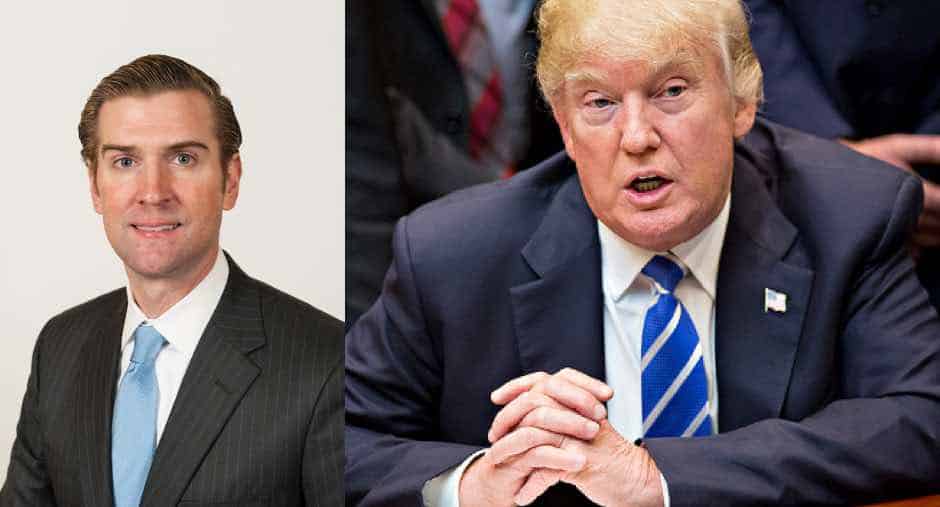 VA assistant secretary responsible for public relations John Ullyot was reportedly put on extended vacation following his failed coup attempt of Secretary Shulkin.
Sources within the agency speaking on condition of anonymity indicate the extended vacation may be an indication Ullyot is transitioning out of his role at VA. Last month, Ullyot was at the center of a coup attempt that cut off Shulkin from the public to explain his side of an unfavorable IG report.
The public affairs duo of Curt Cashour and Ullyot alleged they followed orders from the White House to isolate Secretary Shulkin from the press following the release of the IG report addressing Shulkin's misuse of taxpayer dollars for a trip to Europe last summer.
RELATED: VA Public Affairs Coup Against Shulkin
Apparently, the goal was to stir up as much mud as possible to help ouster the Secretary. Shulkin took the offensive and began responding to press inquiries directly to save face and keep his version of the story in front of the public.
Shulkin's version?
His authority as Secretary was being subverted by certain key White House placements that were set on ousting the Shulkin in favor of a Koch Bros cutout.
Obviously, the coup failed, at least to this point in time. But, will the coup attempt and mobbing to push Shulkin toward the door make him more sympathetic to whistleblowers who get mobbed when trying to do the right thing?
After Coup Attempt
Shortly after the attempted ouster, Shulkin reportedly received consent from the White House to clean out those subordinates responsible for going against him to subvert his agenda.
That did not stop Ullyot and Cashour from planting more stories in the press to foment dissent. But that this point, if nothing else is clear, it is that further dissent within the agency of this nature – – something that reflects more of a frat brawl than professional discourse – – only harms veterans because it stalls the agency's reforms while leadership focuses on the infighting.
This was not the first fumble of Ullyot's career, but it was probably the most publicly embarrassing.
Apparently, Ullyot, a Republican "strategist" (lolz), botched a press release at the University of Virginia a few years ago when he left his name in the Word document submitted by a University official as her own justification in a termination problem there.
It may seem silly, but the careless act burned the client by informing the public she pulled in professional public relations team to help her manage the problem. And, it also let them know she paid a lot of money for help that was disclosed because the team was incapable of pulling off the stunt without accidentally revealing outside involvement.
SEE: Donkeylicious Evidence On Ullyot Fumble At UVA
Here is my thought on Ullyot's next professional gig.
Maybe, just maybe, Ullyot should take this one as a sign and get out of the "termination" business altogether. He certainly cannot call himself a "strategist" anymore.
This Week Recap
And now this week happened.
The IG issued a new report on the old topic of Washington DC VA Medical Center doing a whole host of mismanagement that put veterans lives at risk but killed no one. IG highlighted how nothing substantive was accomplished to reform the programs at the location for many years.
VA responded with a list of accomplishments the agency has already taken since firing the previous director last April.
Why Did VA Fail At Phoenix But Not Right Now?
Now, where was this level of VA scrutiny WHEN IT MATTERED, like at Phoenix VA and the scandal exposed in 2014 that IG ultimately whitewashed at the request of former deputy secretary Sloan Gibson?
Many, many veterans actually died while waiting for medical care due to a fraudulent scheme where VA officials received bonuses for performance numbers that their subordinates falsified. First exposed by CNN, the scandal was confirmed nationwide.
But, no one was prosecuted for the wait list fraud and veterans deaths. Gibson shut down the Office of Medical Inspector within VA and allowed each location to conduct its own investigation shortly after former general counsel Willie Gunn bungled a litigation hold on agency documentation allowing local staff to shred all incriminating evidence.
The IG report covering that scandal where veterans died resulted in a whitewash at the request of Gibson.
Now, we see IG suddenly renew its vigor against corruption?
No way. Whatever IG is doing reeks of a political motive.
The information is not truly new given IG previously released a report on the same issue of the Washington DC mismanagement almost one year ago but waited to release its final report of the same issues almost one year?
It seems like someone was saving that report for a rainy day.
The point here is that IG will investigate every detail to score political points, but when veterans die, they will stain a gnat to avoid agency embarrassment.
John Ullyot Vacation
With Ullyot's vacation, depending on its permanence, could bring more press collaboration with smaller outlets than in the past year.
Ullyot's team could care less about providing sensible comments for smaller media outlets but only focused on mainstream media outlets, which is a curious deviation from what President Trump seems to endorse.
Independent News Media Purge
As we all know, Trump regularly blasts the media but tended to support independent news media publications like DrudgeReport or Info Wars. It is noteworthy these two media sources led the way in exposing massive social media purges last month of conservative and some liberal publications.
RELATED: Facebook Deletes Veterans PTSD Awareness Page With 246k Followers
Ben Swann On Purge
It's been my experience that independent news sources are often more timely with more information than we get from highly homogenized articles we get from USA Today or Washington Post on the same subjects.
RELATED: Censored YouTubers Head To De-Centralized Alternative
So it baffles me how Trump's VA team would only give substantive press access to large media outlets while blowing off press requests from smaller publications like mine.
Back To Work, Shulkie
That aside, let's hope Shulkin can now take care of the last member of the duo, Cashour, and get back to the rest of his work reforming the agency that is completely a mess after decades of limited accountability.