Million Vet March: Should Conservatives Capitalize on War Memorial Lockdown?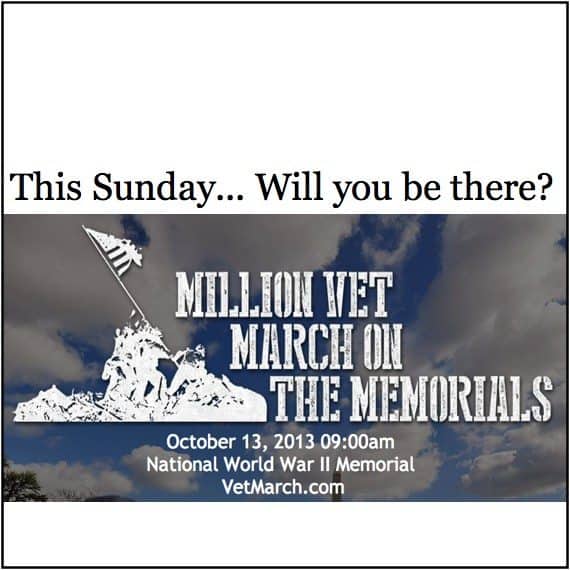 Thousands of veterans have signed up to attend the Million Vet March in Washington DC.
The purpose of the march is to protest the President's decision to close and subsequently guard the open-air memorials.
While I agree with the idea, I am troubled that this kind of event is not receiving bi-partisan support. Perhaps some supporters are at least Independents, but the list of sponsors appears to be largely Conservative/Republican groups.
I am troubled because it creates the appearance that one party is the party of the Veteran Vote.
I do not for one second believe that the Republican Party a party that can be counted on for supporting veterans at all costs. Likewise, I do not believe the Democrat Party is the party supporting veterans at all costs. We are expendable to either party when it is politically convenient, depending on the issue.
I guess that's the problem with having two parties; we can count on no one as being the party for military and veteran support. It is all about political convenience when you peel back the layers of the onion.
So, we end up with this reality. When one does something stupid, like shutting down memorials or not paying death benefits to KIA servicemember families, only the opposing party can speak out.
Here, I feel the Democrats really screwed up with their initial closure and continued support of closure of these open-air memorials.
I hope in the future that Republican politicians, and any Independents, at this event will carefully guard more than the War Memorials – that they will also defend the benefits and health care veterans have come to count on.
Democrat, Republican or Independent, I hope those veterans and veteran supporters in the area do attend. I would love to hear back on how the event goes.
Here is the invitation:
I want you to circle the date of Sunday, October 13, 2013.

And then I want you to help "circle the wagons" on that day to help protect and defend our brave veterans who risked their lives for our freedom – and now are being barred from visiting the memorials erected to honor their deeds.

In a mean-spirited fit of selfish anger, Barack Obama has shut down our nation's war memorials. And he has declared open war on our honored veterans!

The World War II memorial … the Vietnam Veterans Memorial … the Korean War Veterans Memorial – Obama has shut them all down to force his will on the House of Representatives and frankly, to get revenge on the American people who oppose Obamacare and his other naked power grabs.

Let's put it plainly: Barack Obama is behaving like a vicious tyrant. And if he succeeds in this assault on the democratic system, the Republic we love is at mortal risk. It's just that simple. That's why I am asking you now to take two decisive moves to show Barack Obama, Harry Reid, Nancy Pelosi – and all of their oppressive ilk in Washington – that "We the People" are still in charge. And we won't rest until we take back our memorials and monuments! –

See more at: https://vetmarch.com/#join
Is this political hackery or are Conservatives making the most of a bad situation – i.e. politics as usual?
I do not believe the closure in the manner it was conducted is actually Constitutional. For that reason, I wish this invite would call a spade a spade. I could care less if someone is selfish or mean. If they violate the Constitution, I want them thrown out of office.
What do you think?