GAO Report: High Rate of Military Sexual Trauma Victims wrongly Denied Benefits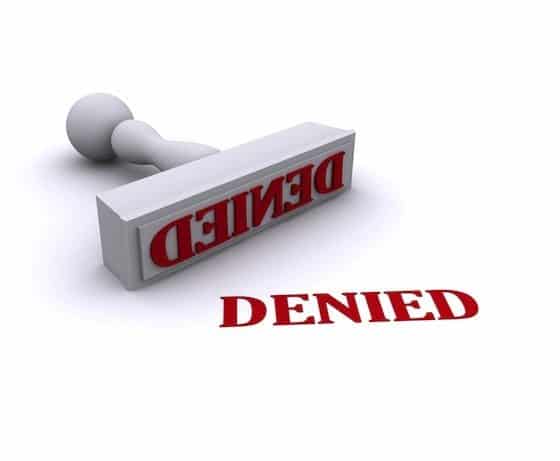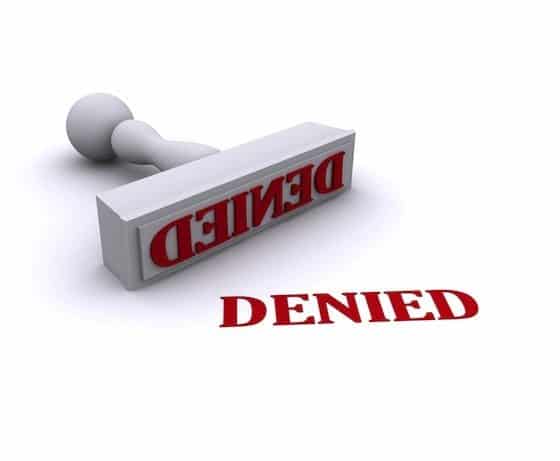 VA has consistently treated Military Sexual Trauma (MST) victims poorly over the years, and the current GAO report states the agency is slow to address the problems.
In its report, "Improvements Made, but VA Can Do More to Track and Improve the Consistency of Disability Claim Decisions," GAO indicates VA has a ways to go in helping MST victims get the compensation they deserve.
The report evaluated rates of bad decisions in MST claims adjudication for disability compensation. VA sent over 2,600 letters to veterans who were denied a disability rating for a reporting MST suffered in service. The letters provided an offer to reevaluate the denial in case there was a mistake, and another goal was to gauge consistency across the five selected regional offices regarding evaluation standards. Of 2,600 invitations sent, 587 veterans responded.
After analysis, the GAO report stated that over 30% of MST victims who had received final appeals decisions had VA's earlier denial overturned. It is possible that the percentage is much higher, however 158 more claims were pending at the time the results for the report were determined.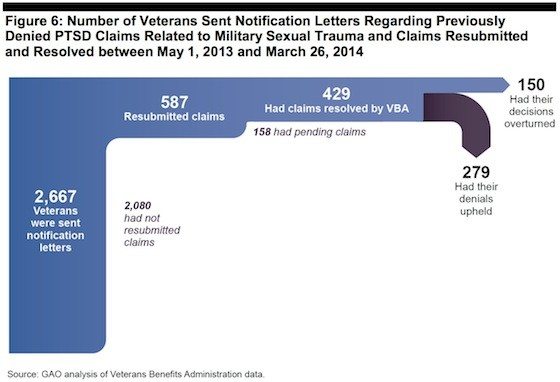 Part of the problem causing the high error rate above is a lack of consistency across the VA in how it evaluates MST claims. VA has been very slow to develop standardized rules on how to determine the impact of the trauma, unlike practically every other kind of disability VA adjudicates. The result is a lopsided approval rate across VA regional offices nationwide where some do better than others when they evaluate the claims. The approval percentages GAO found range from 18 percent in some regional offices to 88 percent in others. Since veteran types are equally distributed across the country, this suggests VA is dramatically failing MST victims in some areas. And this, according to VA's response to the report, is an improvement since 2010.
If the >30% holds across VA through the years, it means VA improperly adjudicated a few thousand MST claims. Sadly, we can reasonably speculate that the numbers are much higher. Here is something to consider. Over 70 percent of all successful appeals at the US Court of Appeals for Veterans Claims are awarded EAJA fees. EAJA fees are awarded whenever VA took a legally unjustifiable position when it denied a claim at the Board of Veterans Appeals. Most Americans would consider this kind of treatment to be patently dishonest treatment of veterans. This percentage of "dishonest treatment" is higher than any other federal agency, including Social Security. Beyond this already shocking set of facts, we also know victims of sexual trauma do not come forward at the same rate as veterans with injuries of other kinds. Taken as a whole, the rates here indicate VA treats victims of MST worse than many other veterans with different kinds of disabilities.
Ultimately, the treatment of MST victims is a shocking and unconscionable Constitutional violation of the rights of these veterans. These brave men and women who suffered so much already are in essence being singled out and victimized all over again by an incompetent VA that seems uninspired to swiftly address obvious shortcomings for the veterans it serves.
For these reasons cited above, MST victims who experienced denials should read their denial letter closely (as should all veterans). Veterans with a denial or even a low disability rating related to MST should check VA's disability adjudication decision against the regulations. Compare your facts against the standards and rating numbers used by the VA adjudicator in the decision and online. If they were wrong, you are justified in filing an appeal or Notice of Disagreement immediately.
[Download the GAO report on Military Sexual Trauma here]
Here is the GAO summary:
The Veterans Benefits Administration (VBA), within the Department of Veterans Affairs (VA), has taken several steps to improve decision-making on disability claims involving military sexual trauma (MST) and to rectify past errors. In 2011, VBA began assigning MST-related claims to adjudicators with expertise in complex cases and required them to receive MST-specific training, such as on the broadened scope of evidence allowed since 2002. In 2012, the Veterans Health Administration (VHA) also provided some optional training to medical examiners who provide key input into decisions for such claims. Noting that some MST-related claims may have been erroneously denied prior to the specialization and training of staff, VBA in April 2013 invited 2,667 veterans with denied claims for post-traumatic stress disorder (PTSD) to resubmit them.

According to VBA data, national approval rates for claims based on MST have markedly increased since fiscal year 2010, a change that agency officials attributed to the additional training and a better general understanding of MST requirements. However, GAO found wide variation in approval rates among regional offices, which ranged from 14 to 88 percent in fiscal year 2013. Half of the offices had approval rates close to the average (between 40 and 60 percent), but the rest were higher or lower. While variation does not necessarily signify inconsistency, staff GAO interviewed from four of five offices described ongoing difficulty applying the broadened standards, and GAO found several instances of widely varying interpretations. Both VBA and VHA staff also described variation in the thoroughness of VHA medical exams used by adjudicators to reach decisions. Some VHA medical examiners GAO spoke with required more evidence than others to establish that an MST incident occurred. VBA and VHA staff in almost every office GAO contacted said that further training would be useful, feedback that is consistent with good practices previously identified by GAO and others for reinforcing training. More recently, VHA has decided to make upcoming training on MST-related exams required for all medical examiners who conduct them. With respect to reviewing previously denied claims, VBA was only able to contact veterans whose claims had been denied since September 2010, although those with older claims can also resubmit. VBA's national outreach to other affected veterans was limited to two group meetings with veteran service organizations.

While VBA has taken some steps to evaluate decisions for MST-related claims, its quality reviews and analyses of claim decisions have shortcomings. For example, a 2013 quality review focusing on consistency may under-estimate challenges associated with adjudicating MST claims. Also, due to varying methods and samples, quality reviews conducted to date are insufficient to measure improvement over time—a standard part of internal control. In addition, while VBA analyzes data on national approval rates to gauge the effect of process improvements, GAO's analysis of approval rates by regional office and veteran gender found wide variation. VBA also does not systematically collect data on the number of exams received or why claims are denied—information that could help VBA identify potentially problematic trends. VBA officials said the agency's many competing priorities have precluded additional data collection and analysis to date, but added that they plan to review variations in approval rates in the near future.
#####
Benjamin Krause is an award winning investigative reporter, 
Veterans Benefits Law attorney
, and disabled veteran of the US Air Force, where he served in its Special Operations Command. He attended Northwestern University and  the University of Minnesota Law School using VA Vocational Rehabilitation. While in law school, Benjamin won his decade-long fight for full disability benefits and now helps others do the same with this website and his guide, the 
Voc Rehab Survival Guide for Veterans
. Since its first publication in 2011, the guide has helped the veteran community receive millions in untapped benefits through the VA Chapter 31 Vocational Rehabilitation & Employment program. Connect with Benjamin on  
Google+
,  
Twitter
,  
Facebook
 and 
LinkedIn
.