BUSTED: VA Cancer Patient Fights Back With Smart Phone, Records Doctor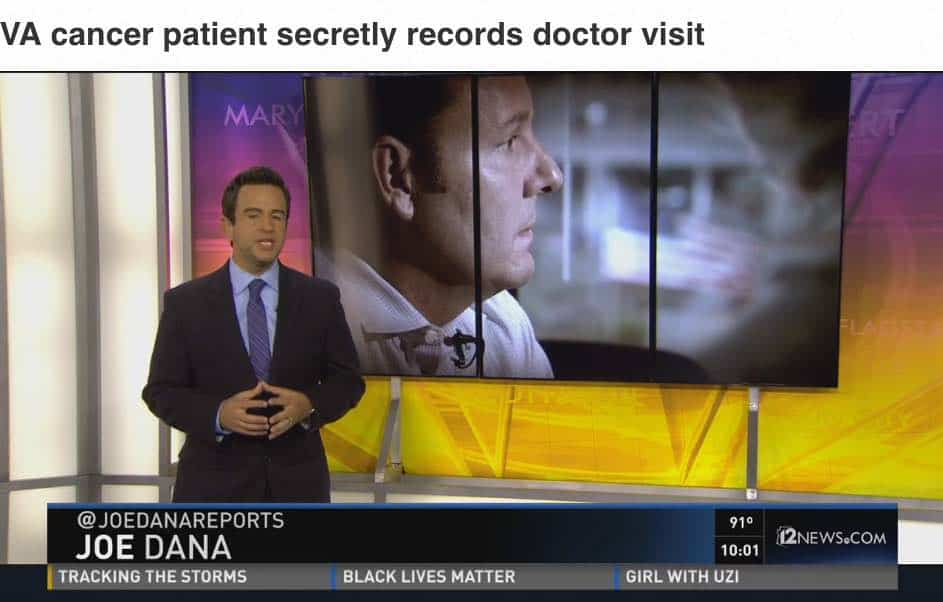 One veteran armed with a cell phone secretly recorded his doctor visit after the Phoenix VA medical system failed to timely diagnose his cancer.
And guess what? The system at Phoenix just as broken now despite claims of improvement after "restructuring." Surprised? The recording revealed that patients are not being afforded unobstructed access to qualified medical doctors for conditions like cancer. It also revealed the Phoenix VA system has been lying to the public about the success of its restructuring.
VA CANCER PATIENT
To keep wait times down, the recording suggests Phoenix VA apparently sabotaged its phone system so veterans cannot call in for appointments with their primary care providers. The option was possibly removed from the call options.
In a way, this post can also be aptly titled:
Dear VA – Every Veteran Is A Citizen Journalist Armed With A Recording Device
One veteran armed with a cell phone at Phoenix VA blew the lid false claims that the VA is a successfully "restructured government healthcare agency" by recording his doctor visit.
Veteran Steve Cooper got the run-around when he tried to access health care for cancer. Cooper is a retired Sgt 1st Class and recently diagnosed with late stage prostate cancer that VA allegedly failed to timely diagnose.
In one exchange, the nurse can be heard saying,
Nurse: "Have you ever tried to call in here?"
Cooper: "Yeah, it does not work and there's no number to press for primary care."
Nurse: "No. And it just irritates the living hell out of me."
Then, the doctor Cooper was assigned to see reported that VA gave him 500 new patients in May, a work load that has made his job impossible, "I can only do what I can do. I'm given 500 patients on May 23rd, 500. So it's impossible."
Impossible expectations with 500 patients per doctor? A call center that does not let you contact your primary care provider? And Bob McDonald tells us Phoenix is fixed?
WHAT CANCER PATIENT RECORDED
In his recording, VA clinicians can be heard acknowledging wait time problems that VA is apparently trying to fix by not properly accepting incoming calls for appointments.
This summary came from Channel 12's coverage of the story:
– A nurse calls the patient phone scheduling system "a nightmare," admitting that even as an employee she can't get a person on the phone line.
– The doctor who saw Cooper admitted he's "not a fan of the VA" and complained his patient load doesn't allow him enough time with patients.
– The doctor said that, as a new employee, he is still trying to understand how the "Choice" program works.
– The doctor expressed a desire to check Cooper's heart and lungs but said he misplaced his stethoscope. The doctor ended up not using a stethoscope at all, but nonetheless stated that "key exam findings" on Cooper were negative.
VA RESPONDS TO CANCER PATIENT RECORDING
In response to the recording, Phoenix VA director Deborah Amdur said:
"The Phoenix VA Health Care System is committed to providing the highest level of patient care, and all employees are expected to uphold our core values. It appears the manner in which our provider staff communicated and interacted with this patient on this day was not in keeping with our values."
Notice the tightly crafted 'isolated incident' type language she uses to minimize any belief that the problem is more systemic – – "this patient" and "this day".
When questioned by Channel 12 News, Congressman Matt Salmon said he was not buying it.
"With this tape it was very, very clear the doctor he was dealing with did not understand the choice system. And I think the doctor frankly was not doing his job the way he needs to."
It's curious how VA is now being rebranded as a "restructured government healthcare agency." This move is similar to the rebranding strategies used by Walter Lippmann when he rebranded the Tammany Hall Party in the 1930's.
"This is not the old Tammany Hall your grandfather knew."
What is Tammany Hall? That is the corrupt group of politicians in New York that were in the pocket of big business. Back then, it was apparently a small bunch. Now, we call them "Democrats" and "Republicans", so maybe Lippmann was correct.
VA ON SMART PHONES AS RECORDING DEVICES
VA has bemoaned access to recording devices like this because they have no control over what the veteran does with his or her property. Though, the Denver VA system did try to ban iPhones last October when we busted them on DisabledVeterans.org and Facebook.
VA quickly apologized for the unauthorized violation of the Americans with Disability Act, which allows veterans access to accommodative systems like iPhones to help with memory loss.
RELATED: VA Apologizes For Smart Phone Ban
As for Phoenix veterans, I would be on the lookout for new policies from Phoenix VA about smart phones similar to what we saw in Colorado last year.
Good catch Channel 12. Keep an eye out for the smart phone ban if it happens again.
Source: https://www.12news.com/news/local/valley/va-cancer-patient-secretly-records-doctor-visit/307185216
UPDATE:
Hours after posting this, and two days after Channel 12 ran its piece, Deborah Amdur announced her retirement citing health problems that started after she began working at Phoenix VA this past winter. https://www.disabledveterans.org/2016/08/26/phoenix-va-director-retires-recording/