Is $720,000 Payout To Korea War Veteran Widow Enough After 50 Years?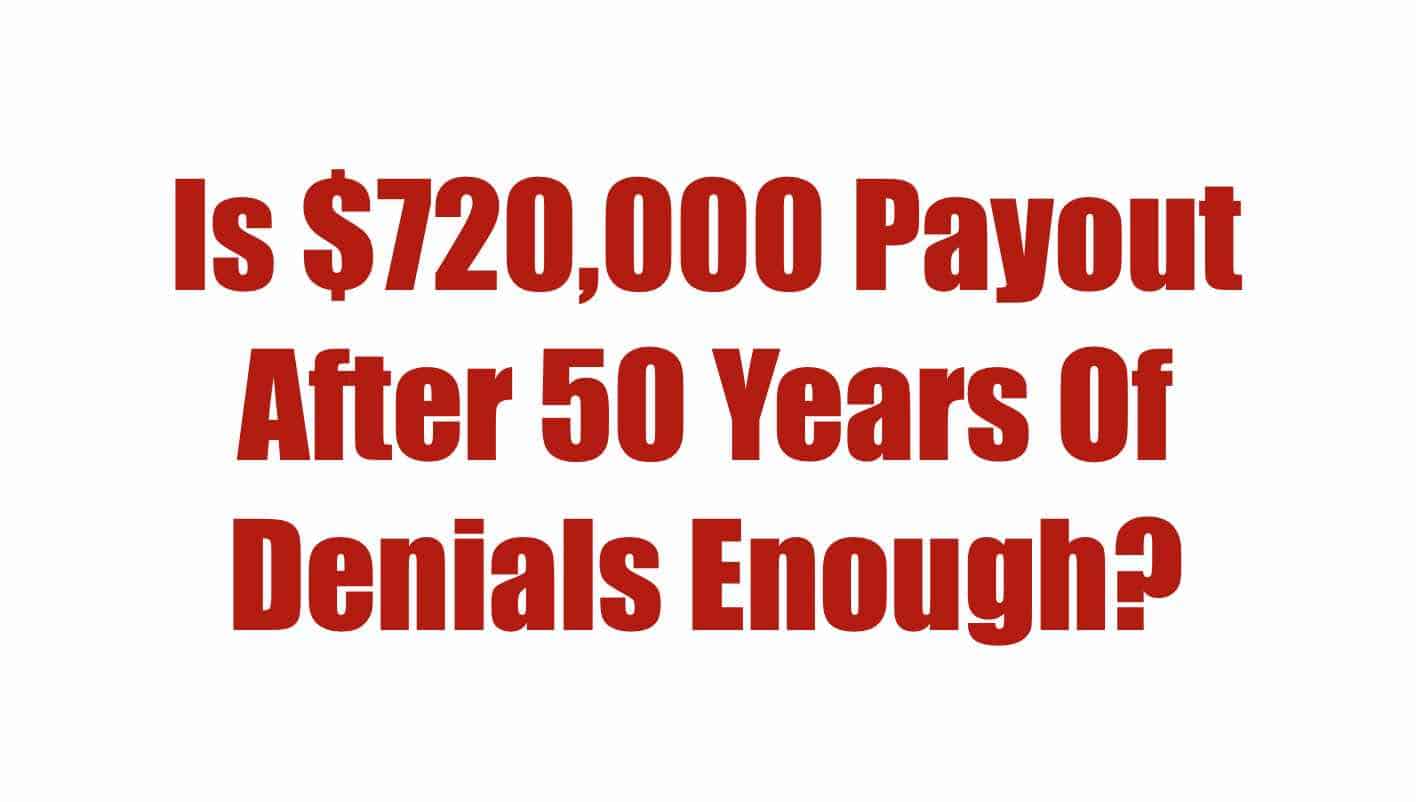 Giving new meaning to the unofficial VA motto "Delay, Deny, Until They Die," one Korea War veteran won his claim 5 years after he died. His widow won over $720,000 in backpay.
His widow won over $720,000 in back pay, but is that enough, or should VA pay a penalty when screwing over elderly veterans like this? Should there exist a punitive damages payout when the agency flouts the rights of veterans for so long? What about triple damages if a claim is backdated 5 years or longer?
One Facebook commenter said this must be a new Guinness Book of World Records for the highest payout after death.
Thomas Nielson, a Korean War veteran, served from 1950 to 1954. He tried to win VA disability in 1960 for an autoimmune disease he developed in service. That disease kept him from pursuing full-time employment, which is common for certain autoimmune diseases.
The symptoms of Nielson's condition were evidenced by malnutrition during his military service. Some years after serving in Korea, the war veteran was diagnosed with Sjögren's Syndrome. This disease impacts the moisture-producing glands of the body. It can result in debilitating fatigue and serious joint pain.
"A record 50 plus years of spurious VA denials culminating in one of the largest retroactive payments in VA history is a legal victory but unfortunately also one of too many examples of the VA's deny till they die policies horrifically visible in human terms," said Nielson's attorney Eric Gang. "I'm thrilled we got this done for Thomas Nielson, albeit posthumously, and his wife, but the VA's half century of inaction is reprehensible, indefensible, and way too typical."
Nielson's widow received back pay dating back 20 years without interest adjusted for the agency's malfeasance. Veterans are robbed of interest on money wrongly denied meaning the agency profits by wrongful denials without fear of legal recourse in instances where the denial cannot reasonably be justified.
Veterans As Second Class Citizens
Conveniently, the agency cowardly hides behind federal protections and 38 USC § 511 which precludes jurisdiction of Article III courts whenever the matter at issue relates to benefits.
This prohibition results in veterans having fewer rights than traditional Americans when a legitimate grievance arises. Where most Americans could sue in federal court for damages, veterans are left sucking hind teat. But what else is new.
Initially, the veteran enjoyed the right to proceed to sue VA for benefits in their local district court. President Franklin Roosevelt ended that with the creation of the Board of Veterans Appeals in addition to the creation of more insurance friendly regulations intended to restrict benefits payouts to divert the funds to the New Deal projects.
VA's Splendid Isolation
For decades, VA bureaucrats got used to operating in Splendid Isolation where adjudicators had virtually no oversight and wrongly denied veterans had no recourse. That changed at least somewhat in 1988 with the creation of the Article I court named the US Court of Appeals for Veterans Claims.
However, the playing field was never truly leveled compared to other Americans, and even alleged criminals and illegal aliens. These groups of people can hire an attorney at any point for representation.
Veterans, even veterans who are attorneys, cannot hire a fellow attorney to represent them in a claim against the agency for disability benefits until the agency has the chance to develop adverse evidence against the veteran including testimonial evidence made without the luxury and protection of counsel.
Accused criminals can hire an attorney.
Illegal aliens can hire an attorney.
Disabled veterans like Nielson cannot hire an attorney until after VA first denies their claim. In some instances, veterans impacted will have been asked misleading or irrelevant questions later used to discredit the veteran that could have been dealt with by a competent attorney in the first instance.
'Merica
'Merica. Best democracy money can buy.
Did our founding fathers intend this abhorrent treatment of veterans?
Recruiters write a check VA refuses to cash unless you get an attorney after becoming disabled.
Hopefully, Nielson's widow will put the funds to good use, but it's too bad she had to wait so long for the benefits her husband deserved years ago.
Imagine all the resources they couple could have afforded had VA provided what the couple was entitled to receive.
Current Scheming To Reduce Benefits
The current word on the street is that some leaders within VA are allegedly pressuring agency medical examiners to wrongly support adverse findings to justify disability rating reductions without medical evidence supporting the finding. The adverse evidence is then used to support reducing benefits even in instances where a re-examination may not be justified by regulatory authorities.
It was further alleged that not only are VA employees playing ball but so to are some government contractors conducting those exams.
When that happens, though, the government contractor may not be protected by their wrongdoing since it involves dishonesty on the part of the clinician. For doctors and psychologists, their licensures could be at risk if reported, but veterans frequently do not report this form of practitioner fraud or at least negligence.
Most veterans will not fight back or have the means to do so. In the alternative, even if the veteran fights back and wins, he or she may win at yesterday's dollars without interest.
Curiously, Congress has done nothing to stop this perverse incentive to withhold monies from veterans without interest.