John Wells, A Non-Insider Seeks Top Spot At Veterans Affairs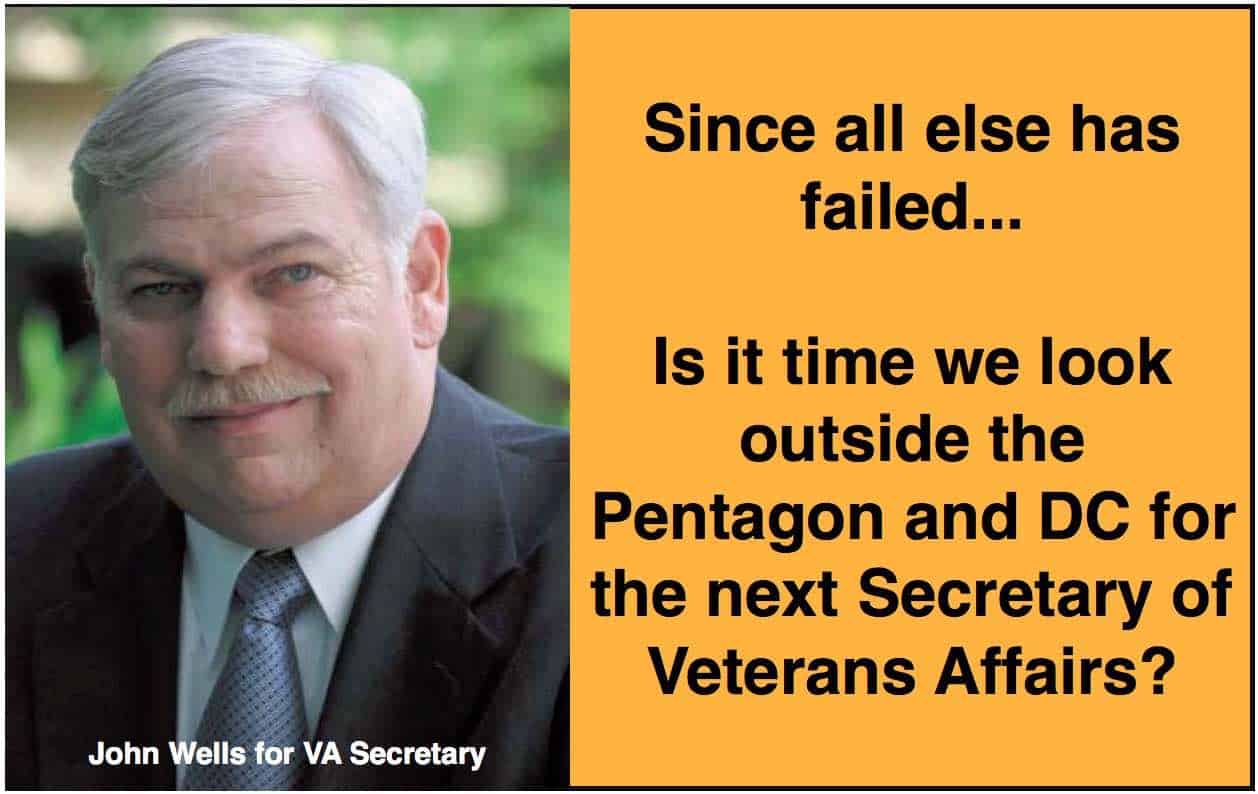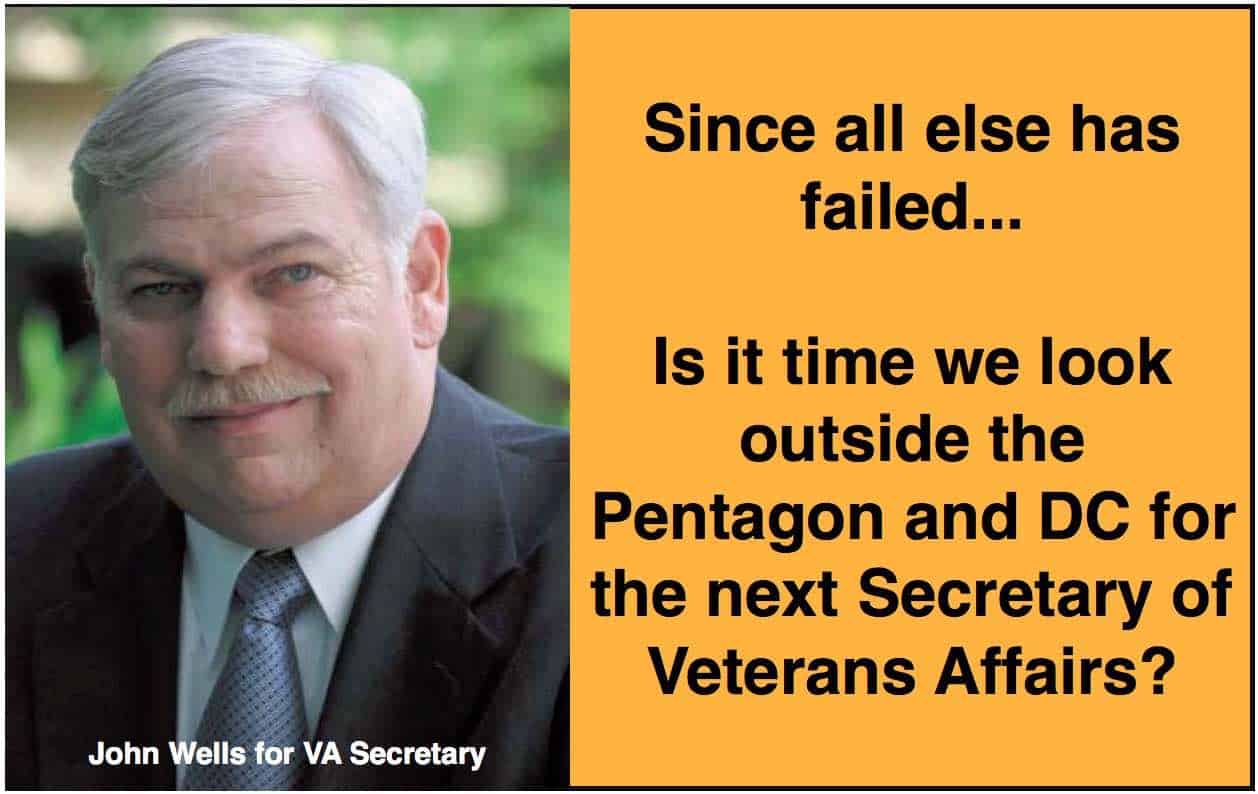 Retired Navy Commander turned attorney John Wells has decided to throw his hat into the right for the top spot as Secretary of Veterans Affairs.
I have given some degree of print time to some of the DC insiders who've been considered for the top slot, and now I think it's time to turn our focus to non-insiders who can do as good a job if not better than those inside the beltway.
If we have learned anything over the past decade, being politically connected has mattered about as little as being a West Point alumni when it comes to fixing the beleaguered VA with its legion of civilian, lifer employees.
Maybe it is time to break with the practice of the past decade to bring in some new ideas from outside the homogenous education of our nation's military academies. After all, leading troops into battle is one thing, but taming an army of union employees has proven too tough a task for even the most skilled West Point generals.
If you agree, you would be in good company. Over 1,800 Facebook users have backed Wells to Secretary of Veterans Affairs.
Veterans Rights Attorney John Wells
One of the best-known veterans rights attorneys in the nation, John Wells believes he has what it takes to push through the reforms needed to turn VA around for the sake of veterans.
As a DC outsider, Wells would likely not bring with him the baggage of other present stakeholders interested in the top slot. I have heard Wells also possesses the rare and valuable ability to recognize, know and admit to what he does not know.
In this modern era of corporate and bureaucratic politics, this is a valuable trait and something that could be an asset when compared to the previous four nominees that led the agency into and out of scandal after scandal:
Jim Nicholson, VA Secretary 2005-07 (West Point class of 1961)
James Peake, VA Secretary 2007-09 (West Point class of 1966)
Eric Shinseki, VA Secretary 2009-14 (West Point class of 1965)
Bob McDonald, VA Secretary 2014-17 (West Point class of 1975)
Desire Something Different
Notice anything similar about our past 4 leaders? Notice anything different about the mentality of VA's Kafkaesque treatment of veterans? Who exactly are the veterans who depend on VA day in and day out?
Drilling this point home, since 2001, every VA Secretary nominated and confirmed for the head spot was an alumni of one of the military academies.
Most veterans who receive services from the agency are former enlisted soldiers. And many of those are veterans in poverty or who lack alternative health care options. And still many more of those are disabled veterans desperate for change.
How many of VA secretaries of the past decade were disabled or using VA health care? How many veterans are disillusioned with the lip service we receive in the press from these fearless leaders while our brothers and sisters go without the services they were promised?
These are factors I hope President-elect Donald Trump considers when selecting the next Secretary. Maybe pick someone with familiarity with veterans instead of those well-connected businessmen or Pentagon insiders?
None of those four names listed above had deep familiarity with veterans before being selected, and I believe that is something weighing heavily in favor of Wells compared against these picks in the past.
The man has not only served veterans for more than twenty years as a lawyer, but he has also been a veteran himself for about as long.
Wells' Military Career, Briefly
Wells served in the Navy from 1973 to 1994, retiring as Commander of the Navy and Marine Corps Reserve Readiness Center in Pittsburgh PA. Since that time, he has served tirelessly to improve the rights of veterans fighting for benefits. Wells presently serves as Executive Director of the nonprofit Military-Veterans Advocacy, Inc.
READ: John Wells Bio
Of the individuals seeking to lead VA out of its present scandal-plagued status, Wells has the most detailed reforms plan of them all, which is no doubt informed by his extensive experience serving these men and women.
Check these out and let me know if it resonates.
VA Reform Plan By John Wells
Vision
A nation that upholds President Lincoln's promise "To care for him [and her] who have the borne the battle and for his [her] widow[er] and orphan."
A nation where the rights of all veterans of the armed forces are protected.
A nation where veterans receive their earned benefits without delay.
Mission
Restructure the culture at the Department of Veterans Affairs to make it "veteran friendly" with an emphasis on service rather than bureaucracy.
Emphasize outreach to veterans to ensure they are aware of their rights and benefits.
Working in concert with the National Academy of Sciences become proactive in the identification of diseases and disabilities unique to or connected with military service.
Work with Congress to ensure that funding is available to compensate and treat veterans who suffer disease or disability due to military service.
Specific Focus
Exempt service connected benefits from the offset provisions of the Pay As You Go Act of 2010.
Ensure sufficient operators are available for suicide hotlines 24/7.
Support passage of the Farness for Veterans Act to smooth process for upgrading discharges for PTS/TBI veterans.
In concert with the Veterans Service Organizations conduct a baseline review of Title 38 of the Code of Federal Regulations to streamline the benefits program.
Establish a Merit Systems Protection Board unit consisting of attorneys with MSPB litigation experience at the General Counsel's Office to manage employment termination decisions.
Promulgate a disciplinary policy with consistent and specific guidelines for punishment.
Establish a center of excellence to research effects of toxic exposure on vets and descendants. Investigate all issues concerning toxic exposure and contract as necessary for expert assistance. Retain on a permanent basis the Committee to Review the Health Effects in Vietnam Veterans of Exposure to Herbicides and expand its mandate to include all toxic exposures including but not limited to Gulf War disease and Burn Pit exposure.
De-emphasize the use of standard forms within the VA and emphasize personal contact between the VA staff and the veterans they serve.
Assign Ombudsmen, who are veterans, to each Regional Office.
Revise job descriptions for VA raters to require military medical experience.
Require that the VA maintain a centralized database at an existing facility to identify health trends among veterans and their descendants and refer them as appropriate to the National Academy of Sciences for further study.
Immediately extend the presumption of Agent Orange exposure to veterans of the Blue Water Navy, Thailand, Laos, Cambodia, Guam, Johnston Island, Panama and Korea during the time Agent Orange was present.
Appoint a Chairperson of the Board of Veterans Appeals acceptable to the Veterans Service Organizations, the VA and the Congress. The BVA has been without a Chairperson for 5 years.
Decertify Veterans Law Judges with an excessive controllable remand rate.
Require all Veterans Law Judges to be Administrative Law Judges.
Incorporate pre-hearing conferences and scheduling orders in consonance with the practice in the federal administrative adjudication system.
On an interim basis, contract with retired Military Judges, after training in VA law, to hold regional hearings on veterans appeals until the 450,000 person backlog is eliminated.
Reconstitute and expand the VA Inspector General program.
Adopt the Industry Standard "Epic" medical records program for both VA and DOD.
Digitalize all records and phase out the centralized mailing system in favor of a digitalized intake system which can be accessed by VSOs and veterans law practitioners.
Learn More: https://www.facebook.com/groups/JohnWellsSecVA/