WFLA Interviews Krause After VA FOIA Reveals Racism Double Standard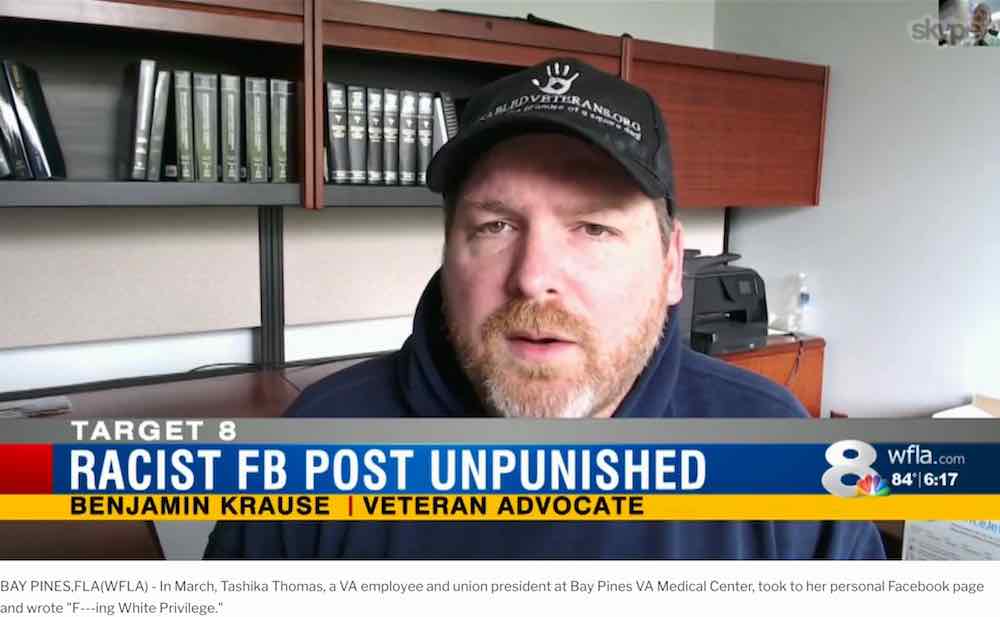 After we published the FOIA response from VA Public Affairs confirming its double standard about racists comments, management at Bay Pines VA said they finally took action against the local AFGE union president who made a racist comment in question.
WATCH: Krause Interview With Steve Andrews
Two months ago, one local union VA president at Bay Pines VA made a racist Facebook comment while at work about perceived "white privilege." The comments came a few months after another VA employee made derogatory comments about NFL players that got the other employee demoted, "dance monkey dance" concerning the kneeling protests during the national anthem. VA swiftly demoted that employee and VA Public Affairs quickly boasted about its swift response.
RELATED: VA Manager And Combat Veteran Demoted For Facebook Comment "Dance Monkey Dance"
Everyone wondered how VA might handle a similar case in Bay Pines VA since the commenter in question was a dark-skinned woman who is also not a combat veteran.
The response? Nothing for about two months.
The rub here that many individuals may not realize is VA leadership tends to hammer combat veterans whenever a problem arises but non-veterans not-so-much. It is a common discrepancy.
Once VA provided its FOIA, we published it on my site and critiqued VA Public Affairs and the agency generally for treating a combat veteran with less consideration than a noncombat veteran. That much seemed obvious. VA said it had yet to take action against Tatishka Thomas, the official in question
Steve Andrews at Channel 8 News in Tampa, Florida reached out to me Thursday after seeing my FOIA posted in an article about the issue. Following our interview, Andrews reached out to Bay Pines VA to see what might be new since it released the FOIA response.
RELATED: FOIA Response Reveals Double Standard On Racism
What he learned was Thomas was "counseled" to make sure the comment would not happen again. She was not demoted like Steve Pina, the VA official who gave his opinion about the NFL protest.
Nope, she was counseled:
Bay Pines VA Healthcare System does not condone or tolerate such unacceptable and offensive comments from any of our employees. That's why we conferred with human resources and personnel law officials about this matter. VA leaves these decisions up to local facility leaders, and after weighing all the facts and circumstances, I have decided we will counsel the employee to ensure she avoids such conduct going forward."
– Suzanne M. Klinker, Director, Bay Pines VA Healthcare System
And counseling in this context is likely a joke. Nothing likely happened.
RELATED: Can White House Fix Agency Racism Double Standard?
WFLA Channel 8 Excerpt
From the WFLA Channel 8 piece in italics below:
Benjamin Krause, a disabled veteran, attorney and veteran's advocate says the agency's two-month silence about Thomas' post is alarming.
"I think by dragging it out they absolutely leave other individuals to believe that the agency has a double standard," Krause said.  "We don't know if the difference in how she [Thomas] is treated relates to race, whether it relates to gender, we don't know if its because she's also an A.F.G.E. official."
Krause noted the department's swift disciplinary action in response to a similar situation against an employee in Rhode Island who also happened to be a combat veteran.   That employee was demoted from his supervisory position.             
"My post to my personal page are just that, my personal opinions and experiences," Thomas told me after her post surfaced.
Documents obtained by Krause show some VA officials also found her remarks repugnant.
"This gives the VA a black eye and nobody benefits from the VA looking bad and from VA employees not being held accountable," said Krause.
When reached by telephone, Thomas said she wasn't able to talk because she was at work. She requested I call her after 5 p.m. I did, but she did not answer.
Source: https://www.wfla.com/8-on-your-side/investigations/as-some-face-consequences-for-racist-facebook-posts-va-accused-of-double-standard/1210640979