Lisa Rein v Curt Cashour: VA Swipes At WaPo, Blows Off Secretary's Swearing In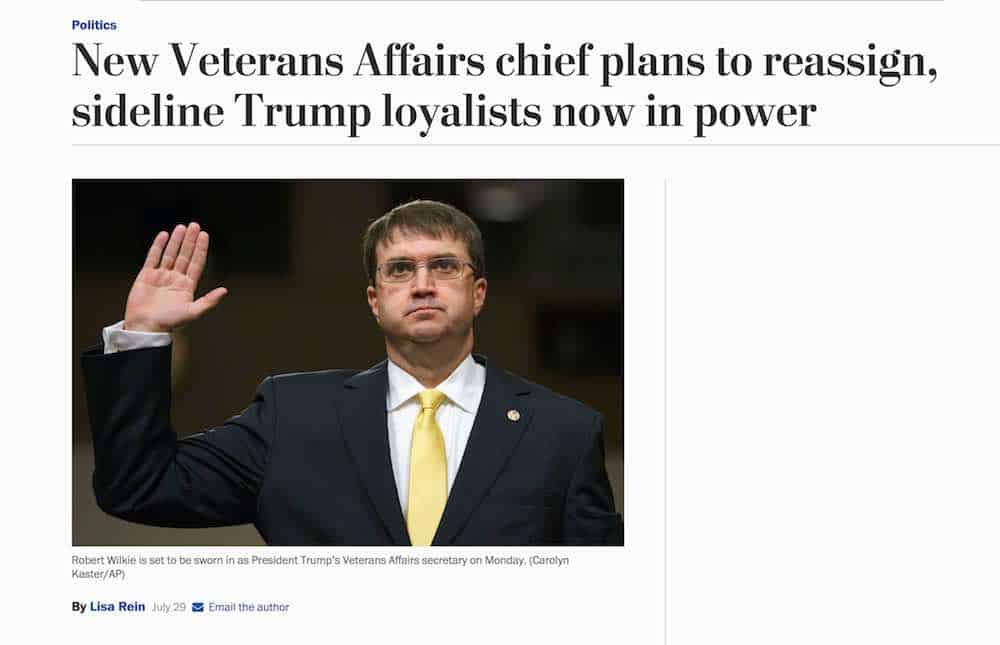 In a possible nose-thumbing, VA Public Affairs was surprisingly silent on new secretary Robert Wilkie's swearing-in; spending all of two seconds retweeting with no substantive messaging about the important event – – meanwhile taking a swipe at WaPo reporter Lisa Rein.
No tweets or retweets from VA Public Affairs @DeptVetAffairs. A couple simple retweets from the VA press secretary @CurtCashour, VA press secretary. Literally nothing from John Ullyot, head of Public Affairs @DCJohnnyU. But there was one hefty response today, relatively speaking, credited to VA press secretary Curt Cashour that I will dip into in a bit.
That response was a swipe at the reporting of Washington Post reporter Lisa Rein who reported Sunday that the new secretary planned to remove key Trump loyalists from their present posts. And that list included Ullyot and Cashour among others.
Curt Cashour Swipe At WaPo
Before, during and after Wilkie'sswearing-in, with the exceptions of two retweets from Cashour, Public Affairs said nothing. Apparently, the press secretary blew his energy for the day firing off that swipe at Rein:
Good afternoon. Some of you have been tweeting/writing about this Washington Post story, so we wanted you to have the below statement, attributable to VA press secretary Curt Cashour, that we have provided to other outlets that have asked for comment.
VA has no personnel announcements at this time.
However, the Washington Post story contained a number of errors. Specifically:
– John Ullyot will remain VA's assistant secretary for public and intergovernmental affairs, and there will be no changes whatsoever to his duties.
– Curt Cashour remains VA's press secretary and has no plans to leave the department.
– Camilo Sandoval is not leaving the administration and will remain at VA.
Is this a sign of things to come – – more pushback against the VA secretary selected by the President – – or is it a quick middle finger on the way out the door?
Lisa Rein Excerpts From WaPo
To be fair, let's take a quick look at what Rein actually wrote to read between the lines with that not-so-silver tongued Cashour:
John Ullyot, VA's assistant secretary for public and intergovernmental affairs, will likely be reassigned to a role running internal communications, these people said. Ullyot, a former Senate aide, openly clashed with Shulkin and left VA on paid leave for several weeks at the end of Shulkin's tenure, returning after the secretary's firing.
VA press secretary Curt Cashour, a former Capitol Hill aide who has clashed with reporters, is said to be searching for another job in the Trump administration, according to people familiar with the matter.
Camilo Sandoval, acting chief information officer and the former director of data operations for Trump's campaign — who received poor reviews from lawmakers on his progress overseeing a $16 billion project to modernize VA's electronic health records system — is expected to leave the administration in coming months, according to a person familiar with his plans.
Before I talk about what Cashour wrote, let's remember how Trump canned former secretary David Shulkin. He let Shulkin flail around in the media for a month or so before giving him the ax. During that period, Shulkin swore and down that he was in charge and now going anywhere.
Then Trump fired him via Twitter. Maybe Cashour should pay attention to the recent events he helped perpetuate?
Silver Tongued, Or Sliver Tongued (Ouch)?
As for his rebuttal, Cashour uses very specific language when explaining what Ullyot will be doing after Wilkie takes over, "no changes whatsoever to his duties." Fine. That can simply mean his job description is the same but he still will be managing internal communications only.
For his own position, while Cashour may have no plans on leaving the agency, sources may be aware he is getting the soft boot out into something a more appropriate for his disposition.
As for Sandoval, note the bait and switch in the language here. Cashour sets you up earlier with slant rebuttals but lands this one well off the bullseye. It does seem likely he is going somewhere else. We know he is basically gone with today's selection of James Gfrerer.
Cashour clearly needs to go to finishing school. The job of the press, at least within VA, should be to smooth over issues, spin the truth, and keep reporters happy. While it's obvious Cashour has no problem spinning the truth, he certainly needs some work on his bedside manner with reporters.
A Little Trip Down Memory Lane
Here is a rundown on what is going on and why you should be concerned for Wilkie.
Late Friday, I received reports from independent sources of the most reliable kind that Cashour was on his way out, either that day or very soon. Obviously, Cashour still has control of the agency's mass email system, and he is likely employed at this moment.
This makes sense given his involvement in the coup of former secretary David Shulkin where he refused to allow Shulkin the opportunity to speak with the press about actions taken against him by his own staff. Ullyot, the assistant secretary of Public Affairs was in on it as were other Trump loyalists including Peter O'Rourke.
Sunday, the Washington Post's Lisa Rein not only confirmed what I reported but went on to confirm the removal of a few more Trump loyalists. Now, the removals are not necessarily straight out firings – – VA hates those since it can result in a lawsuit, so they prefer to pressure those being removed into giving up their rights in favor of poorly drafted settlement offers.
Instead of keeping certain Trump loyalists where they are as part of a condition of accepting the job, Wilkie supposedly negotiated to remove certainly loyalists from positions that could seriously damage the agency or further ruin its reputation.
For the past four years, the agency's reputation has been in tatters for being dishonest with the American public. In the past 18 months, that reputation was made worse by the clown show Ullyot and Cashour treated the news media too. Between coup attempts, shoddy mismanagement of the agency's messaging, and the newest perjury allegations against former acting secretary Peter O'Rourke, the agency is in more trouble than ever.
Rather than focus on his job, you know, helping the agency look better by highlighting how great of a pick Wilkie will be for military veterans and American, Cashour had a very different plan in mind today.
SPAM reporters using government email.
He apparently picked up a book on how to look amateurish and fired off that response to reporters like me who were reporting on the pending changes inside the agency.
I have a hunch that if he is not in a different role by the end of the week, he certainly will be by the end of the year.
That Aside
All that rhetoric aside, I have a job offer the VA secretary cannot refuse.
I see your team failed to cover your big day. Somehow, despite VA's public affairs/propaganda budget of tens of millions of dollars, your Batman – John Ullyot and Robin – Curt Cashour could not lift a finger to type anything of original content for your swearing-in ceremony.
I call BS on that one, and if I were you, I would put those babies in the corner (borrowing a line from the epic 80's movie Dirty Dancing, for those of you too young or too old to know).
Really, I am sure they were too busy pissing off reporters or making the agency look impotent in some other way while misusing bombastic modifiers to seem bold and brave, like a late-night ad for some new hemorrhoid cream you keep seeing, over an over.
Here is my deal to you Secretary Wilkie. I will come run your press team for a fair price. And, I promise to write a press release when the next appointee is sworn in. Deal?