CON JOB: USA Today Blows Coverage Of VA OIG Wait Time Investigation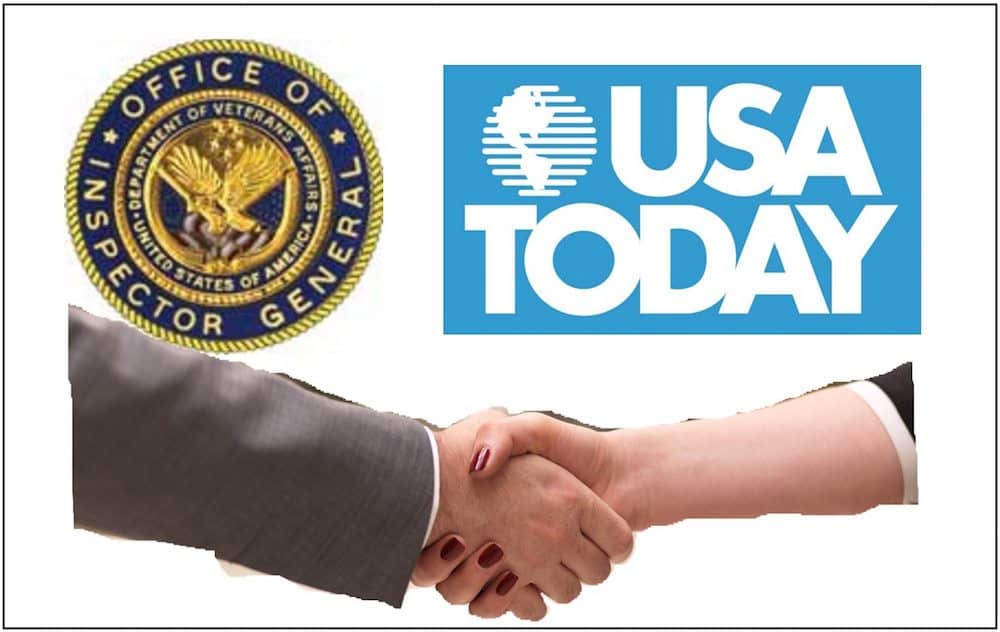 A recent VA OIG con job, inaccurately called an "investigation" by USA Today, found no wrongdoing when VA executives misrepresented wait times to Congress.
Congress called for an investigation to address misrepresentations made by VA executive Skye McDougall, a VA executive in charge of numerous southern California VA healthcare facilities, now head of VISN 16 (yes, she got promoted).
Her misrepresentations were later spun by Secretary Bob McDonald. Secretary Bob's spin made the deception worse when he provided erroneous information. The series of misrepresentations prompted a CNN investigation.
OIG was apparently asked to investigate. It instead limited its investigation only to Secretary Bob McDonald to spin the scandal and to shame CNN for reporting on it.
READ: VA OIG Wait Times Report
OIG head Michael Missal orchestrated the deception in classic Richard Griffin style.
Bravo. And USA Today ate it up, hook, line and sinker.
RELATED: Shameful Richard Griffin Retires In Disgrace
VA OIG REPORT – DECEPTION FOR THE UNSUSPECTING MASSES
The recent OIG investigation report ultimately fixated on McDonald while not reaching a conclusion about McDougall in an apparent bait and switch. This is a typical move of OIG where they will avoid
The OIG bait and switch was apparently clever enough to grab great press headlines despite lawmakers being upset with the deception. Now, USA Today readers believe VA told the truth about wait times, which it most certainly did not.
USA TODAY – "VA officials didn't mislead Congress on wait times, investigation finds"
Sen. David Vitter, R-LA, blasted the report:
"Not only did the report ignore the clear conclusion Skye McDougall misrepresented VA wait times — which she most certainly did when she lied before Congress — but it also directly contradicts individual facts from Secretary McDonald's letter."
Did we learn nothing in the past 2 years? VA cannot be trusted to conduct its own investigations into anything, much less the wait list scandal.
RELATED: McCain Chastises Skye McDougall Appointment
So why did tax dollars get wasted by allowing VA OIG create another whitewash into the wait list concerning false statements Skye McDougall made to Congress?
Apparently, VA is continuing its same path of absolute denial. And like Adolph Hitler, they must believe if their lies gets repeated enough in the press, America will believe them.
This time, the USA Today grabbed the report and helped spin the narrative for VA.
America is duped.
RELATED: VA Creates Phoenix VA Liars Club
USA TODAY BLOWS VA OIG HEADLINE
The title of the USA Today article was: "VA officials didn't mislead Congress on wait times, investigation finds".
USA Today's noteworthy headline failed to mention VA investigated itself via VA OIG (and yes, I do not believe for one second OIG is impartial). Anyone who believes VA OIG is impartial should buy some ocean front property I am selling in Minnesota.
I'll sell it to you real cheap.
The headline falsely asserts "VA officials" did not mislead Congress, but the OIG report omits the conclusion about the misrepresentation made by McDougall. So why did the news outlet use that headline? What is the effect on readers who only have time to read headlines and the first few sentences without diving deeper?
Those readers will conclude VA was absolved of the wait time scandal without identifying the organization responsible for the conclusion of the investigation to begin with.
Given the historically known interference with investigations under the present administration, it seems imperative to at least include the identity of the investigating body responsible for the conclusion.
It could have read, "VA OIG Report Fails To Fully Explain Misrepresentation To Congress", or something like that.
Or, "VA investigation shows VA did not mislead Congress". Most people would laugh at that headline, but it would more accurately explain the matter.
MCDOUGALL MISREPRESENTATION BACKGROUND
For some background, McDougall testified in February 2015 to Congress about wait times. She claimed veterans were waiting only 4 days on average to get appointments at her facility for new patients. However, a CNN report claimed the wait times were actually 40 days.
So who was telling the truth? Where is the rub with the USA Today title?
Well, Secretary Bob McDonald made an effort to smooth things over by claiming the wait times were actually two to seven days longer than what McDougall stated.
McDougall was then promoted to take over numerous southwestern VA facilities including Phoenix VA. Numerous lawmakers cried foul. So, Secretary Bob sent her to the deep south to supervise facilities around Mississippi.
The VA OIG investigation appears to have focused merely on whether what McDonald said was true. USA Today reported that OIG reported that McDonald accurately related the wait times for new patients – between 6 to 11 days.
Meanwhile, almost 2,000 veterans were waiting two or more months for appointments. 500 were waiting up to six months.
Was it wise for VA to be so tricky with its numbers to begin with given so many veterans were waiting so long for health care? Did they intend to give Congress and the American public a false impression of the status of the wait list?
Apparently, the wait times as reported also failed to include the number of days a veteran waited between needing an appointment and scheduling that appointment.
The report from OIG ultimately blamed the misrepresentation on mere confusion between the types of measures used by VA bean counters and the press.
This red herring argument concerning the source of the numbers seems like a waste of time since veterans were waiting a very long time for health care, so splitting hairs between 35 days and 45 days seems like an exercise in futility.
Further, the matter at issue was McDougall's misrepresentation to Congress that McDonald spun, and not the specificity for veterans waiting a longer time that the one claimed by either official.
At the end of the day, it is obvious VA OIG helped VA score yet another positively spun headline from a major media outlet.
Kudos to whomever it is controlling the message on behalf of VA to the detriment of veterans. You are great at lying.
How many taxpayer dollars do you think were wasted on this PR stunt?
And what about Skye McDougall?
She is running VISN 16.
Did the USA Today coverage ever address the misrepresentation to Congress made by McDougall in order to justify its bait and switch headline?
NEWS EXCERPT
According to the USA Today article (more aptly called a pro-VA press release than an article):
Some lawmakers, however, are taking issue with the investigation, saying it wasn't comprehensive enough. Vitter told USA TODAY that he believes it was "an absolute waste of time and resources."

"Not only did the report ignore the clear conclusion Skye McDougall misrepresented VA wait times — which she most certainly did when she lied before Congress — but it also directly contradicts individual facts from Secretary McDonald's letter," he said.

Rep. Jeff Miller, R-Fla., chairman of the House Veterans Affairs Committee, said the inspector general's report seemed to be little more than "a cursory exercise in checking the box that was expressly designed to exonerate Skye McDougall rather than uncover the truth."

Missal said in a statement to USA TODAY on Friday that his office sought to fulfill Congress's request for the investigation in an "accurate, thorough, objective, and fair manner." But Missal said he would be happy to look further into the matter if Congress requests it.

"We recognize that the issue of wait times and access is of great importance to all stakeholders, including veterans, Veterans Service Organizations, Congress and VA," he said. "Presently, we are completing a range of work on the topic that will examine the current state of access to care at VA."
IMPACT OF VA OIG BAIT AND SWITCH
While USA Today paid a little tribute to the bait and switch, it failed to appropriately address the questionable tactice of VA OIG when it limited its review away from McDougall. The USA Today article title gives readers a false impression of the facts.
Casual headline readers will conclude an investigation concluded VA executives did not mislead Congress, but that is not what the report said. It said McDonald made a mistake but failed to reach any conclusion about McDougall. It then attacked CNN for raising the issue.
This was a prototypical Richard Griffin style deception that then attacks the messenger over slight discrepancies. The argument is then fixed on a nonissue while no one addresses the real problem — Skye McDougall misled Congress and then was promoted to head an entire VISN.
What a sham. Why is USA Today giving OIG the opportunity to control the message?
I know many folks are calling for Congress to audit the Fed.
I think veterans should audit VA OIG. I am not quite sure how to accomplish it, but I am sure there is a way.
Source: https://www.usatoday.com/story/news/politics/2016/08/05/skye-mcdougall-va-official-wait-times/88304490/