Did Major VSOs Sell Out Veterans At Phoenix VA?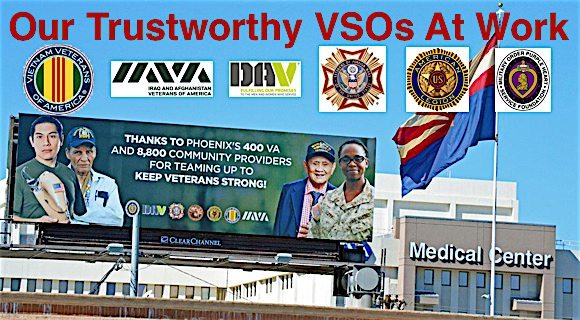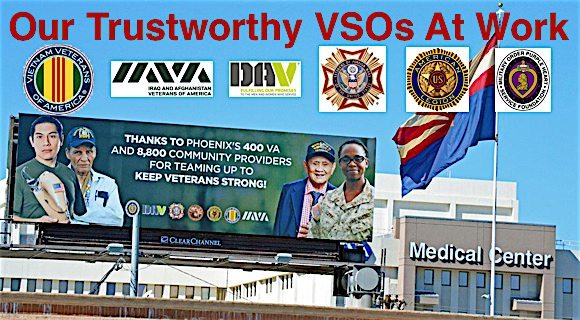 Major veteran organizations approved a billboard at Phoenix VA thanking them for a job well done but refused to tell the press who paid for it.
In an apparent counter-move to a wildly popular 'VA Is Lying' billboard movement, impotent veteran organizations put up a new billboard giving "thanks" to Phoenix VA. Maybe AFGE paid for it to make its members feel better?
But who paid for the new billboard? VSOs will not admit to it. Maybe AFGE paid for it to make its members feel better?
Veterans affected by the ongoing scandals at the facility are outraged by the apparent duplicity of the same veteran organizations that failed to act to prevent the scandals that killed veterans for years at Phoenix VA and nationwide. The wait list scandal itself predated 2001 but went unresolved until CNN exposed it in 2014.
The wait list scandal itself predated 2001 but went unresolved until CNN exposed it in 2014.
That's the real deal. It took CNN and the press to out VA. Where was your VSO in exposing the scandals related to the wait list fraud? Were they playing golf with VA executives?
About The Billboard
The billboard is full of irony and apparently a ploy based on new revelations at the location including failed oversight investigations and continued failures.
These failures have largely been played out in the press, but VA has continued to say reforms at VA have fixed problems.
The sign reads:
"THANKS TO PHOENIX'S 400 VA AND 8,800 COMMUNITY PROVIDERS FOR TEAMING UP TO KEEP VETERANS STRONG!"
Why did your VSO thank Phoenix VA for its continued scandals?
RELATED: Outrage Over High VSO Pay
Follow the money.
Ron Nesler, founder of VA Is Lying, contacted Vietnam Veterans of America (VVA) to find out why they agreed to put their logo and endorsement behind the billboard.
Rick Weidman, policy director of VVA, said he thought the sign was well deserved:
"I contacted Rick Weidman Exec Director of the VVA about the new billboards in Phoenix praising VA. Rick says he authorized the VVA name to be used on the billboards, but that no VVA money went into them. I asked him who paid, and he didn't respond. It will be REALLY interesting to find out who paid for these."
Weidman is not the only one slinking away when asked who paid for the billboards. Neither VVA or VFW (Veterans of Foreign Wars) answered the press when asked who funded the signs.
Why so secretive? What is going on behind the scenes?
I encourage all of you to contact your national VSO office to why the approved the billboard and who paid for the design and rent cost of the billboard.
Please report back here with what you find. I would appreciate it if you would call the following organizations and speak with their communications heads:
Disabled American Veterans – Dan Clare – (877) 426-2838
IAVA – (212) 982-9699
Purple Heart – John Bircher – (352) 250-9555
Vietnam Veterans of America – Rick Weidman – (301) 996-8557
Veterans Of Foreign Wars – Randi Law – (816) 968-1104
American Legion – (317) 630-1200
Is your veteran organization on this list? I belong to Disabled American Veterans and am disappointed but not surprised they approved of the sign.
It will be up to us to make sure the veteran organizations that endorsed the sign know they will experience a real cost for putting their inside baseball interests at pushing the VA agenda over the interests of veterans they purport to support.
The most interesting thing here is that these massive VSOs have huge budgets well over $100 million per year. Some of the VSOs including DAV have executives who earn between $200k-$400k per year.
Yet, the Facebook group VA Is Lying, with its crowdsourcing of funds to put up billboards nationwide including Phoenix VA, warranted a counter-message after the most recent billboard?
Perhaps this is a testament to the equalization of power that an open internet allows where the quality of the message matters more than the budget?
RELATED: VSOs – A Major Conflict Of Interest
Phoenix VA VSO Billboard Meaning
The language used in the billboard, which appears in front of Phoenix VA, is certainly curious because it subtly endorsing VA due to its location while also apparently thanking the city of Phoenix for supporting VA.
It "thanks" the 400 doctors working at VA. It also thanks the 8,800 doctors working in the community who also provide care to veterans.
Implicit in the sign based on its location is the endorsement of Phoenix VA, the quarterback for the care, despite documented failures that are still plaguing the location.
This makes readers wonder if VSOs are actually thanking Phoenix VA for continuing to obstruct access to care whether at Phoenix VA or in the community.
Are VSOs endorsing fraudulent behavior that is still obstructing access to care? And who paid for the sign?
Major VSOs – Who Do They Serve, Really?
Now, all major VSO's have agreed to have their likeness included on a sign thanking it for a job well done immediately after revelations surfaced that a known liar took over its community care program and is obstructing access to such care.
The billboard was approved by IAVA, DAV, VVA, VFW, American Legion, Purple Heart and one other I could not make out.
Ironically, these are the same organizations that turned their backs on veterans who ultimately died from wait list fraudulent schemes perpetrated by staff at the facility that still go on.
Initially, it took exposure from CNN to get the ball rolling in 2014 to out a fraud scheme where Phoenix VA officials were cooking the books to make it look like veterans were getting timely access to care.
Now, two years later, veterans are still experiencing a hard time accessing care, and those problems are well documented by VA OIG and in the press. Yet, our cowardly veteran organizations have the audacity to thank VA for its bang-up job. So what is happening?
So what is happening?
RELATED: IG Confirms Appointment Manipulation Scheme
The Facebook sensation, VA Is Lying, put up a second billboard in front of the facility highlighting that veterans are still dying.
RELATED: New 'VA Is Lying' Set For Phoenix VA
Phoenix VA was outted in the press via patient video / audio recordings revealing doctors are still overbooked and veterans are still unable to get timely access to healthcare.
When that scandal broke, Phoenix VA director Deborah Amdur immediately announced her retirement asserting conditions at the facility resulted in her experiencing a life-threatening condition that required resignation.
VA #2 Sloan Gibson IV flew to Phoenix to explain the resignation to the press, name call anyone who called out the curious timing of Amdur's retirement, and to declare Phoenix free of the problems that led to the wait list.
RELATED: Phoenix VA Director Suddenly Retires After Secret Recording, Cites Health
Amdur reportedly retired right before being outted for using her office to create a job for her boyfriend whom she brought with her after her assentation to the director position at Phoenix VA.
Then, VA OIG released a report that problems there still persist. The facility then selected the former St. Louis VA director to run Phoenix VA, RimaAnn Nelson. She was previously mired in scandals there, but VA thought she was the logical choice to fix Phoenix.
In St. Louis, Nelson's staff possibly exposed thousands of veterans to HIV and hepatitis by failing to clean dental equipment. They repeatedly put veterans' lives at risk to save money. Instead of being fired, she was booted Manila VA for a couple years until the heat cooled.
RELATED: New Phoenix VA Director Has Skeletons In Closet
Now, our cowardly VSOs have all signed up to thank Phoenix for its job coordinating community care.
But is this a worthwhile accolade or mere propaganda in the face of contrary evidence?
Early this month, reports surfaced that Phoenix VA hired a proven liar who was previously terminated from the North Chicago VA to take over the community care program at Phoenix. This selection resulted in absolute obstruction of veterans' access to community care providers.
RELATED: Phoenix VA Hires Known Liar For Choice Program Administration
VA literally acknowledged that it made a mistake hiring the woman who was fired from North Chicago VA because it did not call the facility to find out why she was fired.
She was fired for making false statements to a judge and for bullying veterans.
So what are the veteran organizations doing? How does this continued behavior deserve a billboard and who funded it?
It seems obvious the signs were erected right after the lease for VA Is Lying expired. My best guess is VA organized the VSOs in a counter-propaganda campaign despite what Phoenix VA actually is doing.
RELATED: VFW, American Legion Left Behind By Younger Veterans
Should VA Is Lying put up a new sign calling out the VSOs who are now lying to the public to cover for crimes at Phoenix VA?
Source: https://freebeacon.com/issues/billboards-erected-thank-phoenix-va/