Majority VA Employees Now Believe Leadership Is Honest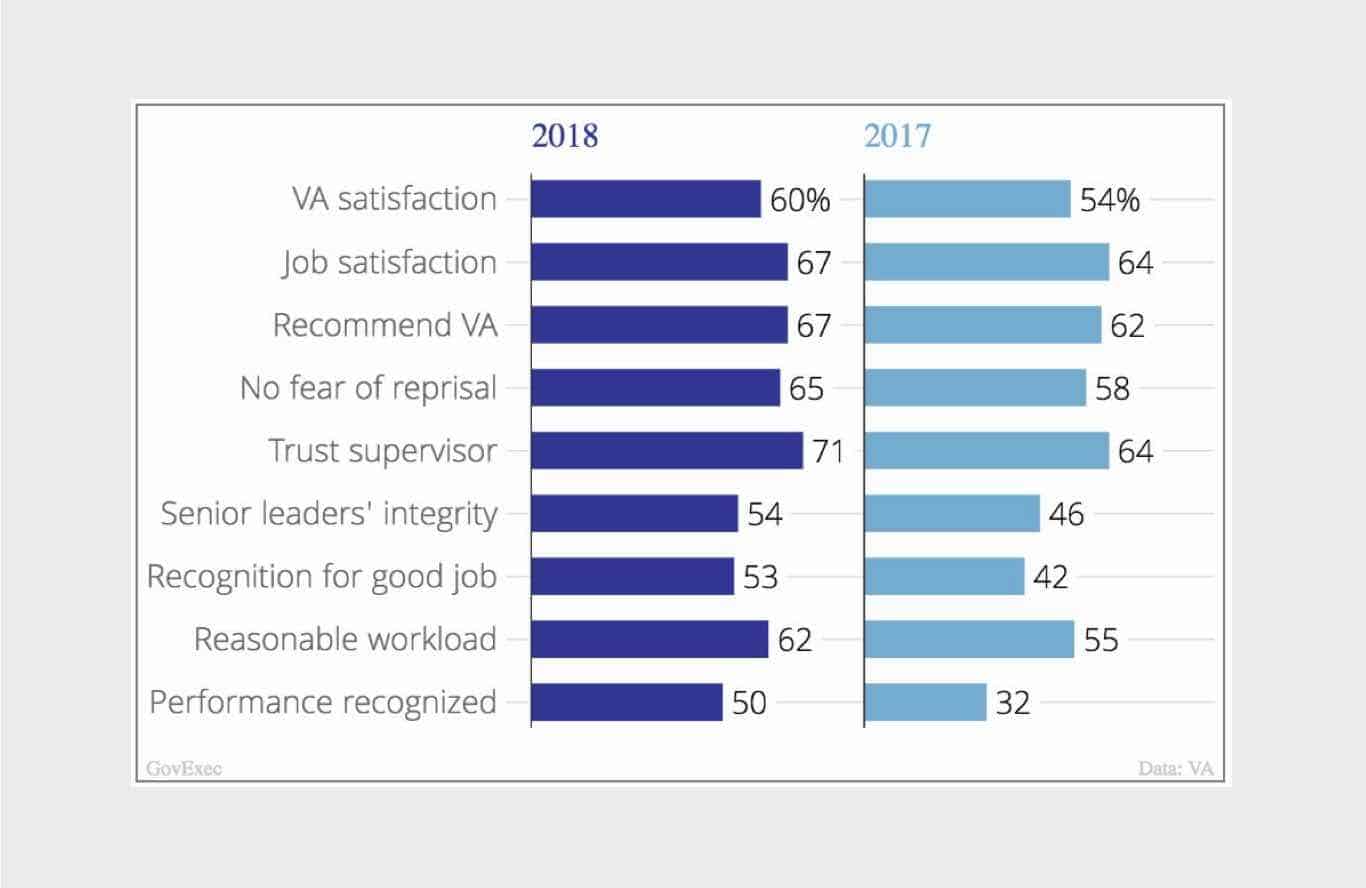 A new survey of VA employees now shows a majority of VA employees believe their leaders are honest, increasing from 46 percent to 54 percent since 2017.
Improvement is always good even if the initial bar is quite low, and it does not get much lower than the majority of employees believing their leaders are dishonest. How many of you would work at a company where the majority of employees believed their bosses were dishonest?
At least the agency is moving in the right direction.
For the past two years, VA ranked as the second worse place to work in the federal government out of 18 agencies with more than 15,000 employees. The survey results displayed above show less VA employees fear reprisal, more employees trust their supervisor, and more employees reported receive positive recognition for doing good jobs.
"VA employees are talented and committed professionals who rally behind a great mission," Wilkie said. "Veterans deserve a VA workforce that demonstrates pride in its work that results in strong customer service, and the survey shows we are making important progress in that direction."
GovExec
GovExec noted the following improvements in a story covering the survey:
While overall job satisfaction increased just 3 percentage points from 2017, according to VA's All Employee Survey, which incorporates the questions from the annual, government-wide Federal Employee Viewpoint Survey, satisfaction with the department went up by twice that to 60 percent. More than seven in 10 VA employees trust their supervisor, up 7 percentage points over 2017. A majority of employees now believe that senior leaders maintain honesty and integrity, up 8 percentage points. President Trump earlier this year fired then-Secretary David Shulkin amid alleged ethical violations.
Takeaways
The survey results suggest steps taken over the past few years to improve agency culture have started to take hold. While the improvements are obviously still shy of the end goal, substantive increases in employee satisfaction are proven to increase overall customer services. And, better customer service should no doubt improve how veterans are treated.
Assuming the survey statistics are not manipulated beyond what was previously presented for 2016 and 2017, let's hope the improvements continue to eat away at the pervasive anti-veteran culture that resulted in the wait list scandal and other problems in the past decade.
Starting in 2014, former VA Secretary Robert McDonald emphasized culture improvement with his iCare values pledge and performance systems stemming from that. Agency leadership also focused on incorporating Disney customer service techniques.
At the time, I thought the system was absurd, and maybe it was a little, but cultural improvements are now growing out of that period and through subsequent improvements to those models. When you are at rock bottom, which VA basically was, the only place to go is up.
I hope for the sake of the veterans the agency serves that the improvements continue, and hopefully at a faster rate than to this point.