MMQB: GI Bill, VA Voc Rehab, Disability Pay, How to Handle a Benefits Cut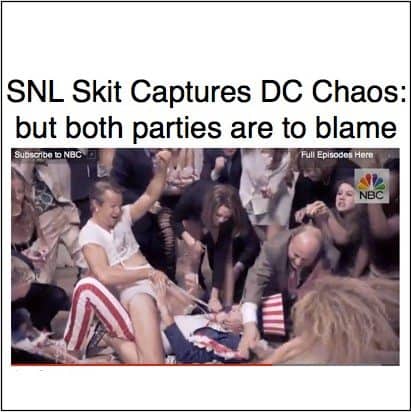 If you've been awake for the past week, at any point you would have seen a lawmaker chaos in Washington, D.C. SNL captured it well on Saturday, but should've included more Democrats in the skit.
Since Tuesday, Veterans have been torn down party lines, but they are also waking up to a bigger reality: both parties have a hand in this mess. We have not had a full budget pass through Congress for three years. Instead, our politicians have chosen to raise the debt ceiling.
On the Right, Republicans have proposed bills that were voted down to fund VA. However, using a little slight of hand, those proposed bills would have cut $6 billion from VA's budget. Nice try guys.
On the left, Democrats refuse to budge on anything. They claim Republicans need to fund everything. However, they did fund the military somewhat and some other things relating to immigration.
Most recently, HJ 72: Veterans Benefits Continuing Appropriations Resolution, 2014 has passed the House. Now we are waiting for the Democrat controlled Senate.
A bigger issue for many is the threat Democrats and the President have made against disability pay, GI Bill money, and Vocational Rehabilitation funding.
In a last minute reversal, the Department of Veterans Affairs notified veterans that their disability pay may be at risk. That conversation has now spread to include the GI Bill, VA Vocational Rehabilitation and other educational benefits.
I will touch on this and more below.
Hi and welcome to another edition of Monday Morning Quarterback, for veterans. I am your host, Benjamin Krause. This is where I let me hair down and call 'em like I see 'em.
Here's the drill. I brew some coffee. Then I drink it and write as much as I can in the morning on the issues you want me to talk about.
Today, we will be covering the following:
Getting ready for a disability pay cut
60 Minutes goes after Disability Insurance with Senator Tom Coburn
National Park fiasco
SNL spoofs House Republican majority (video at bottom)
UPDATE
: Just received word from Capitol Hill that VA Office of Congressional and Legislative Affairs has stated informally that VA Benefits Administration is out of money as of close of business today, one week after the shutdown. We are not sure what exactly that means since some people are still working. According to sources, VA claims that the retroactive payments to veterans from the backlog caused the lack of funds. We will learn more on Wednesday. 2:00 pm CST Oct 7, 2013
Getting ready for a benefits pay cut
Before I jump into what I think is going on, I wanted to write about what I think veterans may want to do to prepare – since we can never know exactly what will happen.
For veterans who will be negatively impacted, implement a "plan for the worst, hope for the best" approach. Here are some suggestions to avoid homelessness should the checks stop flowing:
Take out a credit card if you can
Call creditors / landlords to alert them about the potential cut
Call utility companies to alert them about the potential cut
Call your university financial aid office to request an emergency scholarship
Keep enough cash on hand to live for one month
Keep enough food on hand to live for one month
Call family members or friends who may be able to help
Identify available resources for food and shelter
Identify VA resources that could be available, veterans centers
The sad fact here is that we cannot rely on VA to be straight with us because it is playing politics based on the political decisionmakers the Executive has control over in every Administration.
This means we need to have a back up plan in case the worst does happen. Let's hope this is all puffery, and that the partisanship will cease sooner than later.
What I think is going on
First of all, let me just say that Veterans Affairs and the President are playing politics with our benefits. Democrats in the Senate are also along for the ride. Meanwhile, Republicans are looking for ways to cut the VA budget. What a crock!
For those of you who are hardcore partisan, I say this as an Independent Voter who voted for Obama and Bush – minds blown, I know – Independent Voters do exist, and we are saddened that we do not have better options when it comes to selecting leaders for this great nation.
I also say this as the guy who told the Democrats what they needed to do to win the veteran vote – just do the right thing for veterans. One year later they score a big FAIL. Here is a link to the video: https://bit.ly/11ChtBi
So, please hold off on calling me a Repiglican or a Demoqwack for daring to provide commentary on the President or Congress. I call strikes strikes and balls balls.
I have a hunch this issue because of who is saying that our benefits are at risk and how they are saying it. Let me explain.
When you read all the press releases and news stories about our benefits being cut, they all say about the same thing. At risk are our GI Bill, VA Pension (not the same as retirement) VA Education Benefits, and disability pay, supposedly.
The news releases generally say something like this, "[T]he VA announced that if the shutdown lasts longer than two to three weeks, it might not have enough cash on hand to pay benefits in November." (Providence Journal quoting IAVA)
Notice that none of the statements say that benefits will stop on October 16, or November 1. They instead say, "might not have enough cash…" Ridiculous, and here is why.
The public relations company that came up with this tactic, basically a legal hedge, assumed we veterans and the public at large would falsely assume: 1) Veterans Affairs is like us; 2) That the agency would not exactly know how much cash on hand it had; and, 3) As such, the agency would not know with any certainty whether or not the funds would stop.
There is something highly insincere about what that statement says and what it assumes about the reading public.
Can it be true that a $150 billion agency does not own a calculator? VA does, after all, have multi billion dollar IT programs that do budgeting. Further, the agency has a real life CFO who must evaluate VA's financial position at all times and report it to Congress.
Since VA does have advanced budgeting systems, I believe it is highly unlikely that VA does not know when the money will run out. Therefore, this claim about benefits running out must be a ruse. But for what?
I think we are being hoodwinked, but I am not sure what the end game is beyond pressuring veterans into pressuring Republicans. Perhaps that, in and of itself, is the end game.
Another possibility is that the Executive is reworking how veterans are paid, and in order to accomplish some feat through the Treasury, payments must go offline for some duration. Or, perhaps it is more of a psychological punishment tactic. I'm not sure but there are lots of possibilities.
Regardless of the reason, my point is that VA and the President are not being totally honest with what is going on. I guess it is possible that the money will run out. But, based on the statement above "might run out", it also seems possible that VA DOES have enough money to keep the benefits checks flowing.
I'm pissed. The reason I am pissed is that Democrats, and VA, for at least 3 years have all said VA benefits would be safe if we had a shut down. I participated at the Veterans Roundtable in 2012 with Rep. Nancy Pelosi and Rep. Tim Walz. They said we were safe to all VSO's and other parties.
This duplicity is further illustrated by VA's most recent communications on the issue. On September 27, VA displayed on its website on PDF that said veterans disability paychecks would be fine. The day before the shutdown, VA reversed its position.
See for yourself:
For now, we don't know the truth, exactly. So, plan for the worst, just to be safe. Hopefully some resolution will pass soon.
60 Minutes goes after Disability Insurance with Senator Tom Coburn (OK-R)
In what appears to be curious timing, 60 Minutes aired a piece highlighting Senator Tom Coburn's war against Social Security Disability Insurance.
The gist of the piece is that 4 million people are defrauding the government, and that lawyers are getting rich helping this fraud.
This is curious timing because disability payments are now an issue for veterans due to the payment cut threat from Democrats. A viewing public largely uneducated about VA disability will lump veterans issues into the same pot as SSDI.
The net effect could be an erosion of the sympathy veterans normally receive on the subject.
In the interview, Coburn claimed that 33 percent of all claims are fraudulent. He did not provide any study or research to support his claim. He did, however, provide a couple anecdotal stories – so a couple stories out of 12 million recipients.
They conclude that attorneys are involved because it is lucrative. This is perhaps true with some chop shops that specialize in the field.
However, by and large, lawyers are not getting rich. Lawyers across the nation are making an upper middle class living while paying down $150,000 in student loan debt – just like doctors.
Coburn concludes the piece by repeating a veiled warning. Disability Insurance payouts will either need to be cut 25% by 2015 or there will need to be an increase in the payroll tax.
Watch it here:
https://www.cbsnews.com/8301-18560_162-57606233/disability-usa/
National Park rangers shutting down private businesses
From the Washinton Times:
"The National Park Service has closed privately run marinas, restaurants and inns throughout the country and in some cases even posted guards to keep people from using them during the government shutdown, arguing that it doesn't have the money, manpower or authority to let them operate.

"But the moves, which likely have thrown thousands of people out of work, are drawing scrutiny from Congress and don't rest well with many voters who believe the administration is making the effects of the shutdown worse than necessary.
This comes back to what I said last week, that National Park closures defy common sense economics.
The fact is, it costs more to actively guard businesses and open air monuments than it does to just shut down by walking away.
Some readers have argued that, "At least the President is being fair." But, being "fair" is nice when you have two children and you are the parent. It's not the duty of the Executive to play parent, and that argument is premised on the assumption that his job is to be a daddy.
Further, someone made a decision about what would and would not be classified as essential. The decision was reached to shut down national parks even though they are revenue positive operations. Such a decision plainly defies common sense economics at a time when the country is collectively screaming for more revenue because it keeps the government from collecting revenue.
Therefore, I can only conclude that there is some other motive.
The only motive I can think of is that the Executive is trying to usurp the daddy role by being overtly paternalistic, and in so doing has decided to punish the nation by shutting down its parks.
Source: National Park rangers ordered to keep visitors out of privately run businesses
SNL Spoofs Boehner, Bachmann
I thought I would include this so that everyone knows I can rip on both parties equally.
Some of you may not like this kind of humor. As a warning, I was the kid at church camp who always got in trouble for telling "adult" jokes.
Anyway, in this video short, SNL depicts what Republicans are doing in DC during the shutdown set to the Miley Cyrus video. It's pretty funny. Click on the triangle to watch.