DEVELOPING: VA Benefits out of Money by COB Today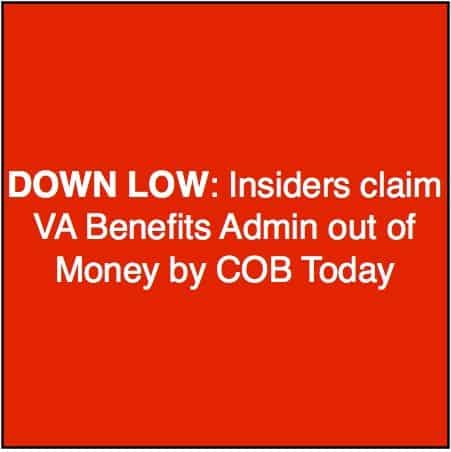 Washington, D.C. – Just in. Oct 7, 2013: 2:00 pm.
Persons close to the matter have reported that VA is out of money for benefits by close of business today. What exactly this means remains a debate. The House Committee on Veterans Affairs has scheduled a hearing, on October 9, 2013, to clarify how veterans benefits are impacted by the shutdown.
The VA Office of Congressional and Legislative Affairs is the alleged source of the budgetary information from informal communications earlier today, and the story is developing as more information comes out. A change has been evidenced across the web today, however, as VA began to shut down its public communications services relating to veterans benefits. Veterans health care should remain unchanged.
According to reports on Capitol Hill, VA has stated informally that retroactive disability pay has fully drained VA's supply for money as of today. Given the size of the backlog over the past years, its retroactive payments were likely larger now than the historical average. As a result, VA was unable to properly anticipate its budgetary shortfall so quickly into the shutdown.
If the reports are accurate, it means veterans who are collecting benefits from VA will stop receiving payments shortly. Veterans anticipating awards for disability pay, pension and educational stipends should plan on finding alternative sources for the money.
In a phone call, Mr. Armstrong, VA's Congressional Liaison, claimed to be unaware that VA made such a statement publicly. Instead of providing information, he referred me to the www.VA.gov website for more information. However, since VA's Public Affairs group is furloughed, nothing on the website will likely be updated during the shutdown.
For those who remember, VA claimed its reserves would last through most of this month. According to the reports, VA made it seven days.
Please check back as the matter develops. With any luck, VA misplaced a zero and will clarify the matter to Congress on Wednesday.
House Committee Hearing – October 9, 2013 @ 10:30 am:
Effect of Government Shutdown on VA Benefits and Services to Veterans
House Committee on Veterans' Affairs | 334 Cannon House Office Building Washington, DC 20515 | Oct 9, 2013 10:30am
https://veterans.house.gov/hearing/effect-of-government-shutdown-on-va-benefits-and-services-to-veterans