Does VA Voc Rehab Chapter 31 Take Away From Your GI Bill?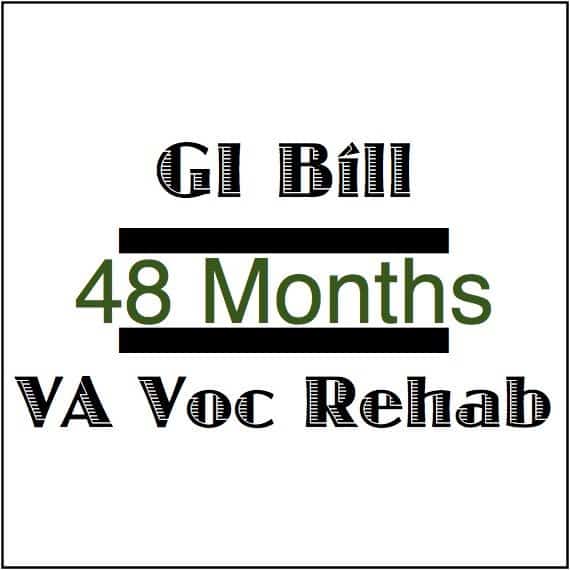 I keep getting letters from veterans about this Chapter 31 Voc Rehab vs GI Bill issue and thought I should write a quick post about it.
The short answer is that for most veterans and disabled veterans, you will be limited to eating a 48-month education sandwich, like the picture above.
I talk more about this in my guide, the Voc Rehab Survival Guide for Veterans, but I thought I'd do a quick write up below for those of you just looking for a quick answer.
UPDATE 4/11/2021 – VA changed the rules in April 2021. If a veteran uses VR&E before the GI Bill, use of VR&E will not reduce the number of months of entitlement for the GI Bill. However, use of the GI Bill first will result in a reduction in the number months of entitlement most veterans can receive when using VR&E after GI Bill.
Previous Update: A decision in December 2015 change the nature of this question. VA Office of General Counsel concluded using VRE first will not result in any deduction against the GI Bill. Then, in September 2016, VA changed there rule back.
READ UPDATE: New VRE Decision Changes Education Entitlement To GI Bill Later
GI Bill + Voc Rehab = 48 Months, Usually
The general rule of thumb, according to the 38 CFR, is that the total amount of VA education benefits any veteran can use cannot be greater than 48 months.
38 CFR §21.4020 states, "The aggregate period for which any person may receive assistance under two or more of the following laws may not exceed 48 months."
It does not matter if you use just one program or a combination of programs. This is the case for Chapter 30 GI Bill, Chapter 32, Chapter 33 GI Bill, Chapter 34, Chapter 35, Chapter 36, and Chapter 31 VA Voc Rehab (except for certain situations).
Where we get into muddy water is Chapter 31 Vocational Rehabilitation and Employment – aka VR&E, aka VA Voc Rehab, aka Chapter 31.
RELATED: Is Voc Rehab Better Than GI Bill Benefits?
Specifics On VA Voc Rehab
VA's Chapter 31 Voc Rehab is government by 38 USC §3100. This section of laws is part of the United States Code. These are the laws that are created by Congress and then codified into statutes.
VA interpreted the statutes into regulations, which are 38 CFR Part 21.1-430 for VA Voc Rehab.
Generally, VA Voc Rehab benefits are limited to 48 months, as stated above.
The program is only available for disabled veterans who qualify. Most disabled veterans will have what is called an "employment handicap." This means they will have an impediment caused by a service-connected disability that impairs their ability to hold and maintain suitable employment.
RELATED: Voc Rehab Training Tracks
Veterans with more serious disabilities will sometimes be determined to have a "serious employment handicap." If the veteran has a serious employment handicap, the counselor can waive the 48 months cap.
Thus, a disabled veteran could get more educational benefits if necessary so long as they have a "serious employment handicap." This classification would effectively waive the VR&E 48-month cap, so it may not matter if the veteran depleted their GI Bill first or not.
RELATED: How To Beat The TDIU Voc Rehab Myth
When VA Education Benefits Like GI Bill And VA Voc Rehab Are Combined
The new rule, 4/1/2021, negates the following example, but this was how it worked before to give an illustration of the old rule.
Example: I used the GI Bill for 4 months and then qualified for Voc Rehab, which funded my undergrad. I used a total of around 45 months of VA educational benefits by the time I graduated.
I thought I still had 32 months of GI Bill entitlement. However, when I called in, they recalculated my entitlement and then reduced my GI Bill entitlement to 3 months. I still think this is a raw deal given that I paid into the GI Bill, but VA thought otherwise.
This left me with a couple months of GI Bill that I did use in Grad School after VA refactored in my usage of education benefits. This makes sense if you think about it this way: 36 months GI Bill = 48 months combined benefits. Thus, 9 months of GI Bill benefits equals 12 months of VA Voc Rehab usage.
No matter what, you will almost always be limited to 36 months of GI Bill entitlement under normal circumstances.
In my situation, VA Voc Rehab found I had a Serious Employment Handicap when I reapplied for benefits. VA Voc Rehab then approved for me to have a training goal of "lawyer," which required that I attend law school. In total, I received over 80 months of VA educational benefits.
RELATED: Key Vocational Rehabilitation Definitions You Need To Know
Under the new rule, 4/1/2021, I would have kept my remaining entitlement to the GI Bill since I used VR&E first. This is the new rule.
Conclusion On VA Voc Rehab And GI Bill Usage
If this confuses you, I suggest you contact VA or a VSO who can explain it in person.
Also, keep in mind that there may be some caveats that would allow you to squeeze some additional benefits out of the system. And, the rules are subject to change, so be sure to double check with the VA website to verify the current status of the rules and regulations.
Each situation is different, and I suggest that all veterans seek a second opinion on their situation when possible.
Good luck!
RELATED: How To Guarantee A Vocational Rehabilitation Denial