Veterans: Our Vote does Matter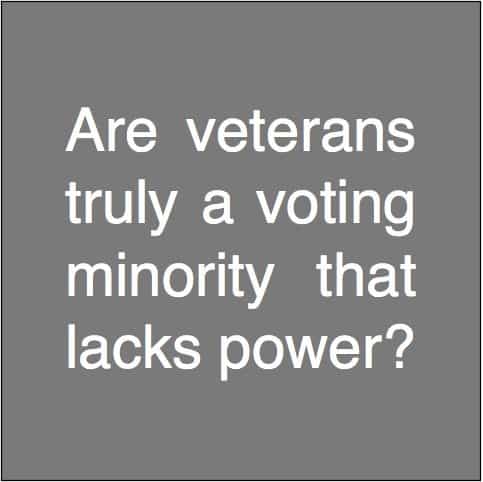 I received a comment today in LinkedIn about the veteran vote.
The reader chimed in:
"But the media have blamed the Republicans yet all the rotten things described in the DAV discussion and elsewhere cannot be done by any Republican rather are done by the executive branch of government.

"Veterans are such a small percentage of the population that someone in the White House did use that $5 calculator to figure out that they can be hurt badly with no affect."
Is this true, that veterans are a small percentage?
To find out, I took a quick trip to Wikipedia. My goal was to learn how big the Independent Vote was and to learn the overall size of the American voting population.
When it comes to initial research, you don't need to immediately run to only scholarly journals. A quick look at Wiki could be used to merely verify if your topic has legs.
So here, I am going to see if veterans are a small percentage of the vote. I define small as being a number that will hold no weight. I do not know the percentage of veterans who actually vote, but I can find out how many veterans there are.
It is commonly known that veterans are around 22 million. We also know that around 85% of veterans have families through marriage and probably have children. Again, my goal here is not to be exact. I just want to know if veterans are a small percentage.
The answer is probably, "No, veteran are significant if they vote." Therefore, veterans are not a small percentage that lacks any political weight, if we vote together.
For years, veterans have been divided and misled into believing our voice is a small one. However, my back of the envelope calculation shows we make up the following:
10% of total voting age population
20% of the total number of voters
33% if you factor in family members
When you look at these numbers in context, this voting bloc could be significant:
Here should be your take away. If veterans voted together every election, we would have the power of the Independent Vote. Let's call it a new Veterans Voting Bloc.
I'll write more on this later, but the mere numbers above should give some of you hope that veterans can actually change the country for the better.