NBC Nightly News Picks Up Non-VA Emergency Room Bill Denial Story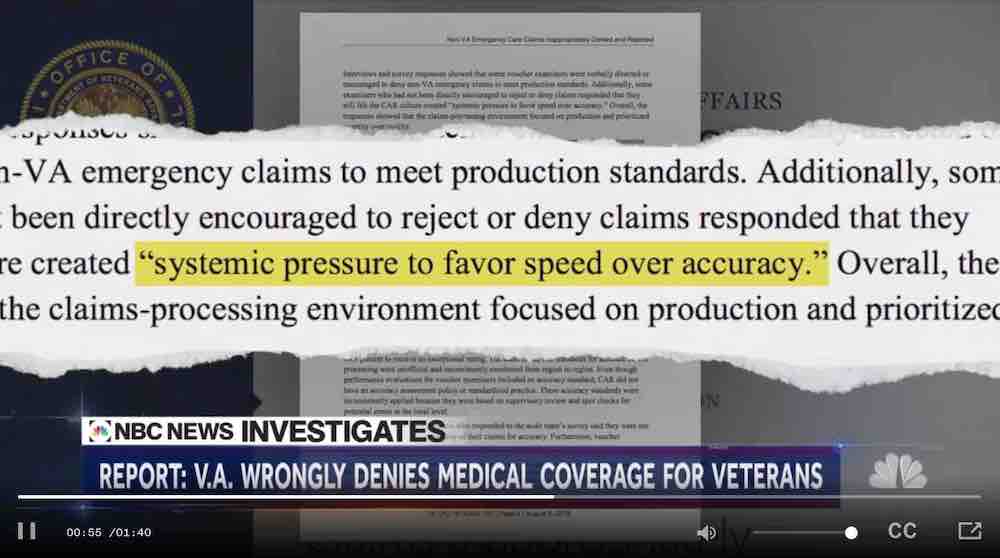 NBC Nightly News with Lester Holt is now covering the wrongful non-VA emergency room denial story first exposed in 2017 leading to a nationwide investigation.
On Friday, NBC Nightly News picked up the story first broadcast by its affiliate at Kare 11 News here in Minneapolis. Investigative journalist AJ Lagoe investigated my personal story here in the Twin Cities after we realized VA was likely running massive denial scheme impacting veterans everywhere.
If you are reading this, you likely know a bit about me and the decade of research and time I've put in to expose various scandals at the Department of Veterans Affairs as a journalist who became an attorney using my VA benefits.
In 2017, I exhibited symptoms of a heart attack after a family member died and went to the nearest emergency room that happened to be a non-VA emergency room.
Fortunately, I did not have a heart attack, and we immediately notified VA of the emergency room visit to ensure it was covered since I have a 100 percent disability rating and was in the Minneapolis VAMC system.
Months later, I received a denial from VA asserting prudent layperson would not go to the emergency room with the symptoms I exhibited at the time.
Chest pains, shortness of breath, etc. And, "prudent layperson"? Who is a prudent layperson when it comes to symptoms of a heart attack? You do not pass go; you do not collect $200. You get your behind to the nearest emergency room because you may die. Odds are, when you have chest pains and shortness of breath, you may not be thinking clearly enough to Google WebMD and evaluate your symptoms.
All that common sense aside, VA says I was not a prudent layperson in that moment of fright and pain. So, now what?
I reached out to AJ to see if he was interested in covering it since, at least at the time, we were pretty sure if VA was doing it to me, a veterans rights attorney the agency is intimately familiar with, it was highly probable the agency was doing it to other veterans.
Our Hypothesis On Non-VA Emergency Room Denials
That was our hypothesis. I have a large following of readers. VA knows me very, very well. Former Secretary David Shulkin referred to me by name at the time. If the agency would refuse to pay my emergency room bill when exhibiting symptoms of a heart attack, they were probably doing it to loads of other veterans.
Our hypothesis proved true.
AJ investigated the story. After running my story on Kare 11, loads of veterans and whistleblowers came forward. Congress held a hearing. IG started an investigation. Many more stories were run by various NBC affiliates nationwide in addition to what Kare 11 was doing.
Just two weeks ago, IG issued a scathing report calling out VA for its shameful pattern of denial that has put veterans' lives at risk. NBC Nightly News is now running the story. Americans are being encouraged to learn more about how veterans are truly being treated.
VA Puts Veterans At Risk
You see, most veterans know that when you seek emergency care from a non-VA facility, you are basically rolling the dice with your credit score because VA might try to stick you with the bill.
The prudent layperson excuse is merely one of many roadblocks VA uses to evade financial responsibility for emergency room payments.
The bureaucracy pressures low-level employees to not carefully consider claims but instead process claims at breakneck speeds resulting in wrongful denials. Veterans caught in the crosshairs get stuck with the bill.
Many veterans know they are at financial risk when seeking the quickest, safest route to care in an emergency, so they wait until VA opens or travel dangerously far to ensure they are not at financial risk.
In so doing, as a consequence of fear, some veterans have put themselves at risk of further injury or death. They travel hours to the nearest VA emergency room when their local emergency room is the better option.
Agency Robs Veterans Of $50 Million
The agency wrongfully denied over $50 million in just six months from April 1, to September 30, 2017. That is the period of time IG investigated.
Fortunately, reforms are underway and NBC Nightly News is covering the story. While the prospect of additional news coverage will likely not fix the problem fully, it will help tremendously.
Non-VA Urgent Care Denials
The new problem on the horizon will be non-VA urgent care approvals. I can guarantee it. Given the problems with emergency room prudent layperson determinations – – things the agency screwed up for decades – – how will they ever appropriately determine when a prudent layperson might think a problem requires urgent care versus emergency care?
Most of us are not doctors, and the prudent layperson standard is absurd when it comes to emergency care and now urgent care.
Who is a prudent layperson when it comes to medical determinations? Why not just a layperson?