New VA Clinic Scandal Linked To Outsourced VA Health Care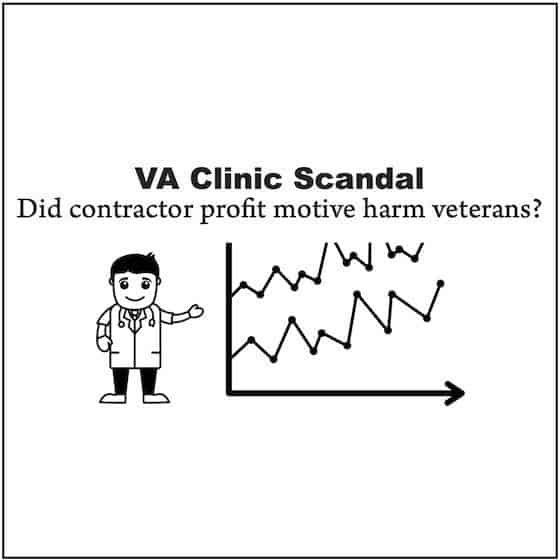 Hibbing, MN – Some veterans and advocates claim new management at a VA clinic in Minnesota has led to poor health care choices connected to outsourced VA health care.
One veteran, Lonnie Lee, has a six-inch scar on his chest from heart surgery that may have been avoided with timely and effective medical treatment at his local VA clinic. As a result, Lee may be the victim of medical malpractice and negligence. Lee, and veterans in his shoes, should consider contacting a veterans law attorney immediately to seek a legal advice to protect their interests.
Veterans advocates claim problems at the VA clinic in Hibbing, Minn, started last year when VA contracted with a government contractor to run it. The Minneapolis VA outsourced care delivery to Sterling Medical Associates, a Cincinnati based company, in 2013. The problems in care may be linked to the Wait List Scandal or improper profit motives, according to the article.
Award winning reporter Mark Brunswick, of the Star Tribune, covered a story, which is summarized by his introduction here:
Internal e-mails about record keeping suggest that managers were concerned about failing to meet a 14-day appointment window and urged employees to go in and fix the desired date after the fact.

Vets in chronic pain say they have been stripped of medications after being branded drug abusers. Some say they are forced to buy drugs on the street to relieve their pain.

"They're just trying to make a profit as a corporation and that's understandable," said Lee. "But it's on the back of the veterans and it shouldn't be done that way."

Sterling strongly denies that it has instructed its employees to falsify records. It points out that the Hibbing clinic and its satellite in Ely recently were audited by the VA and no evidence of wrongdoing was found.

The Minneapolis VA, which operates the Hibbing clinic, said it has a strong partnership with Sterling and has no concerns about how it schedules patients. Under Sterling, the VA says, more veterans are being seen and wait times for appointments have decreased.

"There is no evidence of inappropriate scheduling practices at these clinics," the VA said in a statement.

Hugh Quinn, a veterans advocate for Itasca County with a 29-year career in the Army, said his office has accumulated more than two dozen written complaints about the clinic since Sterling took over.

"Until this new provider took over, there were very few complaints about the service there," Quinn wrote in a letter to U.S. Sen. Al Franken.

U.S. Rep. Rick Nolan, the congressman who represents the area, called the reports "very disturbing" and has scheduled a July forum in Hibbing to hear more.
Veterans with similar stories where VA clinic management caused delays leading to problems should consider contacting a veterans law attorney immediately.
READ FULL VA HEALTH CARE OUTSOURCING STORY HERE
Veterans wishing to review the whole story and Lee's experience should read click on the link here: STAR TRIBUNE – Minnesota vets complain of poor service at VA clinic.
#####
Benjamin Krause is an award winning investigative reporter, Veterans Benefits Law attorney, and disabled veteran of the US Air Force, where he served in its Special Operations Command. He attended Northwestern University and  the University of Minnesota Law School using VA Vocational Rehabilitation.
While in law school, Benjamin won his decade-long fight for full disability benefits and now helps others do the same with this website and his guide, the Voc Rehab Survival Guide for Veterans. Since its first publication in 2011, the guide has helped the veteran community receive millions in untapped benefits through the VA Chapter 31 Vocational Rehabilitation & Employment program. 
Connect with Benjamin on  Google+,  Twitter,  Facebook and LinkedIn.