VA Pays Millions For Spin-And-Stonewall Machine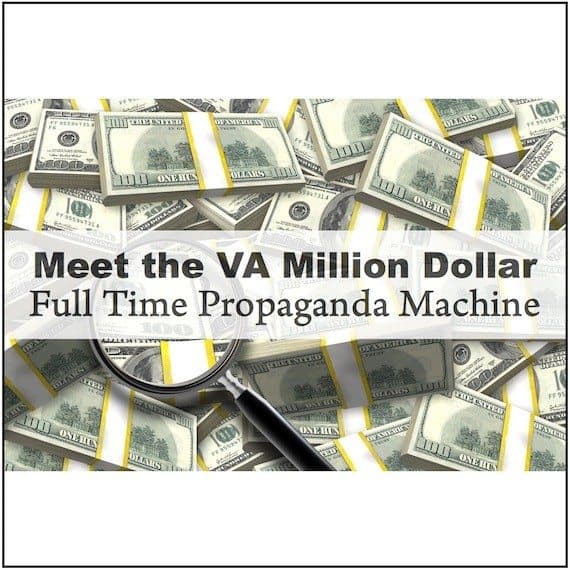 VA communication specialists "are not concerned with veterans in need," writes columnist Michelle Malkin. "They're not concerned with citizens and public officials requesting information… What these entrenched government employees care most about, above all else, is the business of spin and stonewalling." The reality is that VA pays millions for purposes less worthy than supporting veterans. Vets most certainly are not a top priority.
Malkin recently covered my research into VA's public affairs machine.
VA spokesman Mark Ballesteros warned his colleagues in an October 2013 email that he had read Krause's veterans advocacy website, DisabledVeterans.org… Ballesteros wrote that Krause's website "appears to have a distinct anti-VA tone." He advised the VA's taxpayer-funded public affairs specialists: "We should proceed cautiously with this one."
Malkin continued:
What exactly did that mean? Ultimately, the office supplied data in response to Krause's request — but not before Ballesteros imposed what appears to be a selective, pre-FOIA release policy based on viewpoint discrimination. "Let's ensure the material is socialized before we provide it to the organization," Ballesteros told his colleagues.
My research got started after I heard a rumor VA was using advanced software and services outside the agency to influence public opinion. What VA provided me confirmed my suspicions and as the old saying goes, where there was smoke, there was a fire.
The dirty truth is that VA uses taxpayer dollars to fund its media spying campaign by hiring a government contractors – millions upon millions, actually. Last year, VA gave me numerous unredacted contracts from a variety of companies that help. One company is called Barbaricum, LLC. This year, VA gave me a sample of exactly what they paid for while the government was shut down, from September – November 2013.
JUST WHAT DOES BARBARICUM DO?
Barbaricum is a company managed by "influence peddlers" like its principal, Scott Feldmayer. According to Washington Post, Feldmayer is a disabled veteran and former influence peddler for Lincoln Group during the Iraq War.
[Read Washington Post Lincoln Group Article]
Around 2006, Congress and the media tarred Lincoln Group for selling "influence" (psyops, public relations, and the like) that most considered blatant propaganda, to the tune of over $130 million in DoD contracts (i.e. it was sold to the American taxpayer). Those at Lincoln were well trained and well paid to use psychological and semantic manipulations to win the minds of many people. Now, Barbaricum under the lead of Feldmayer and friends peddles similar wares to American taxpayers through the Dept. of Veterans Affairs.
VA's contract here with Barbaricum is valued at over $1.1 million if VA takes options through 2018. This VA contract indicates Barbaricum provides VA with media tracking of "positive and negative" news stories, social media influence, etc. The contract does not specifically state the company will help VA track members of Congress, private citizens, VA propagandists, and more, but the company helps VA do exactly that.
[Download Barbaricum Veterans Affairs Contracts]
VA Public Affairs provided me copies of the reports Barbaricum provides the agency through a FOIA request for the period covering the government shutdown. This is when VA got a lot of heat from Congress for spending millions on commercials bragging up VA services while the agency meanwhile failed to inform veterans about their benefits if the government fully shut down.
The reports document which of VA's media campaigns were most successful in squelching scandals and tampering messages of concern from Congress. Is this what taxpayer dollars should pay for when VA cannot provide deserved care and benefits?
The following are just two reports (see all Barbaricum reports for VA they gave me here) with highlights next to each just to give a quick example:
Key Statements: "A majority of coverage was balanced due to a higher than normal amount of VA messaging, particularly from Sec. Shinseki on the shutdown, countering critical comments." "Direct massaging from VA officials countered a large amount of critical reports."
The following issues were discussed: Influence of Rep. Jeff Miller, American Legion, coverage of conference spending took a negative tone.
[Download October Report here]
Key Statement: "Direct messaging from local VA spokespeople balanced critical coverage of the government shutdown."
The following issues were highlighted by media influence: Benefits for same sex couples, ending backlog and government shutdown, local VA office problems, impact of comments from US Senator Barbara Mikulski on backlog.
[Download September Report here]
If VA were a marketing company capitalizing on market ingenuity, I would congratulate them with a pat on the back. Hell, if I could afford help from Barbaricum for my own media campaign to fix VA, I would gladly pay them for it.
Sadly, VA executives decided to spend taxpayer dollars to learn how to best manipulate public sentiment about very serious issues for which our country demands transparency. Instead, we get treated with typical psyops garbage that we pay for.
[Download full Barbaricum – VA Public Affairs reports here]
Should government use propaganda tools against its citizens? I think it is time our government, including VA, starts winning over the hearts and minds of American's the old fashioned way – be honest, work to improve the country, don't commit crimes against those you serve.
UPDATE – 7/3/14 – 11:50 AM CST: Facebook "Like" feature is acting wonky for this article.
#####
Benjamin Krause is an award winning investigative reporter, Veterans Benefits Law attorney, and disabled veteran of the US Air Force, where he served in its Special Operations Command. He attended Northwestern University and  the University of Minnesota Law School using VA Vocational Rehabilitation.
While in law school, Benjamin won his decade-long fight for full disability benefits and now helps others do the same with this website and his guide, the Voc Rehab Survival Guide for Veterans. Since its first publication in 2011, the guide has helped the veteran community receive millions in untapped benefits through the VA Chapter 31 Vocational Rehabilitation & Employment program. 
Connect with Benjamin on  Google+,  Twitter,  Facebook and LinkedIn.