PACT Act: Can VA Fight Off Future Backlog?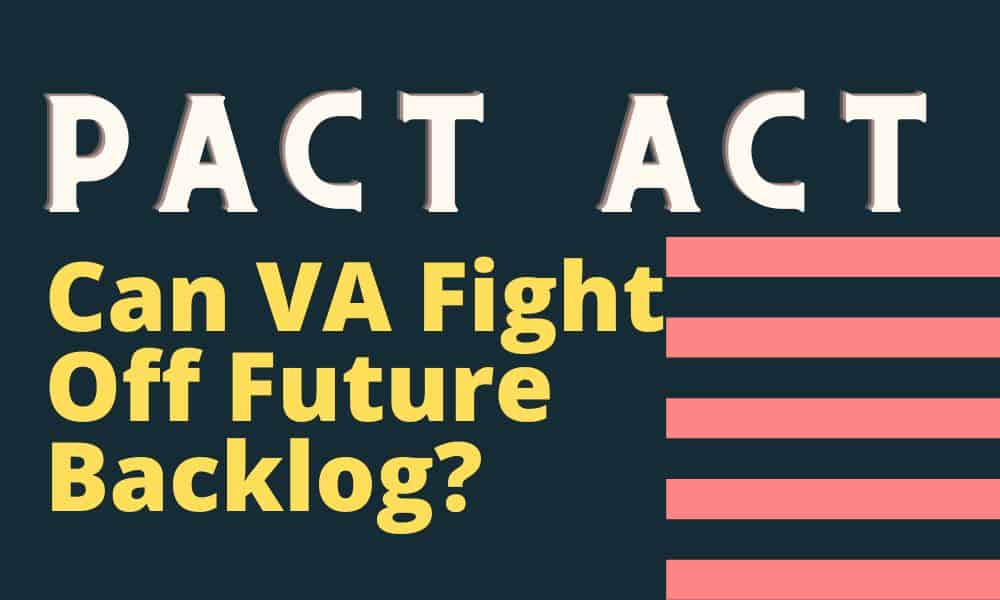 With the PACT Act, VA will see an unprecedented influx of new claims from veterans previously denied. How many? The agency estimates 3.5 million veterans may be eligible for new benefits.
Back in 2011, VA created a huge backlog and spent the better part of the Obama and Trump administrations sorting out. That backlog was created with the influx of up to 250,000 new Vietnam veteran claims following law changes to various presumptive conditions.
Subscribe to our weekly newsletter and stay up to date.
VA was ill equipped and too understaffed to handle the workload, and the agency's backlog served as fodder at Congress to justify significantly boost its funding for IT systems, the paperless claims system, and other efforts. Some worked and some did not.
In the end, VA and VSOs worked together on a few remedies that resulted in veterans surrendering certain due process and procedural rights to help VA do its job. It also cost taxpayers in IT fixes and other remedies. Some worked. Some flopped.
But, were veterans' sacrifices of their rights worth it?
Claims are processed more quickly a decade later, but the rights of veterans for remedies after a bad decision are more restrictive.
Claims Backlog Fixes
To fix that backlog, the regional office backlog, veterans lost certain rights including the right to submit a claim on regular paper. VA fought for and won the ability to dictate to veterans how they can submit claims. It created a rigid and confusing claims process that somewhat limited the agency's obligations to help veterans. Veterans must now use certain forms jammed with legal-ease with specified requirements.
RELATED: Massive Claims Backlog At St. Petersburg RO
The use of mandatory forms and transition to fully paperless claims files did not fully fix that backlog, so VA and its VSO partners worked through the Appeals Modernization Act, or AMA for short. What was once a rather straightforward process to appeal a bad claim morphed into a legal mess. That mess included even more form requirements requiring a degree of legal understanding to pursue without representation for many veterans.
RELATED: VA Pays Bonuses Despite Backlog Slip-up
More legal-ease, more dependency on others for representation. VA scored a bigger budget to buy more expensive IT systems and more money for additional personnel.
RELATED: VBMS Backlog Fix Cost Taxpayers $1 Billion
Despite those changes and erosion of rights to help VA do its job, many of those claims in the backlog at the regional office level have been pushed to the Board of Veterans Appeals where a new backlog has been created.
The Board cannot process appeals fast enough, and it cannot hire enough attorneys despite record budgets. Appeals are still taking a long time meaning veterans are not getting timely relief.
RELATED: Tampa Billboard Exposes Backlog Bamboozle
And now, we see a new set of criteria signed into law by the President. I am thrilled with the new legislation.
I am also wary and wondering what other rights the agency will force veterans to abandon to help it timely process the mountain of claims that are just over the horizon.
While the press has covered the PACT Act largely in the context of burn pit toxic exposure, the new legal framework includes a list of exposures:
Radiation exposure from cleanup of Enewetak Attoll
Nuclear response near Palomares, Spain, or Thule, Greenland
Herbicide exposure
Burn pit and other toxins
This covers a lot of ground. Is VA up for the challenge?
VA All But Admits Future Backlog
At the national DAV convention last week, the Acting Undersecretary for Benefits Josh Jacobs confirmed concerns about potential backlog issues.
"We will likely see challenges with timeliness because of just the sheer size and volume. … The timeline is still working through the calculations, but I think it's probably going to take several years for us to try to get back to normal once we expect all these claims coming in," Jacobs said.
"With the additional veterans now finally being recognized for their service, it may take us some time to get to get through all those claims," McDonough told GovCIO Media & Research.
VA plans to increase its workforce systems and automation for claims processing. Secretary Denis McDonough noted its claims automation has seen major successes and cut processing times in some cases.
"We shouldn't have to require [veterans] to go fill out additional paperwork, bring those papers in, we shouldn't have to go through big piles of paper, piece by piece. We should let the machines do that. Make sure that machines do well what they do, and then humans do well what humans do," McDonough said. "Those are the three things we've done: hired people, we've improved the process itself, and we're automating the process."
For the past decade, VA has boasted about its silver bullet of going digital where the veteran's claims file is no longer paper but digital. My point in bringing that up here is some curiosity as to why VA is still talking about going away from paper… since all claims submitted are either digitally submitted or digitized shortly after receipt of a paper document.
The GovCIO article highlighted how automate projects resulted in some increases in timeliness of processing. This suggests there are automation projects that are unsuccessful or untimely, perhaps. I wonder how VA addresses the claims caught up in bad projects.
Presumptive Disabilities Covered
Anyway, VA.gov lists these cancers and illnesses as being added due the PACT Act. Note, for Gulf War veterans, sinusitis, rhinitis, asthma, and sleep apnea (if classified as a sleep disturbance) are already considered presumptive conditions.
Presumptive Cancers
These types of cancers are now considered presumptive:
Brain cancer
Gastrointestinal cancer of any type
Glioblastoma
Head cancer of any type
Kidney cancer
Lymphatic cancer of any type
Lymphoma of any type
Melanoma
Neck cancer
Pancreatic cancer
Reproductive cancer of any type
Respiratory (breathing-related) cancer of any type
Presumptive Illnesses
These illnesses are now considered presumptive:
Asthma that was diagnosed after service
Chronic bronchitis
Chronic obstructive pulmonary disease (COPD)
Chronic rhinitis
Chronic sinusitis
Constrictive bronchiolitis or obliterative bronchiolitis
Emphysema
Granulomatous disease
Interstitial lung disease (ILD)
Pleuritis
Pulmonary fibrosis
Sarcoidosis
How do you know?
There are two sets of criteria veterans fall under where the presumptive conditions are applicable for burn pit exposure.
Post-9/11 Locations
If you served on or after September 11, 2001, in any of these locations, the presumptive likely applies to you:
Afghanistan
Djibouti
Egypt
Jordan
Lebanon
Syria
Uzbekistan
Yemen
The airspace above any of these locations
Gulf War Locations
If you served on or after August 2, 1990, in any of these locations, you are likely considered presumptively exposed to burn pits or other toxin exposures:
Bahrain
Iraq
Kuwait
Oman
Qatar
Saudi Arabia
Somalia
The United Arab Emirates (UAE)
The airspace above any of these locations
Anticipation
A large number of veteran groups were fighting to push the legislation through. What do you think of it and what could go wrong? We all anticipate changes and a future backlog of some kind.
In 2011, Vietnam veterans were granted various presumptive conditions impacting 250,000 veterans for a few billion dollars in benefits. All veterans, not just Vietnam veterans, were then nailed with an incredible claims backlog for years. Various regional offices issued a record number of claims decisions, many of which were not adjudicated correctly.
Now, we have a huge appeals backlog addressing the large number of bad decisions that is bogging down the Board of Veterans Appeals.
The new legislation, once implemented, covers much more ground than in 2011. Think 250,000 compared to 3.5 million. Think a budget of $4 billion compared to a budget of $400 billion. The difference is astonishing.
What are some differences?
Veterans surrendered a significant amount of rights to help VA do its job. The agency now requires forms for claims and appeals. Veterans lost certain due process rights. The appeals process is supposedly more streamlined but yet more confusing. The agency implemented the electronic claims file.
It sure is interesting to hear McDonough and friends starting to talk up the problem of paper processing when paper anything should no longer be a variable slowing the agency down.
VA no longer processes the intake of paper, a government contractor does it at the Evidence Intake Center. Where we go from here should be very interesting, indeed.
UPDATE: 8/16/2022: Information about existing Gulf War presumptive conditions for respiratory was updated.