IG: Wrongful ER Denials Costs Veterans Over $500 Million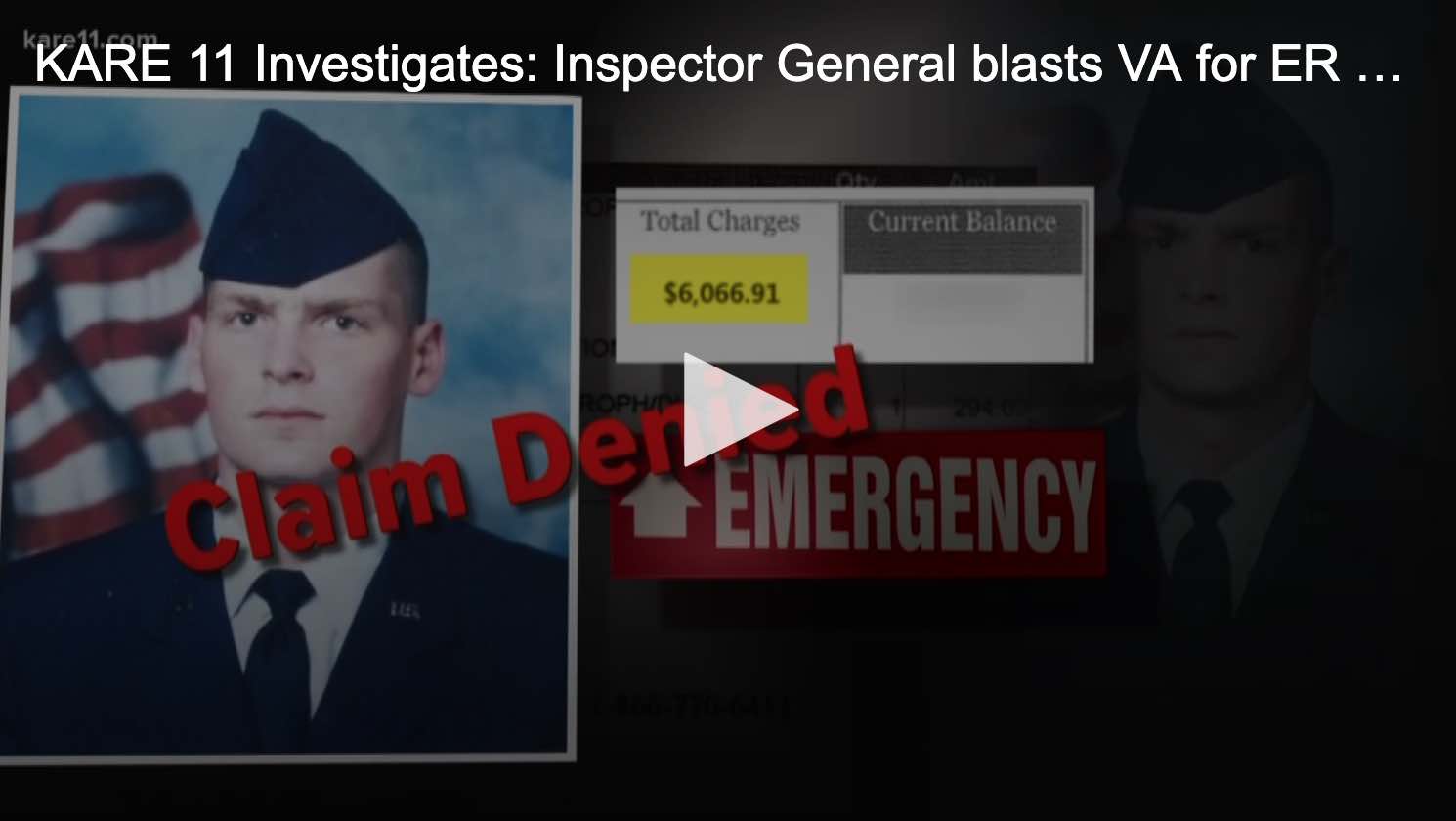 The IG blasted the Department of Veterans Affairs over its non-VA ER denial scheme that could cost veterans over $500 million in wrongful denials.
The report, issued last week, blasted VA over numerous schemes managers and leaders likely engaged in to deny veterans coverage for non-VA emergency care. The end result created a culture of financial crisis and panic for veterans needing emergency care but fearful that they would be stuck with the bill.
Some of you may recall the story started here in Minneapolis two years ago. My daughter's mom died from complications of treatment for burn pit related cancer. Days later, we thought I was having a heart attack.
Long story short – VA denied payment saying a prudent layperson would not seek emergency care with my symptoms. Of course, when I looked into it using trusty "Google Search" I found training materials for VA's fee-basis care.
That guide included a case review of a hypothetic veteran exhibiting symptoms of heart attack… as example number 1 of when the VA should approve the emergency room bill.
Rather than take it, like a lot of veterans are forced to, I immediately contacted my buddy AJ Lagoe at Kare 11 News to investigate. And, true to his news name… AJ Investigates.
(The picture at the top is mine used by Kare 11 in the recent story.)
The story grew, and Lagoe uncovered a huge nationwide scandal that resulted in a congressional hearing, significant policy changes, an IG investigation, and a black eye for the agency's non-VA care adjudicators.
Kare 11 and Lagoe is now covering the fallout of his investigation including the IG report.
The IG report blasted VA for its various schemes putting veterans' lives at risk to save a buck. Or in this case well over $500 million bucks.
What's at the core of the issue?
Senior leaders are putting the quantity of claims processing over the quality of the decisionmaking. The policies put in place put pressure on low-level employees to make bad decisions in order to keep their job.
Meanwhile, veterans get stuck with the bill or are too fearful to seek non-VA emergency care, instead, putting their own lives at risk to travel hours to the nearest VA emergency room.
Shameful.
Some of you may have noticed I haven't written much in a couple of weeks.
Don't worry. I am at work behind the scenes exploring how to make bigger impacts for veterans that may not mean writing as frequently as I used to. Hang in there with me while I sort out the next steps for my decade long project.
My passion is building out educational systems for veterans, and my learning management system project is almost done with its beta. I'll keep you all posted.
If you are curious about where it's at, check it out at my.disabledveterans.org. I plan to add a few other courses soon including a more detailed Voc Rehab course, an employee rights course to help vets advocate against bully bosses, how to handle health care appeals like wrongful ER bill denials, etc.
Personally, I have been through many of the fights veterans face before I became an attorney. Now that I am one, teaching courses like this has become a real joy, but it does take away from my ability to write articles every night.