Veterans Underwhelmed By Top VA Coronavirus Advice, 'Get A Flu Shot'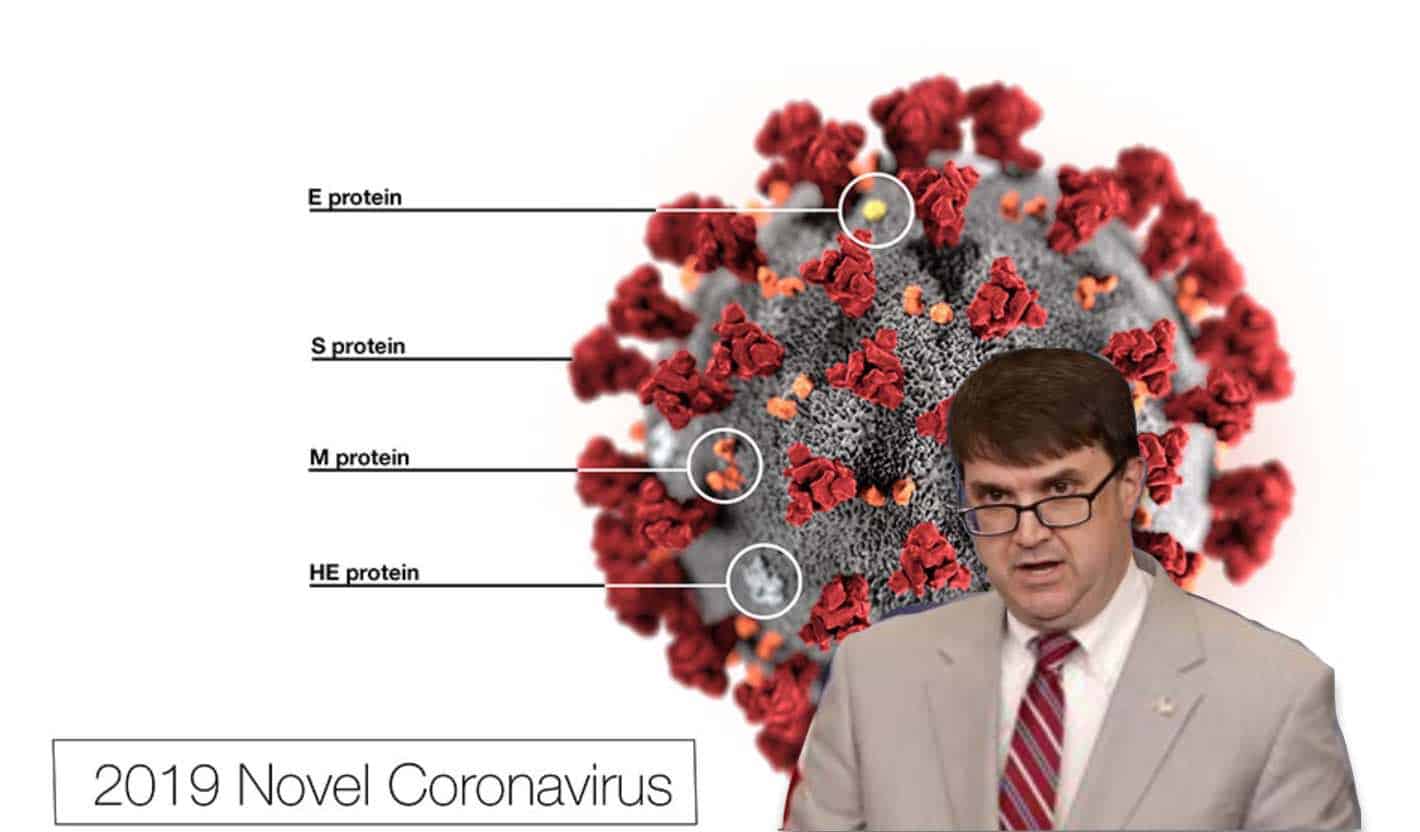 VA's top recommendation to help anxious veterans "get ahead of" novel coronavirus was to "Get a flu shot". The rest of the coronavirus advice was likewise underwhelming.
Yes. The agency charged with providing health care for disabled veterans recommended we get a flu shot to get ahead of coronavirus. And, it suggested we consider getting those vaccines from Walgreens.
Will Walgreens also be running triage for coronavirus?
Figures. You can't fix tone deaf.
I'll get back to VA's advice in a bit.
Like many of my readers, I've been searching the web to see what is out there as we watch COVID-19 spread across the world.
Last week, the news media reported a senior Iranian official reportedly died from coronavirus as well as at least 6 people in Washington state. The numbers have since climbed to around 20 known deaths and likely many more unknown deaths since the government was well behind the 8-Ball on this outbreak.
Two Coronavirus Camps
There seems to be two camps forming in the US.
One camp says the news media is needlessly hyping up outbreak to create hysteria during the election cycle. The other camp says the condition is dangerous and Americans need to be ready with adequate supplies to weather a quarantine or other disruption.
Personally, I am hoping for the best – – news media hype to sell magazines – – while also planning for the worst. Either way, it seems obvious that the food supply chain, as well as global production, will be disrupted for some time.
RELATED: VA May Cut Sleep Apnea Help
Given the massive flooding of the Midwest last summer that wiped out billions in American food production, it stands to reason Americans should be cautious and prepared for a disruption of some kind just in case.
Have some form of backup food storage of at least a couple weeks if not more. Store up some money if you can. Take steps to limit your activity in public. This seems obvious.
If you are late to the game. Toilet paper is sold out in some cities. You cannot buy 90% rubbing alcohol at any store, maybe Amazon. Face masks apparently only work if you're a doctor. An all the emergency food storage companies sold out their supplies to the government.
Fantastic. Meanwhile, all our drugs are made overseas – – China being the main supplier of penicillin and other pharma drugs. It is apparently cheaper for pharmaceutical companies to mistreat Chinese workers than American workers.
RELATED: VA Lies About Veteran's Disability Reduction
So, we don't make drugs in the US anymore. Fingers crossed that changes.
This leaves people buying food from normal grocers, Costco, Target, Amazon, etc. Amazon is now rationing how much of a particular canned good you can buy.
Let's hope this is all hype…. But, if you have kids like me, you cannot risk their ability to eat. And anyone saying it is dumb to get prepared is a complete idiot.
Even if the virus peters out, given how much the US has become dependent on China, as well as practically every other country, you cannot risk supply chain disruptions.
Known For A While
It sounds like the government has known this was coming for some time.
Locally, I witnessed local police running a training operation with local Guard military soldiers conducting a sweep through our neighborhood wearing night vision gear. They must've been practicing terrain familiarity drills. No one really noticed.
RELATED: Poor Staffing Behind Clinical Scheduling Delays
At our office, a deputy showed up unannounced asking us to provide the county Sheriff with the names of all people working in the suite. It seemed odd at the time. I asked why, and the deputy did not try to explain other than saying he was new.
I have heard the various state Guard units have ramped up training since Thanksgiving for a quarantine.
Coronavirus And You… According To VA
That aside, I wanted to share with my readers some of the advice I found on VA.gov that frankly made me a little concerned.
Given that many of us have compromised immune systems, respiratory diseases, etc, we need to be watchful of how our caregiver, the VA, will provide that care.
You can imagine my disappointment when reading VA's leading medical advice to veterans.
To "Get ahead of it" veterans should – – insert drum roll – – "Get a flu shot" followed by a list of common strategies to limit exposures like washing your hands and using alcohol-based hand sanitizer.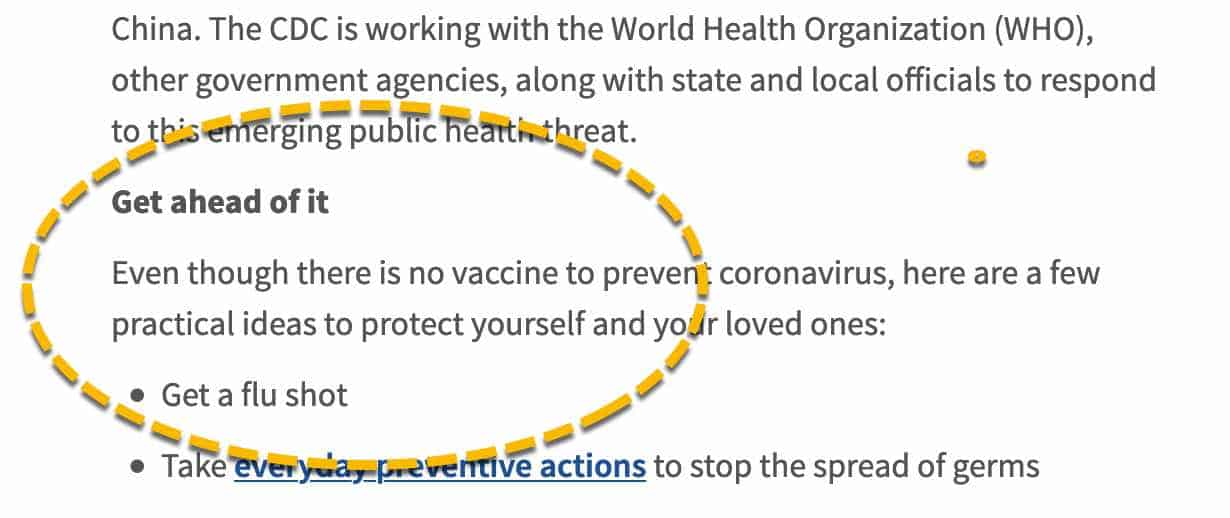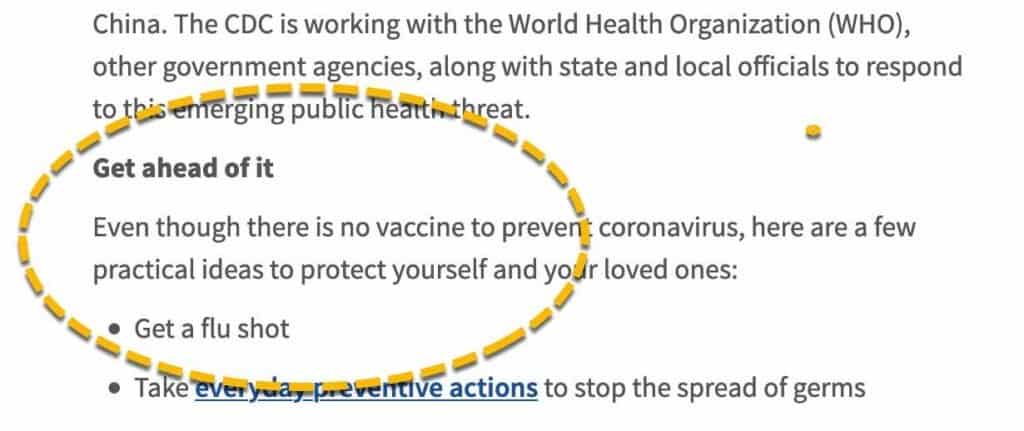 And, it advises veterans can get that vaccine at Walgreens using a VA partnership program.
Good luck finding alcohol-based hand sanitizer right now. And getting Walgreens to provide vaccines per VA's program is reportedly impossible.
Even if you got the flu vaccine, wasn't that vaccine less than 30 percent effective last year?
Compounding matters is the reality that many veterans with neurological disabilities and other afflictions may be contraindicated for flu vaccines.
How is VA anticipating such complications? Will the clerk at Walgreens asses the veteran's medical records for contraindications?
Duck And Cover
VA's advice appears to be the duck-and-cover nuclear blast advice from the Cuba missile crisis. When you check the agency's coronavirus page, it claims the agency is closely following the development of the crisis but links to a January 31 VA blog post.
How close? The page was last updated January 31, 2020. It promises, "The immediate risk to the U.S. is currently low." Is it current?
It reminds me of the now not-so-funny meme circulating Facebook spoofing a Navy Corpsman giving his magic cure to the all-too-well-known Corona Virus (hangover)… not to be confused with the very real COVID-19.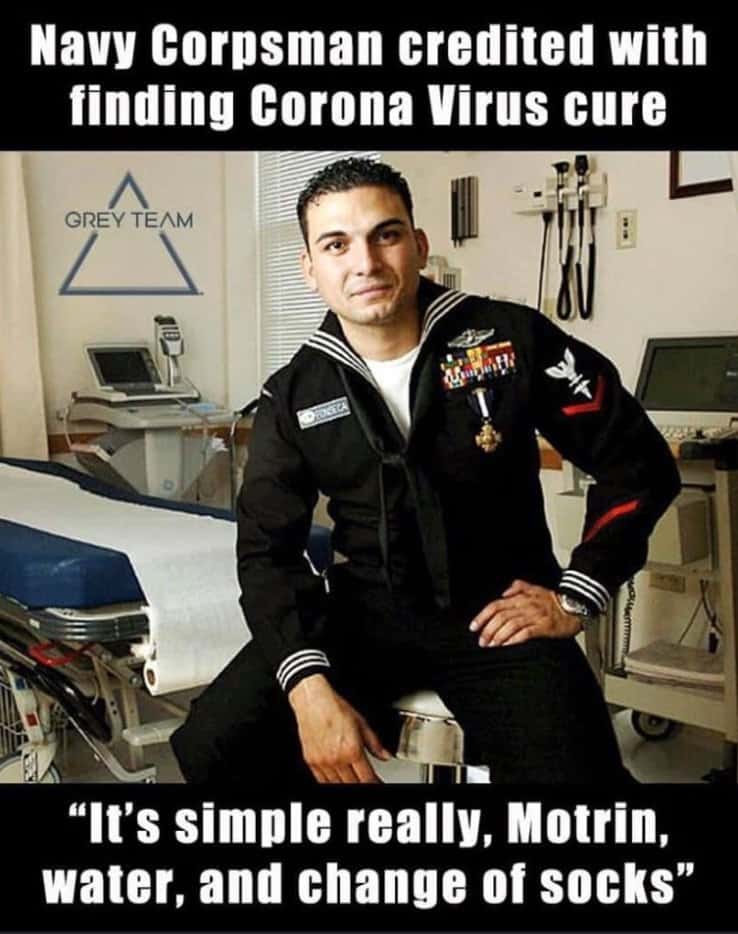 Veterans are becoming worried VA is not taking our concerns seriously.
The most actionable advice was VA's general advice addressing the spread of germs, generally, which is a cut and paste from CDC:
Wash your hands often with soap and warm water for at least 20 seconds
Use an alcohol-based hand sanitizer
Avoid touching your eyes, nose, and mouth with unwashed hands
Avoid close contact with people who are sick
Stay home when you're sick or becoming sick
Cover your cough or sneeze with a tissue (not your hands) and throw the tissue in the trash
Clean and disinfect frequently touched objects and surfaces
That makes sense as far as general advice goes, but it would be better if VA provided more specific information about this particular virus including how VA will address veterans believed infected.
Missing from the advice?
Dietary recommendations. How VA will address a partial or complete government shutdown with our benefits payments.
You know, things like that.
Veteran Comments
Meanwhile, veterans questioned about the advice. Here are a few comments from my Facebook page:
I got the flu shot and still got Flu a. Hubby developed pneumonia and VA response was, you missed your pneumonia shot. However, I contested and had them look in the records which it must be taken every five years and he did take it two years ago! Ha
Hey VA, deflect much?! 🙄 I mean we get they don't know what to do, but damn they couldn't deflect much more if they tried. Yes this is deadly, BUT SO IS THE FLU, look away!!!!!
It has already been said that this years vaccine just isn't working. Surprise! Most flu vaccines are a hope and a prayer. They watch other countries flu periods and hope that the ones they have chosen will work for us. Most of the time they don't. Most people are exposed to a virus before they get the shot but, blame the shot for their sickness.
Technically, VA is accurate, but insufficient(if this is their only advice). The C-virus has the most critical impact on the immunocompromised, for the most part. So, if you are already weakened by flu symptoms, C-virus might have a greater impact. The number one thing to put out, is everyone needs to be DOING general precautions, washing hands for at least 20 seconds often, cough into the inside of an over-shirt or sweater, and I hate to say it, avoid large ever fluctuating international crowds…airports, etc.
Completely idiotic. The flu shot is 37% effective against THE FLU- at best…. it weakens your immune system so you'll actually be more susceptible to other viruses.
As for getting a flu shot to 'beat' COVID-19 considering this idea is coming from VA, sounds about par for course. Not that I'll rush out to get one, but the illogic of the advice is par for VA.
The poison in some versions of the flu shot are toxic for our systems. Including the pneumonia shot. Last time I let the Va give me one of them I was sick for 6 months. Since then, I've learned that using garlic is more effective than those shots. It's been 5yrs since I had "their" shots and increased using garlic and I have only had sinus issues due to seasonal allergies. I'm not a medical professional but my advice is increase your garlic intake. It's healthier and non toxic!
Thoughts?
What are your thoughts on VA's advice? What steps are you taking to ensure your family is prepared and safe during this period?
We are taking steps to minimize our risks, anticipating at least a 1 month quarantine.
I've been praying the God spare our country but use the crisis to wake up Americans to the need for our country to go back to its roots – – make things – – not support Communist countries – – spread the Christian faith.
It never ceases to amaze me how silent Christian churches are when it comes to the policies and politics that are gutting the country without recognizing the clear connection between good policies supporting economic growth and the ability to tithe to fund missionaries.
You'd think the Church would be more outspoken.
Anyway, that is where I am at.