'Screwy' Sunlight Foundation Analysis Rebuked By VA Secretary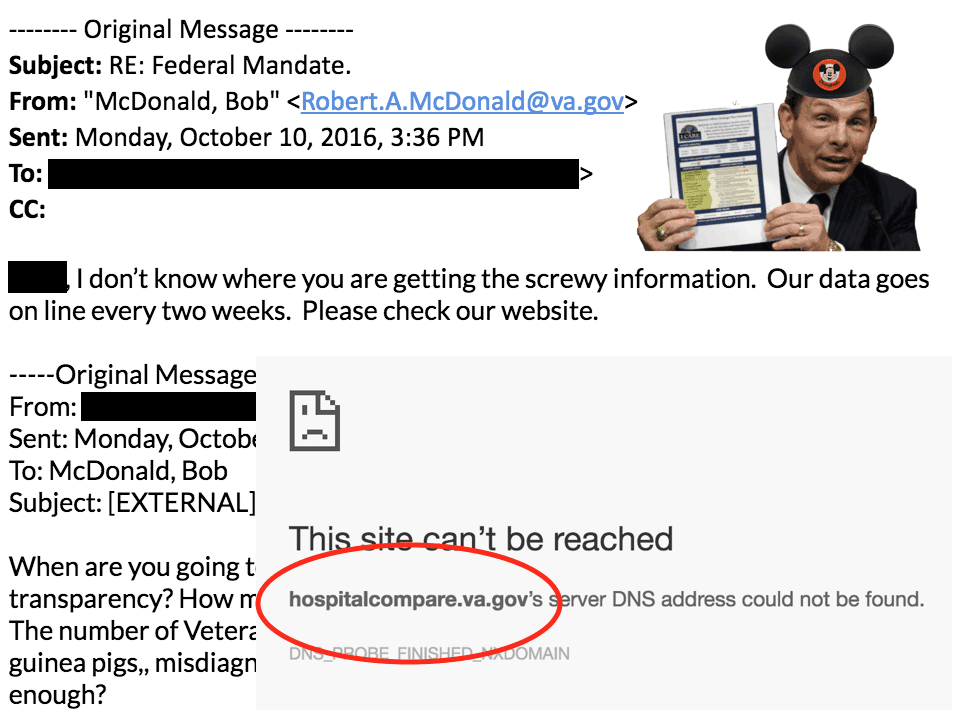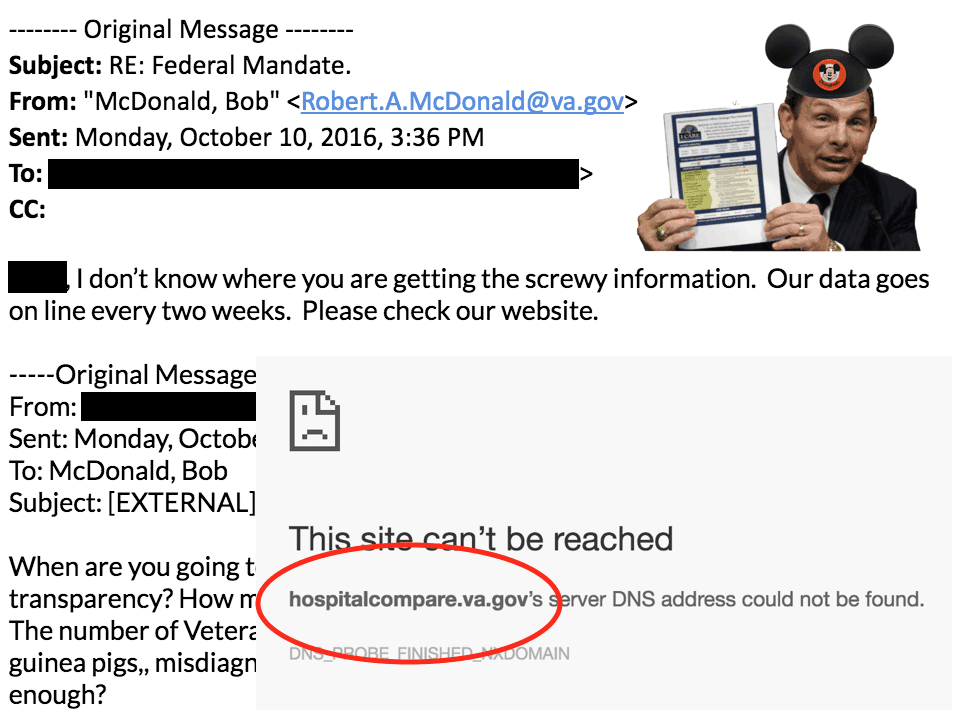 VA Secretary Robert McDonald rebuked a healthcare data transparency analysis from a Sunlight Foundation calling it "screwy" yesterday.
My readers took to cyberspace yesterday, emailing Secretary Bob McDonald about an analysis of healthcare data from the Sunlight Foundation. Following an analysis, the Sunlight Foundation alleged VA was withholding healthcare data the agency is required to publish about its hospitals.
RELATED: VA Hospital Data Lacks Transparency
SUNLIGHT FOUNDATION REBUKE
When asked about the lack of transparency online, Secretary Bob McDonald wrote back, "I don't know where you are getting the screwy information. Our data goes online every two weeks. Please check our website."
READ: McDonald Emails To Veterans On Sunlight Foundation Data
Which website is he talking about? How can we believe you without more information, Bob? This comes from the same guy who said wait list times do not matter.
RELATED: VA Secretary Says Wait Times Do Not Matter
This comes from the same guy who mistakenly told Congress he fired thousands of bad VA employees while the real number was closer to four. This is the same guy who said he was in the special forces. This is also the same guy who says accountability does not include terminating employees engaging in criminal fraud.
Can we trust him without verifying his assertions, ever? No. In fact, you should not trust anyone in a position of authority without verifying assertions or allegations. It is vital.
WHAT VA WEBSITE, BOB?
Sunlight Foundation accused VA of withholding data and not publishing it on the agency's hospitalcompare.va.gov website as it had done for many years.
A quick review of the website shows a blank page with no redirect. I included a screenshot of that in this post's photo.
This reality makes me concerned about Secretary Bob's response.
His rebuke was about data from a legitimate watchdog organization that specializes in transparency.
That veteran's email called out VA for not being transparent and ignoring President Obama's mandate for increased data sharing.
Given that the agency is the 2016 Golden Padlock award for being the most secretive agency this year, why should we not be suspicious?
Bob's response seemed more like a belch without giving any real insight or thoughtful response to a customer's legitimate concerns.
Let's not forget that we are VA's customers.
SUNLIGHT FOUNDATION EXCERPTS
Sunlight Foundation stated:
"The absence of a new open government plan from the Department of Veterans Affairs over the past six years is not only an egregious flouting of President Barack Obama's 2009 Open Government Directive, but a failure in governance that calls into question whether such plans accurately reflect the priorities and mission of agencies."
The Sunlight Foundation also stated:
"On that count, we call on Congress, the VA and the Department of Health and Human services to restore hospital performance data. A blank website at hospitalcompare.va.gov is a national embarrassment. Of the 733 datasets from the VA on Data.gov, the five related to healthcare date back to 2009. That's not good enough."
When pressed about this data, Bob called the accusations "screwy" and referenced a website that no longer exists.
According to USA Today, as of July 1, VA stopped publishing healthcare data to help veterans compare facilities. The end result was basically preventing veterans from making informed decisions about their healthcare providers.
This is terribly ironic since VA's healthcare side is run by a doctor who created a healthcare review website in the private sector prior to joining VA's Health Administration.
After being called out by USA Today for the failure last month, VA said it would restart publishing such data, but that promise was called into question by Sunlight Foundation.
RELATED: VA Quit Sending Performance Data To National Quality Website
WHY IS HEALTHCOMPARE.VA.GOV BROKEN?
So what is Secretary Bob talking about? Why is that website no longer working and what URL has the data?
I responded to Bob's rebuke of Sunlight Foundation's data about the lack of transparency asking the Secretary to provide the URL of the data he claims they publish.
While he alleges the Sunlight Foundation's data is "screwy", Bob did not respond with the URL.
Was the Sunlight Foundation's report bogus?
Are you publishing all the mandated data for consumers?
NEXT STEPS
Lately, my readers have asked for direction to help them take action. Here is an immediate suggestion that will cost you nothing. It does not require a massive march on DC or expensive advertising.
If you are concerned, send Bob an email asking for more specifics.
VA is great at one or two sentence replies calling everyone else liars. When you answer a second level question to verify assertions, that is when they fall apart.
So push back. Do not accept the first answer as true. Ask him to verify like I did above. Where is the URL, Bob? Is the Sunlight Foundation lying?
Email him: [email protected]