Testicular Cancer Linked To Military Service 'Forever Chemicals' Exposure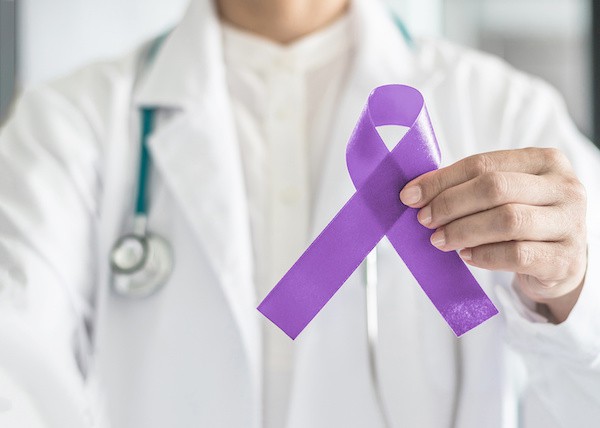 Testicular cancer in some veterans may be linked to exposure to toxic chemical-exposure during US military service according to a new study. 
The study evaluated tumors found in US Air Force airmen exposed to high levels of chemicals in drinking water and fire fighting compounds. The chemicals are commonly referred to as the "forever chemicals," or per- and polyfluoroalkyl substances (PFAS), which have been the source of bad press and expensive litigation for manufacturers over the past decade or more.
The test samples were pulled from the Department of Defense Serum Repository. It appears the DOD collected these samples from airmen who served from 1988 to 2017. The base-line serum samples were taken shortly after the airmen started serving in the military. The second samples were usually taken around 4 years after the first.
The study concluded that there is an association between elevated serum PFOS concentrations and testicular germ cell tumors (TGCT). Veterans who may be impacted with TGCT from PFAS exposure may consider filing a claim for service-connection explained at the end of this article.
Veterans unsure of PFAS exposure may have hope starting with an online map. The Environmental Working Group maintains a PFAS map of confirmed and suspected PFAS pollution at US military bases.
Hold the Phone, What is the DOD Serum Repository?
Before we get into the study, let's take a minute to look at whatever the heck is going on in the Department of Defense Serum Repository (DODSR).
Do you remember having to give blood for testing where the drill instructor gave you a really lame explanation as to why?
You may be wondering, like I am wondering now, "Is my serum shelved away in some repository somewhere without my knowledge?"
Most likely, at least if you served after former President Ronald Reagan left office.
Apparently, for the past three decades, the DOD has been storing serum of new (and used) soldiers since 1989.
The military's serum repository program originally started off as mandatory HIV testing for reserve and active components of the Army, Navy, and Marines. DOD then expanded it to become the DODSR to store samples from all branches including the Air Force.
"Since that time, the mission of the DODSR has expanded to include the collection and storage of operational deployment specimens as well as Air Force specimens." In 2016, Health.Mil published, "Hidden gem strengthens cutting-edge DOD research," which has since been scrubbed from the site. (Thanks Wayback Machine!)
"The DoDSR is a global treasure for medical research. It is, to my knowledge, unique in the world, in terms of size and years of operation, as a longitudinal serum repository linked to personnel and health records of service members over time," said Dr. David W. Niebuhr, an adjunct professor in the Department of Preventive Medicine and Biostatistics at the Uniformed Services University of the Health Sciences. "This has allowed me, as a principal investigator, to study risk factors for a variety of diseases that are relatively common in young adults."
The Health.mil article indicates the DODSR's blood serum is linked to the Defense Medical Surveillance System (DMSS). The DMSS is a database that contains the demographic, occupation, and medical history records of service members. The link between the DODSR specimens and DMSS establishes a unique and powerful resource to support military medical surveillance, clinical care, and investigations that detect markers for diseases in blood serum.
In the words of Dr. Niebuhr, DODSR is a "global treasure for medical research." It just doesn't pay dividends to the servicemembers who donated their bodily fluids to create the trove of medical specimens that make it a global treasure.
The DODSR currently contains over 50 million serum specimens from military personnel. These specimens are stored in a biorepository at the Armed Forces Health Surveillance Center (AFHSC) in Silver Spring, Maryland. The DODSR is a valuable resource for researchers who are studying the health of military personnel. The specimens can be used to conduct a variety of research studies, such as:
Investigating the causes of diseases in military personnel
Evaluating the effectiveness of new medical treatments
Identifying risk factors for disease
Tracking the spread of infectious diseases
Studying the effects of environmental exposures on health
The DODSR is also used to support public health surveillance. For example, the DODSR is used to track the prevalence of HIV infection in military personnel. This information is used to help the Department of Defense develop and implement programs to prevent the spread of HIV in the military.
Do you remember how DOD and VA feigned ignorance about Gulf War Illness and other challenges following deployments to the Middle East? It appears pre and post deployment blood samples were possibly taken, you know, to test Army and Navy folks for HIV in the late 80's. But now those serum samples now serve as a real "gem" for DOD research.
Well shucky darn. Whodathunkit.
If you are a medical researcher working on things like testicular cancer, DOD may give you access to the databases. And you get to work with the hidden gem of our serum or DNA samples or whatever else DOD grabbed while we were in basic training.
If you are a veteran trying to get access to your own serum or DNA to prove exposure to various chemical, biological, or environmental hazards, you'll probably be out of luck.
About the PFAS – Testicular Cancer Study
Back to the study.
A groundbreaking study has recently identified a potential connection between testicular cancer in military personnel and exposure to per- and polyfluoroalkyl substances (PFAS), commonly referred to as 'forever chemicals'. These chemicals are named so because of their persistent nature in the environment and in the human body.
The research, which was published in a leading medical journal, Environmental Health Perspectives, analyzed the health records of thousands of military personnel. The findings suggest that those who had been exposed to high levels of PFAS had a significantly increased risk of developing testicular cancer compared to those with lower or no exposure.
The study's findings included:
PFAS are chemicals used in firefighting foams at military installations.
High levels of PFAS exposure have been linked to cancer in civilian populations, but the effects on military personnel are unknown.
This study looked at the association between serum PFAS concentrations and testicular germ cell tumors (TGCT) in U.S. Air Force servicemen.
The study found that people who were exposed to PFAS through firefighting or who served at a base with high PFAS levels in the drinking water had higher levels of PFAS in their blood.
The study also found that people with higher levels of PFOS in their blood were more likely to develop TGCT.
The study's findings suggest that there may be a link between PFAS exposure and TGCT in military personnel.
However, more research is needed to confirm these findings and to understand the mechanisms behind the association.
PFAS are synthetic chemicals that have been used in a variety of industrial and consumer products since the 1940s, including firefighting foam, non-stick cookware, and water-repellent fabrics. Due to their resistance to heat, water, and oil, they have been widely used in various applications. However, their persistence in the environment has raised concerns about their potential health effects.
The military has been particularly vulnerable to PFAS exposure, primarily because of the use of firefighting foam in training exercises and emergencies. This foam, which contains PFAS, can seep into the ground and contaminate drinking water sources, posing a risk to those who consume it.
The study's findings have sparked concerns among military communities and have led to calls for further research and stricter regulations on the use and disposal of products containing PFAS. Advocates are urging the military to take immediate action to reduce the risk of exposure among its personnel.
While the study provides significant evidence of a link between PFAS exposure and testicular cancer, researchers emphasize that more studies are needed to fully understand the relationship and the potential long-term health effects of these chemicals.
In response to the findings, the military is reportedly reviewing its policies and practices related to PFAS use and is considering measures to mitigate the risks associated with these chemicals.
The discovery of this potential link between 'forever chemicals' and testicular cancer underscores the importance of ongoing research into the health effects of environmental contaminants, especially for populations like the military that may be at heightened risk.
PFAS Litigation And "Forever Chemicals"
You may be wondering where the "Forever Chemicals" name came from or why it is in the headlines right now.
Over the past two decades, PFAS litigation from exposure has been litigated across the nation. Much of the litigation has focused on Minnesota's own 3M, a major corporation that created PFAS products for manufacturing.
As of June 2023, 3M agreed to pay up to $10.3 billion over 13 years to settle lawsuits that claimed that toxic "forever chemicals" had contaminated water supplies in the United States.
The settlement comes after 3M faced thousands of lawsuits for the last two decades over its manufacturing of products containing PFAS. These lawsuits allege that 3M knew PFAS caused cancer, developmental defects and other health problems, and that the chemicals contaminated US drinking water systems.
3M's proposed settlement comes just weeks after three other companies, Chemours, DuPont, and Corteva, announced they would pay more than $1 billion to settle lawsuits over "forever chemicals."
Earlier this year, the US Environmental Protection Agency proposed national drinking water standards for PFAS chemicals, based on evidence that they have been found to linger in the environment and in the human body.
3M said its multi-billion dollar settlement is not an admission of liability. If the settlement agreement is not approved by a court, the company said it would be prepared to continue defending itself against litigation.
In 2022, 3M announced it would exit all PFAS manufacturing by 2025.
Testicular Cancer VA Disability Benefits
The new study may serve as hope for veterans exposed to excessive levels of PFAS while serving in the military.
While the testicular cancer complained of in veterans may not be linked to the 3M litigation, veterans with testicular cancer who were exposed to PFAS while serving may consider filing new claims to service-connect their testicular cancer.
The study, in itself, may not be enough to win a claim for service-connection. However, an independent medical expert familiar with the new research may be worth consulting.
Veterans considering filing claims of this type with the help of a medical expert should consider consulting a VA-accredited attorney if initially denied due to the complexity of working with an expert for cancer appeals.