VA Awards Virtual Blank Check to IT Contractors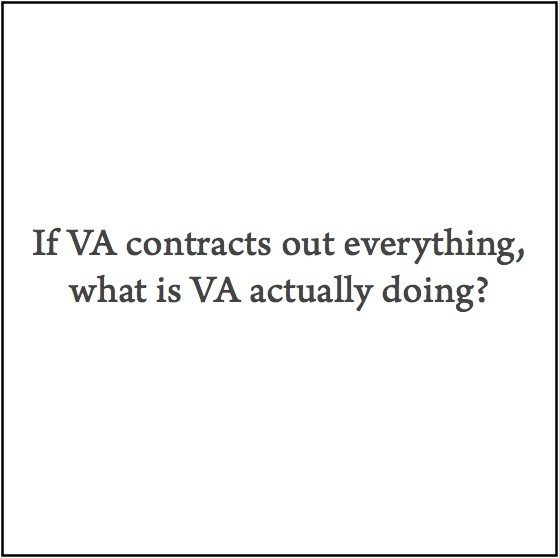 In another case of, "I guess we haven't learned from our mistakes," VA has chosen to provide a blank check to IT contractors.
The contract in question is called an indefinite delivery, indefinite quantity (IDIQ) contract vehicle. In this instance, the contract has a ceiling of $5.3bl over five years with undefined delivery and quantity. Yikes! Sounds like this one will lack accountability.
According to the CIOL article, the companies involved will be Valador, Inc. and Force 3. Their goal is to provide for VA's IT needs, whatever that means. Valador was the primary contractor, which is led by CEO Kevin Mabie (I believe it is pronounced "maybe").
Over the past 5 years, VA has spent billions of taxpayer dollars on government contractor IT fixes that seem to not work.
One example is the $263ml GI Bill management system. Rather than reusing platforms that are already tested, like TurboTax, and then modifying it, VA decided to make its own system. That system is still not fully operational after 4 years.
The government at large has that problem. The most recent example is the Healthcare.gov debacle.
According to USASPending.gov, for 2013, VA contracted out $106bl of its $150bl budget. Keep in mind that around $50bl is paid out in veterans benefits annually.
It appears that the trend is not slowing, leaving me to wonder what VA employees are actually doing.
Still, VA is going to dole out another $1bl per year. My question here is why doesn't the VA hire and train internal staff to do all this work? Any company can do a lot with $1bl per year. Why is VA unable to train internal staff to monitor and perform the tasks needed?
Guess what? Once VA goes too far down this rabbit trail, it will no longer have the legacy knowledge needed to run VA in an effective manner. Maybe it is already there.
The heads of Force 3 and Validor had this to say about the contracts:
"In recent years, the VA has made tremendous progress in serving the needs of our veterans," said Mike Greaney, Chief Revenue Officer at Force 3. "With Valador as the primary contractor, this contract will enable us to provide the VA with the technology, equipment, and services they need to support our veterans in a more streamlined manner."

"We are pleased to have a such a strong team member such as Force 3 join our CEC Valador team," said Kevin Mabie, President and CEO at Valador, Inc. "We look forward to working with them over life of the contract."
Apparently, part of Force 3's contract requires them to ignore the enormous disability backlog problem and its longstanding IT Problems. How anyone can claim "VA has made tremendous progress in serving the needs of our veterans," is beyond me.