VA Interim CHIO Pulls A Trump, Tweets Resignation From Cerner Project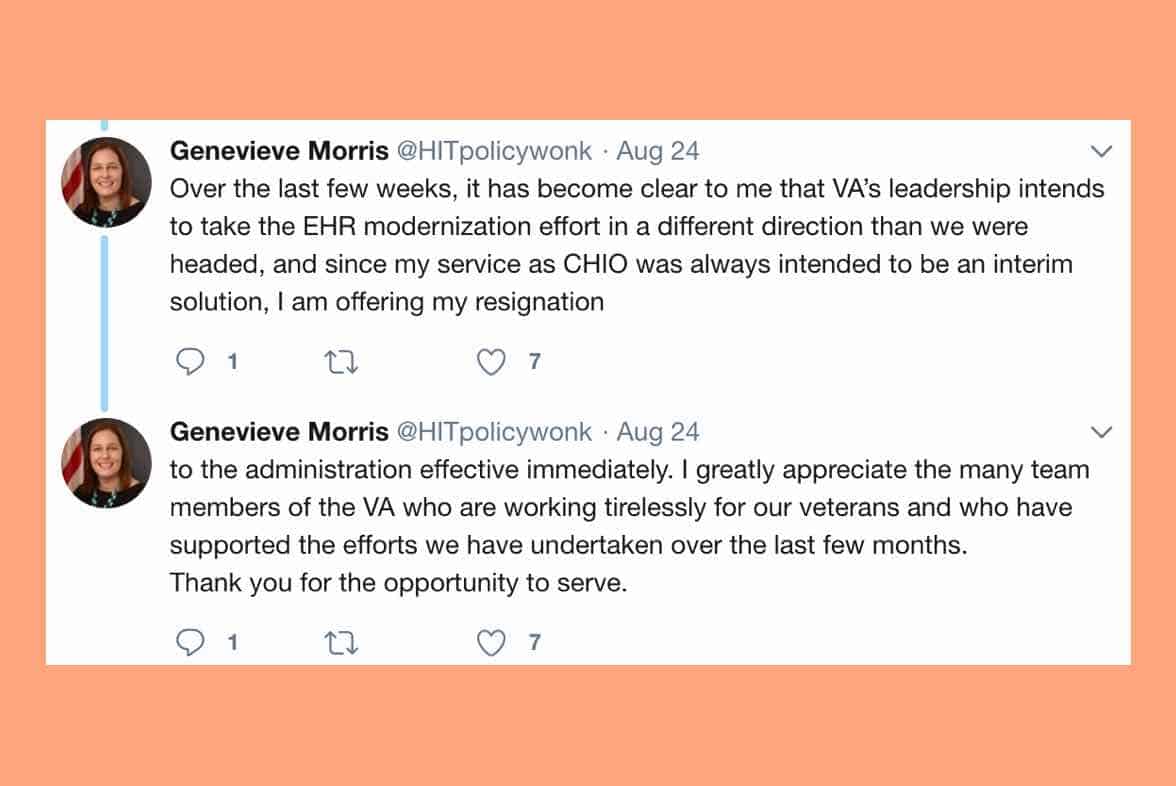 The interim CHIO Genevieve Morris resigned from her post after just one month leading VA in its project to transition from VA's open course VistA EHR to the Cerner EHR system.
The mode of her resignation? Twitter.
Last Friday, Morris resigned from her role as Interim Chief Health Information Officer for the Office of EHR Modernization (OEHRM). Her letter of resignation was delivered both to the HHS Secretary Alex Azar and to the newly appointed VA Secretary Robert Wilkie.
Curious, right? Why did Morris send the letter to both offices if she was a VA employee?
The reason she cited for her departure was that, shortly after starting, she realized the project was going "in a different direction" than she first believed. Just a few months earlier, VA's acting CIO Scott Blackburn also resigned.
Why the resignations?
Reading between the lines, a press release from Morris may reveal the answer.
"We are working hard to configure and design a system focused on quality, safety and patient outcomes, which will allow health IT innovations within one VA facility to be used across the entire VA health-care system," she said in a press release announcing the creation of the office.
The model she is referring to likely does not exist within the Cerner universe.
What does this mean for the $10 billion modernization project?
Many DC insiders are beginning to wonder whether the Cerner contract was a smart move for the agency given feedback from DOD after attempting to implement the transition starting last year. The Cerner framework is reportedly bulky and demanding of local resources making nationwide integration across all VA facilities near impossible.
Who Owns Your Data?
Another issue is ownership of veterans' data. Some of you may recall my investigation into Flow Health two years ago and the curious Alex Meshkin who somehow secured an agreement to access veterans' genomic data with the intent on selling access to the data once his algorithms sifted through it to create a proprietary mix of genomic information.
His goal was to make money for himself and investors, and former VA Secretary David Shulkin revoked his agreement once I exposed problems with the motive citing the agreement may have been illegal.
As it relates to Cerner, some opponents to the plan have lodged concern over Cerner's possible ownership over veterans' data once the existing EHR is transitioned (ie modernized) using Cerner's proprietary data.
Will Cerner own your data? Can they refuse to provide data gleaned from veterans' health records for research purposes citing their own proprietary ownership?
DOD allegedly was rebuked by Cerner when agency leadership requested certain information from soldiers' health records. What is to say the company will not treat access to veterans' health data in the same manner?
Who really owns your data, anyway? Is it yours? Not if that data was input into the proprietary software to analyze your genomic sequence.
If that software detects an unforeseen medical crisis, will the software owner demand payment before revealing the illness or known cure? Could Cerner sell that cure to another company that in turn markets it back to you for a profit? What about selling it to another with a similar genomic makeup?
Something to think about.
Genevieve Morris Resignation Tweets
Thread: Sharing a copy of the resignation letter (from both VA and ONC) I submitted this morning to Secretaries Azar and Wilkie, so folks have more than half of one sentence. As to future plans, taking a long nap is in my near future. 🙂

— Genevieve Morris (@HITpolicywonk) August 24, 2018