VA OIG: VHA Failed To Adequately Support VA Employees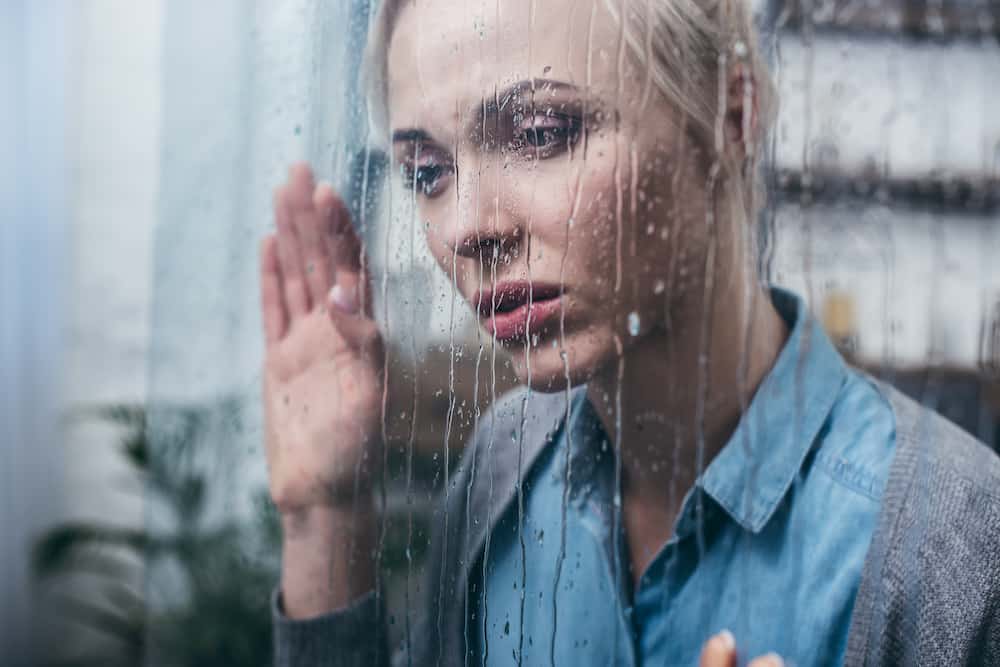 A VA OIG report released this week revealed the agency failed to take appropriate steps to support VA employees serving veterans during the pandemic.
Importantly, IG noted VA employees reported a "perception of inadequate support and responsiveness from leadership." Sometimes perception is reality.
Given testimony from EHR implementation lead Dr. Terry Adirim (former DOD leadership), it appears VA leadership is ready to throw its frontline workers under the bus to avoid stalling the Cerner Millennium EHR rollout despite the system not being ready.
It's just a hunch, maybe even a stretch, but VA leadership appears to be detaching from their prior steadfast connection with frontline employees in subconscious anticipation of a wedge forming. Perhaps the negligence to properly tend to the needs of care for frontline workers during the pandemic is not connected, but I wonder.
Remember, veterans first, except when the contract is over $10 billion.
Then it's Lord of the Flies.
VA OIG Report
This excerpt is the VA OIG report 21-00533-157 executive summary. It is quoted directly, below:
The VA Office of Inspector General (OIG) conducted a review to assess how the Veterans Health Administration (VHA) addressed the emotional well-being of employees during the novel coronavirus disease (COVID-19) pandemic. The OIG also conducted an overview of VHA programs, including what specialized programs, if any, were developed and deployed in response to the unique psychological challenges created by the COVID-19 pandemic for VHA's staff.
Mental health needs generally surge during and after disasters, including pandemics. In March 2020, after declaring COVID-19 a pandemic, the World Health Organization highlighted the importance of maintaining the mental health and emotional well-being of healthcare workers caring for COVID-19 patients.
On March 23, 2020, the VHA Office of Emergency Management issued the initial COVID-19 Response Plan with its four-phase approach and a second, updated version on August 7, 2020. The August 2020 response plan update included language allowing VHA to delegate responsibility to program offices to develop resources for response plan strategies. With that delegated authority, the National Center for Organization Development created and maintained resources for leaders and the VHA Organizational Health Council created and maintained resources for employees and took responsibility for collaboration and coordination of efforts across multiple program offices.
The OIG initiated the review on November 30, 2020, and conducted virtual interviews with VA and VHA leaders in multiple offices. The OIG developed a series of survey questions about VHA guidance regarding employees' emotional well-being during the pandemic, available resources, monitoring of available support programs, and employee engagement with available support programs.
The National Center for Organization Development created a COVID-19 rapid response consultation process for VHA leaders who were in a supervisory role. This rapid response consult provided counseling about leadership skills in a virtual environment, communication, and employee support needs. The Organizational Health Council's VHA Social Work COVID19 Tiger Team coordinated with multiple VHA program offices to create a COVID-19 Employee Support Toolkit and other resources, including a SharePoint website. Additionally, several VHA offices independently created and disseminated employee well-being resources specific to the COVID-19 pandemic, including the National Center for Organization Development, Patient Centered Care & Cultural Transformation, Chaplain Service, and the Office of Mental Health and Suicide Prevention.
Through a survey of selected Veterans Integrated Service Networks, facility, and clinical and non-clinical staff, the OIG identified areas of concern related to employee emotional well-being: mainly a generally diminishing awareness of supports in relation to organizational hierarchy, low utilization of support resources by leadership and frontline employees, as well as employee perception of inadequate support and responsiveness from leadership.
Awareness of Support Resources
Of the individuals who chose to participate in the OIG survey, 81 percent (17 of 21) of Veterans Integrated Service Network respondents, 91 percent (41 of 45) of facility leader respondents, 60 percent (332 of 557) of facility service line leader respondents, 40 percent (1,962 of 4,909) of clinical staff respondents, and 47 percent (1,149 of 2,461) of non-clinical staff respondents reported they were aware of VHA's guidance for efforts to provide emotional support resources for employees (see figure 1).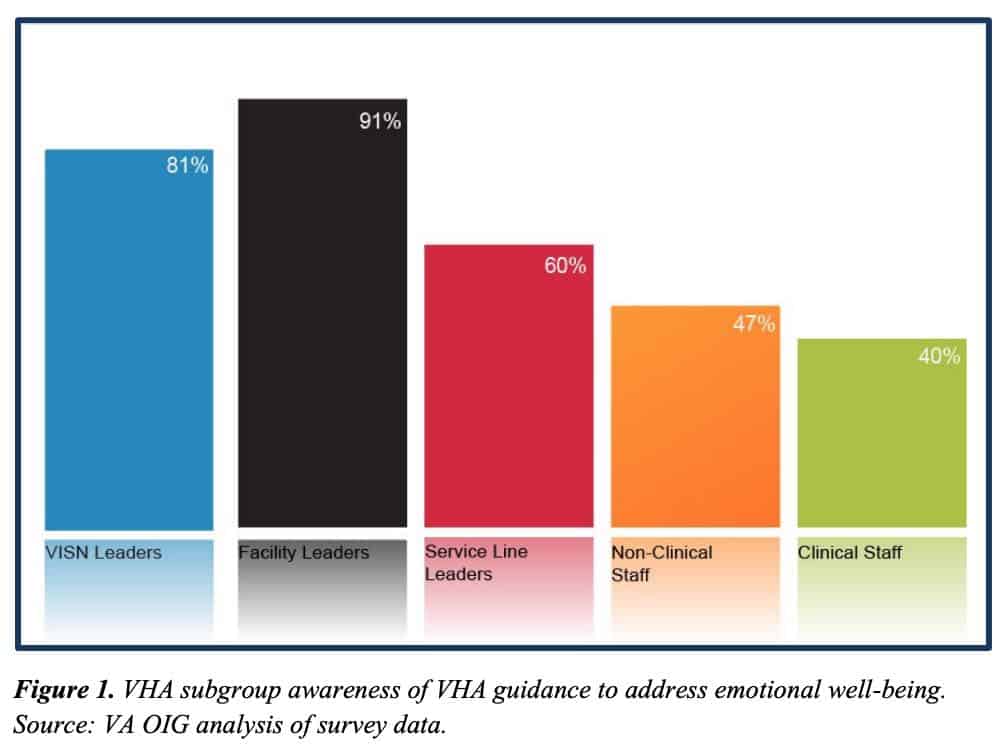 Utilizing Support Resources
Only about one-quarter of frontline staff respondents reported utilizing support resources with personal protective equipment and virtual resources most frequently accessed. The OIG asked survey respondents who had used the support resources, "Have you found your facility, unit, or group's COVID-19 related resources helpful?" Seventy-nine percent of clinical staff respondents and 82 percent of non-clinical staff found the resources they used to be helpful.
Emotional Support Adequacy
Thirty-eight percent of clinical staff respondents and 31 percent of non-clinical staff respondents said their leaders were not responsive. Additionally, 51 percent of clinical staff respondents and 41 percent of non-clinical staff respondents expressed that they did not feel adequately emotionally supported during the pandemic.
The OIG concluded that greater leaders' and employees' awareness and encouragement could lead to increased utilization of resources, a better sense of facility support for employees experiencing distress, and improved organizational resilience.
The OIG made one recommendation to the Under Secretary for Health to review the processes by which COVID-19 emotional well-being resources were developed and disseminated and to take action as needed to increase and ensure Veterans Integrated Service Networks and facility leadership as well as facility staff's awareness of available resources about the potential risks and signs of burnout.
VA Comments and OIG Response
The Deputy Under Secretary for Health, performing the delegable duties of the Under Secretary for Health, concurred with the findings and recommendations and provided an acceptable action plan. See Appendix E, pages 32–33, for the Deputy Under Secretary's comments and pages 34– 35 for the action plan. The OIG will follow up on the planned actions until they are completed.
Source: https://www.va.gov/oig/publications/report-summary.asp?id=5136