Public Affairs Duo John Ullyot, Curt Cashour In On VA Coup Insiders Say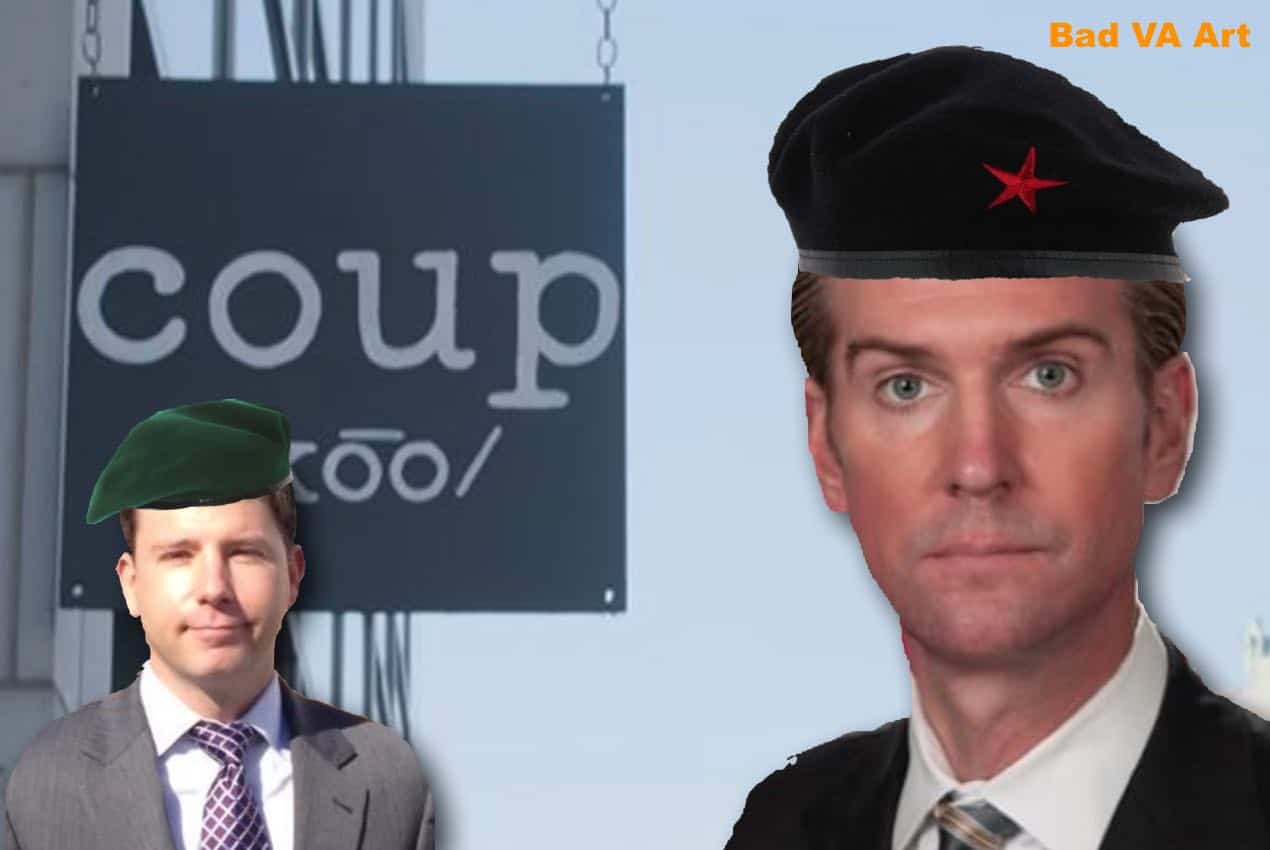 USA Today just published a story sourcing two insiders who indicate the highest public affairs officials in the Department of Veterans Affairs, John Ullyot and Curt Cashour, colluded to oust Secretary Shulkin.
Now, I said this last week specifically focusing on Cashour but also highlighting how unusual it was that his boss Ullyot threw Shulkin under the bus and allowed Cashour to divert communications to the White House. However, it is always nice to see my reports verified by USA Today a few days later.
RELATED: Purge – Will Curt Cashour Be Fired For Subversion?
The attempted ouster allegedly happened the day after the IG report was published into the Secretary's wrongdoing involving taking his wife on a business trip vacation at taxpayer expense. The trip cost taxpayers $120,000, and Shulkin reportedly reimbursed taxpayers for the mistaken use of taxpayer monies to fund his wife's portion of the trip.
In the investigation, John Ullyot, assistant VA secretary for public and intergovernmental affairs, made statements implying Secretary Shulkin intentionally misled the press in a public statement made concerning the vacation.
The day of the release, VA press secretary Curt Cashour allegedly cut off the Secretary's access to the press and even removed a comment from the Secretary on a public website.
RELATED: VA Chief Of Staff Steps Down Amid Coup
Coup Against Secretary Shulkin
The day after IG published its report, Shulkin alleged someone inside VA engaged in hacking of an email to mislead leadership in the investigation. There presently is no evidence of wrongdoing related to the email, and the then chief of staff responsible processing the trip resigned her post and retired.
Insiders say Cashour and Ullyot participated in a call slamming Shulkin and seeking support from an aide on the House Committee on Veterans Affairs to force Shulkin's resignation.
The duo issued a joint statement denying the statements were made but acknowledging the call, "That simply never happened, and the allegation is ridiculous."
Cashour and Ullyot maintained the purpose of the call was to inform the aide that "we had no evidence of email hacking."
"Our message was simple: be careful on advancing the hacking allegations publicly, as they were thus far baseless," Cashour and Ullyot said in their statement. "The purpose of the call was to protect the secretary, the department and members of the committee from continuing to give credence to allegations that may later be disproven."
RELATED: Trump Administration To Replace Thomas Murphy, Finally
How Are They Still Employed?
Just the fact that these two are still talking publicly after what they did engage in, throwing the Secretary under the bus, seems ill-advised. It almost shows the brazen disregard for normative standards and respect for your boss at a high level.
Let's not forget Public Affairs is supposed to defend the agency and the secretary to the public and Congress, not throw him under the bus.
Who Is Curt Cashour?
Cashour formerly worked as the House Committee on Veterans Affairs as communications director. Before that, he worked for Revolution Agency and in public affairs for the US Army. Cashour received his bachelor's degree from Ohio University.
Who Is John Ullyot?
Ullyot, prior to being selected as assistant secretary, served in the Marines for four years as an intelligence officer following graduation from Harvard. Curiously, before Harvard, Ullyot studied at the Pushkin State Russian Language Institute. And before that, he studied at Deerfield Academy, a prestigious boarding school on the East Coast.
Here is a full list of his employers via LinkedIn (every position is related to public relations):
Trump Campaign
Brighton Strategy Group
High Lantern Group
Hill+Knowlton Strategies
US Senate Veterans Affairs Committee
AOL
Intel
Marine Corps – Intelligence
Here is his education via LinkedIn:
Harvard University
Pushkin State Russian Language Institute
Deerfield Academy
Now, I wrote the following last spring, and it would seem my prediction was correct:
One thing is for sure, Ullyot has worked in public relations and messaging for many, many years, and is well connected in DC. My guess is you can count on messaging from the agency being tightened up. Having a spinster serve under Shulkin may be a sign that Trump intends to redirect messaging in some way.
Messaging at VA has been controlled covertly and overtly by the White House. Cashour reportedly removed Shulkin's messages to the public following instruction from Trump's team to divert communications.
Last Words
This is another development of the alleged subversion Shulkin declared following the release of the IG report. Infighting within the agency now seems obvious and continued infighting reflects Shulkin's lack of support from the White House.
RELATED: Tone Deaf DAV Recognizes Thomas Murphy For "Outstanding" Advocacy
If Shulkin truly had the support he claims, Ullyot and Cashour would be on the unemployment line, not still barking about their failed ouster attempt.
So what's the play at this point? We all know what Shulkin did lacked total common sense regardless of what anyone told him. But, trying to undermine your boss in such an overt manner cannot be good for anyone's future or present job prospects.
Regardless of what President Trump thinks about Shulkin, it is truly poor form to not back your Secretary. Either fire Shulkin or let him get back to work running VA by first firing those who subverted his leadership authority.
Source: https://www.usatoday.com/story/news/politics/2018/02/28/va-secretary-david-shulkins-top-pr-aide-lobbied-congress-get-him-fired-sources-say/380726002/