VA OIG Finally Issues Report On Traumatic Brain Injury (TBI) Disability Scandal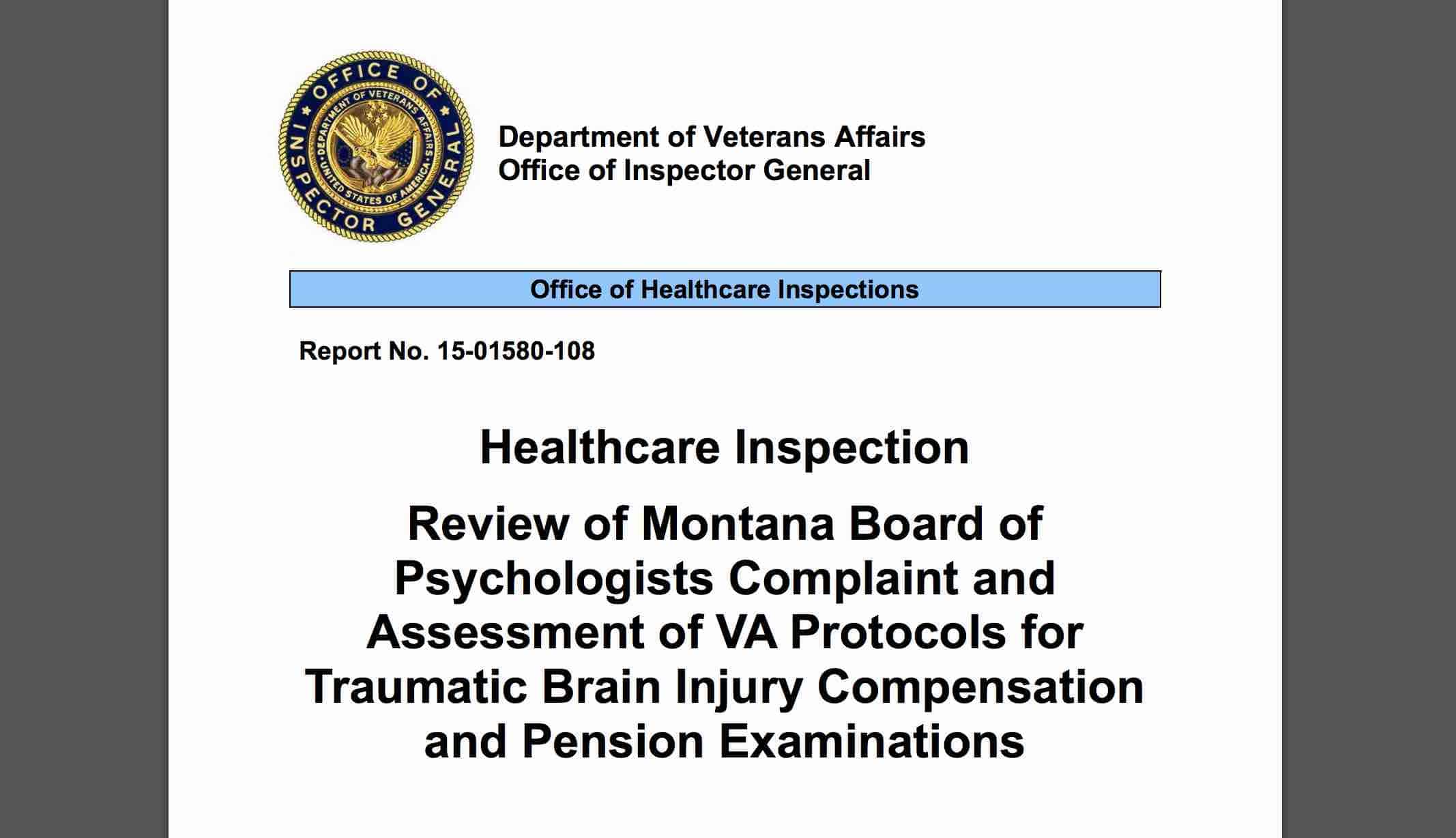 After three years, VA OIG finally issued its report into the traumatic brain injury (TBI) scandal where VA used unqualified doctors to perform exams.
As some of you may recall, since 2015, I began working closely with KARE 11 News reporter AJ Lagoe to investigate how VA conducts its disability compensations assessments for the initial TBI diagnosis and TBI residuals. The investigation resulted in VA admitting it used unqualified doctors or clinicians in exams of almost 25,000 veterans since 2007.
The Charles Gatlin TBI Residuals Story
The report curiously addressed two issues at once. The first is the well-known case of Charles Gatlin where a VA psychologist erred when using an RBANS to assess the extent of his executive functioning from TBI residuals, an assessment type RBANS is not able to evaluate.
The error resulted in Gatlin's rating being reduced and the state of Montana penalizing the psychologist for the error. The psychologist can no longer perform TBI exams under his Montana license.
RELATED: VA Is Screwing TBI Veterans – Fight Back With This
TBI Diagnosis And TBI Residuals
The second part of the report addresses the finding that VA used unqualified doctors and clinicians to conduct TBI examinations. The report limits itself to 2015, which in itself is a curious selection.
The findings included that training was insufficient for clinicians who lack training on TBI assessments and residuals. It also concluded documentation provided by clinicians doing the exams. And, the manner Veterans Benefits Administration interprets the clinical findings of the exams is inadequate to appropriately compensate veterans.
That is basically the gist of it to this point. I plan to write more in a week or so once I have more time to digest the material.
Use The IG Report As Evidence
But, based on what I read here, I suggest all veterans fighting for a fair rating to submit this report as evidence against the presumption of regularity that your exam was conducted by a clinician who was not adequately trained.
My Own Story With TBI Residuals
For those of you who do not know, I am a TBI survivor with a 70 percent rating from the agency for my residuals of TBI.
I had to fight for years to get that rating, and I am now still fighting for the effective date. All in, we are looking at 17 years of pushback.
I first submitted evidence related to the TBI that was ignored by the agency.
Six years later, I resubmitted the same ignored evidence and received a rating for residuals of TBI of 10 percent. That rating disregarded a VA MRI showing gliosis and causation of certain symptoms.
I appealed, and one year later received a 40 percent rating. The backpay I received from that rating went to purchase the URL disabledveterans.org for $1,300. That was 2010.
Something about the rating did not make sense, so I started investigating how the agency interprets TBI residuals for disability compensation purposes. I also appealed the decision.
A few years later, I received a 70 percent rating after learning more about the condition and finding a neuropsychiatrist willing to evaluate my medical history and vocational rehabilitation history.
And now, a few years after that, I am still fighting for the effective date back to when I presented the agency with evidence about the head injury that caused the gliosis.
I took all the information I pulled from the agency using multiple FOIAs to create a database for veterans to help fight for fair ratings of their TBI residuals.
That information was also quite helpful in exposing the scandal through KARE 11 with AJ Lagoe, who was invaluable in linking my research to the national scandal he exposed.
And now, here we are, 17 years after my initial claim for benefits with a significant VA OIG finding that VA is poorly treating veterans suffering from TBI, the signature wound of our most recent conflicts.
VA essentially paid for this website. And, the agency also paid for my training to become an attorney and the law firm equipment I use to help veterans like you sue VA.
Talk about biting the hand that feeds you, right?
How long do you think it will take for VA to clean it up so veterans are treated fairly? Without the pressure from KARE 11, do you think Congress would have lifted a finger to pressure VA OIG to investigate?
What about the fixation on 2015? Why did IG stop short of investigating the entire period, 2007 to 2015?
Probably because the underlying numbers are very unfavorable to the agency, and, as you will see from the appendix of this report, IG is not truly independent but more of a CYA tool for the agency's long-term mission to keep the money flowing in without holding specific VA official responsible for failing to treat veterans fairly.
If you are like me, plodding along for justice one day at a time, you will know better than to hold your breath.