Senate About To Vote On Anti-Privacy VA Dep Sec Nominee, Call ASAP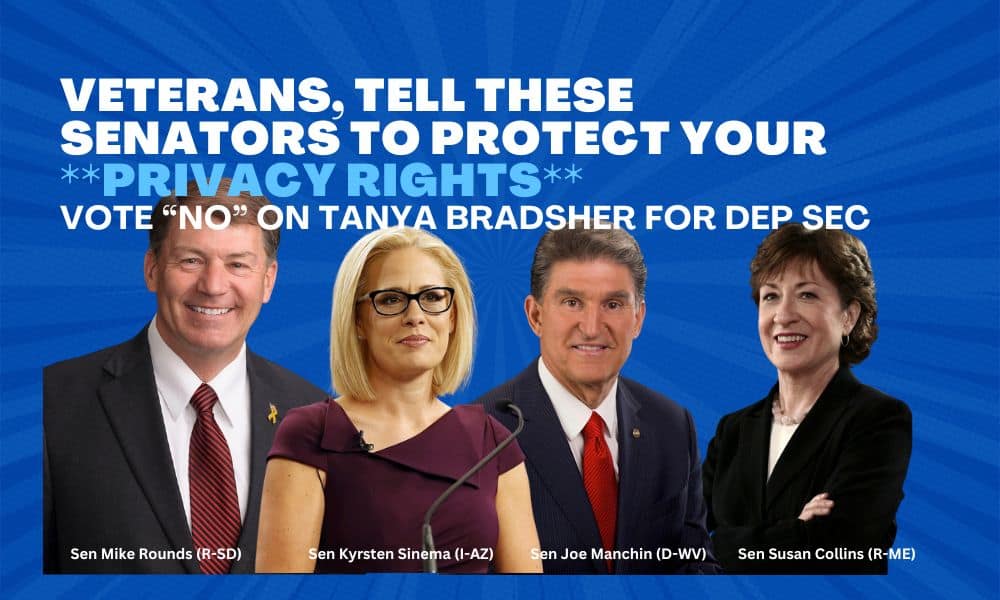 Yesterday, the Senate majority voted to bring the vote on VA Dep Sec nominee Tanya Bradsher to the floor for a full Senate vote today. The debate on the floor started at 10:00 am EDT, and the vote is scheduled to start at 11:30 am EDT.
Senator Robert Menendez (D-NJ) was the only Democrat to cross party lines to vote "No" on the nomination likely after learning that Bradsher and VA misled and obfuscated answers to questions about a massive privacy breach within VA that was investigated under Bradsher.
Senators Mike Rounds (R-SD), Susan Collins (R-ME), Kyrsten Sinema (I-AZ), Joe Manchin (D-WV) all voted "Yes" on the cloture vote to support the floor vote today despite mounting evidence suggesting Tanya Bradsher is the wrong person for the job.
This vote is significant for some who would like to support a woman being confirmed as the first confirmed female to serve as the VA Deputy Secretary. Reporter Leo Shane of Military Times wrote on this extensively last summer prior to information surfacing about Bradsher's malfeasance in managing what is now called the VIEWS scandal.
Do your part. If you are concerned about your privacy as a veteran, I have provided the phone numbers to the offices of these four senators below in addition to my livesteam last night and Senator Grassley's press release explaining why Bradsher is wrong for the job.
If you think Bradsher is great for the job, please also call these senators to let them know how you feel.
Either way, do something:
Mike Rounds (202) 224-5842, (605) 224-1450, (605) 343-5035, (605) 225-0366
Joe Manchin 202-224-3954, 304-342-5855, 304-368-0567, 304-264-4626
Susan Collins (202) 224-2523, (207) 622-8414, (207) 945-0417, (207) 283-1101
Sinema (202) 224-4521, (602) 598-7327, (520) 639-7080
WATCH: Senate Floor Debate On VA Dep Sec Nominee Tanya Bradsher
Krause On Bradsher Nomination, Final 9/12 Vote
Grassley Urges Senate to Vote 'No' on Nominee for Deputy Secretary of the VA
Statement for the Record by Senator Chuck Grassley of Iowa
On Opposing Ms. Tanya Bradsher to be Deputy Secretary at the U.S. Department of Veterans Affairs
Thursday, September 7, 2023
Source: https://www.grassley.senate.gov/news/remarks/grassley-urges-senate-to-vote-no-on-nominee-for-deputy-secretary-of-the-va
I've just learned that the Majority Leader has filed for cloture on the nomination of Ms. Tanya Bradsher to be Deputy Secretary at the Department of Veterans Affairs. In addition to my remarks on the Senate floor on July 18, I'd like to provide more context to my decision to oppose her nomination, especially in light of new information that has come to my attention.
Ms. Bradsher, if confirmed, would be second in command at a deeply-troubled agency. Both the VA and Ms. Bradsher in her current role as chief of staff have shown repeated indifference to congressional oversight. Records show that she played a key role in the VA's deficient response to my investigation of VA corruption that I launched in 2021. Another of my investigations has revealed that she also failed to secure sensitive veterans' health information, PII, and whistleblower information in the VA's correspondence system, VA Integrated Enterprise Workflow Solution, also called VIEWS, which is under her direct authority. My oversight has shown that VIEWS exposes veterans' private and sensitive information to thousands of VA employees, only a small number of whom are authorized to see it. The VA and Ms. Bradsher provided misleading information about that as well, which I will discuss here.
If confirmed, Ms. Bradsher would be in charge of the VA's effort to modernize veterans' electronic health records. This involves the healthcare records of millions of veterans, which obviously contain huge amounts of sensitive information. Ms. Bradsher's failures on privacy issues as chief of staff and her lack of transparency to the Veterans Affairs Committee show that we can't trust her to secure this sensitive information or to take the lead and address agency failures, of which VA has many.
As part of Ms. Bradsher's Committee proceedings, she responded to questions for the record about veterans' medical records stored in the VIEWS correspondence system at the VA. Ms. Bradsher provided misleading and often contradictory answers to senators' questions. When asked about veterans' medical records exposed in VIEWS, she responded that the VIEWS system doesn't "handle" medical records. This was deeply misleading, as my staff had already verified that sensitive medical records are stored in VIEWS, and often exposed improperly for thousands of VA employees to see. Ranking Member Moran, unconvinced, pressed her about her answer. She then admitted that these health records are indeed stored in VIEWS as part of VA correspondence. Either she didn't know this on the first round of questions or she intentionally misled the Committee. Both of these are disqualifying for a nominee to this position.
And Ms. Bradsher's remaining answers were no better. When asked whether she knew anyone who may have been harassed, doxed, or who may have had any negative consequences from their information being exposed in VIEWS, she answered that she didn't. That's astonishing given the fact that one of the internal whistleblowers approached her office just last year complaining of exactly that. This whistleblower told Ms. Bradsher's deputy that she'd been harassed, and feared for her safety. Both I and members of the Committee had reminded Ms. Bradsher of that correspondence before she answered. Yet she apparently hadn't even bothered to review it before answering questions. She also repeatedly dodged responsibility for her failures and provided no plan at all to secure veterans' and whistleblower PII already exposed in VIEWS. We shouldn't reward a nominee and the VA for their inattention, neglect, and lack of candor.
When whistleblowers last year informed the Office of Special Counsel (OSC) about these VIEWS privacy flaws, OSC found a "substantial likelihood of wrongdoing" related to potential violation of federal privacy laws. On August 2, 2022, OSC directed VA to investigate and report back within 60 days. The VA, however, continued to ask for extensions, which led to the report being released only recently, during the August recess.
That report should stop this nomination in its tracks. It reveals that even as Ms. Bradsher and the VA attempted to deny and downplay the serious matters I brought to the attention of the Senate Veterans Affairs Committee, the VA had already determined internally that these allegations were true. And not only are they true, but the VA's internal report shows they were even worse than I thought. The VA now admits that more than a hundred more employees have improper access to sensitive data in the VIEWS system than they originally represented. And the report revealed that the VA knew since at least July 2019 that these data privacy issues existed for "a massive number of cases [in VIEWS] that were improperly marked 'not sensitive,'" a full three years before whistleblowers reached out to Ms. Bradsher's office last July. This was therefore a known issue when Ms. Bradsher took office. Not once did Ms. Bradsher in responding to members of the Senate Veterans Affairs Committee even bother to mention these significant facts, nor apparently did she lift a finger to take care of these issues in the sixteen months she was in office before the whistleblowers spoke out to her deputy last year.
The VA's report further calls Ms. Bradsher's candor into question. It seems to directly contradict Ms. Bradsher's answers to questions for the record in her Committee proceedings. For example, in response to Senator Blackburn, Ms. Bradsher claimed that, "the VIEWS system has controls in place to protect personal and sensitive information … system access is logged. Audits also are done to make sure information on the VIEWS system is accessed appropriately." Yet the VA's report to OSC specifically noted regarding VIEWS that, "there is no program of auditing or detection in place . . . to log when a user views whistleblower identities and sensitive personal information without authority." It looks like Ms. Bradsher has some explaining to do.
Democrats on the Committee likewise failed in their duty to get to the truth of this matter. They didn't accept the whistleblowers' offer to speak with them and answer questions about the allegations they raised with Ms. Bradsher's office and reported to OSC. Given the VA's record on whistleblower retaliation, those brave folks risked their jobs and livelihoods to come forward. But there was one job the Committee wasn't willing to risk: Ms. Bradsher's promotion to Deputy Secretary. Rather than exercising its solemn constitutional duty to properly vet a presidential nominee, the Committee's majority instead took the VA's word on the matter and voted the nominee out without duly investigating, days before a report that ended up providing highly-relevant information about the VA's data privacy failures on her watch. The full Senate shouldn't make an even worse mistake by confirming the nominee after the VA's report verified the allegations I brought to this body's attention.
Even before Ms. Bradsher's Committee hearing was held, the VA had already admitted to OSC that the VIEWS allegations raised by whistleblowers to Ms. Bradsher's office last year were true. It's not all in our imagination, as VA tried to mislead the U.S. Senate into thinking. The VA admitted as much in its own letter to OSC on May 26 of this year, before Ms. Bradsher's VA Committee hearing, stating that the VA's OSC-ordered investigation at the outset of its investigation had already "fully substantiated" allegations whistleblowers raised that, "VA officials are violating the Privacy Act of 1974 and the provisions of VA Directive 6502 and VA Handbook 6500 by improperly storing the personally identifiable information of whistleblowers, employees, and veterans in the Veterans Affairs Integrated Enterprise Workflow Solution (VIEWS) system of records because such sensitive information is not marked as sensitive and is therefore accessible to all VA employees that have access to VIEWS." In other words, VA admitted that it violated federal privacy laws related to VIEWS by not securing sensitive data, but Ms. Bradsher withheld this key fact from the Committee when questioned, and the VA insinuated otherwise in its last-minute misleading memo circulated by the Committee majority on the eve of her Committee rubber stamp.
Despite their legal obligation to be candid with Congress and not to omit material facts from their statements to this body, this deeply-misleading memo to members of the Senate Veterans Affairs Committee right before their vote on Ms. Bradsher failed to even address the VA's preliminary findings, and it misled the Committee by minimizing data security issues in VIEWS. The VA memo claimed that, "[the Committee minority staff's conclusion] that thousands of VIEWS files are not being properly treated as sensitive is misguided." The VA's report, however, specifically stated that, "[c]onsidering that over 200,000 [VIEWS] cases were created over the past three calendar years alone, and the rate at which the presence of sensitive personal information can be found in cases, the 'Not Sensitive' cases containing sensitive personal information before remediation actions were implemented is easily estimated to have been in the multi-thousands at the time the whistleblowers came forward with the allegations."

The memo also implied that a search of VIEWS conducted by the Committee's Republican staff as part of their investigation, which turned up "countless" records responsive to the term "whistleblower," didn't "show that files with the names of whistleblowers were not treated as sensitive," again ignoring the fact that they had already confirmed to OSC that VIEWS files did expose the personally identifiable information of whistleblowers. The VA report, dated July 21, notes that even at that time, two weeks after the minority's search, key whistleblower terms when searched still returned, "cases and files containing significant whistleblower identification and sensitive personal information," although to a "significantly lesser degree" than before. This contradicts the VA's implication in its misleading memo before Ms. Bradsher's Committee vote that private whistleblower information did not come up at all when searched for.
Accordingly, the VA's memo to the Committee in advance of the Bradsher vote was not only misleading, but it's also arguably obstructive conduct meant to deceive and frustrate the Congress from knowing the full set of facts in this matter. Such conduct is indefensible. But the Democrat majority blindly and irresponsibly accepted it.
Moreover, these more significant changes that the VA points to in the VIEWS system were made at the eleventh hour, only in response to significant Senate attention and public criticism. The VA's report noted that, "changes applied to VIEWS CCM in July 2023 significantly reduced the accessibility of whistleblower identities and sensitive personal information contained in archived and active cases." Note carefully, July of this year, well after Ms. Bradsher's Committee hearing! That they've made changes years after finding out about the problem and only after having their nominee embarrassed in a very public way illustrates problems of honesty and transparency that are illustrations of deeper systemic problems in the VA and its present culture of cover-up.
And that's just the tip of the iceberg with this nominee and this agency. Ms. Bradsher has failed to accept responsibility for her demonstrated failure to secure veterans' private data and attempted to deflect her responsibility by pointing to the OSC-ordered investigation. She has never explained why she would need to wait for that investigation to be complete, a full year, before complying with federal privacy laws and securing any veterans' data she could as soon as possible. She likewise has never explained why she did nothing in the year-and-a-half before whistleblowers approached her office, despite the VA being aware of veterans' personal data being unlawfully exposed. As I said in my floor speech on July 18, this obfuscation is yet another sign that Ms. Bradsher is a "business as usual" nominee for the VA. Our veterans deserve better.
Now to the other objection I have to this nomination. Ms. Bradsher also played a key role in the VA's stonewalling of my investigation into VA corruption. Documents obtained through the Freedom of Information Act (FOIA) by third parties show that Ms. Bradsher helped lead the VA's response to my inquiry launched in April 2021 into the conflicts of interest of a senior VA official, Ms. Charmain Bogue. Under Ms. Bradsher's leadership, the VA waited nearly nine months and until I had sent four letters demanding a response, before even answering. Even then, in late December 2021, it refused to answer any of my questions, citing Inspector General Missal's ongoing investigation.
Well that investigation ended early last year. The VA still hasn't answered those questions, despite repeated requests. Congress has a right and constitutional responsibility to independently investigate to determine how these conflicts were allowed to exist and why the VA berated the internal whistleblower who brought it to the agency's attention rather than providing praise for exposing government wrongdoing. This is especially important given the fact that the Inspector General didn't have the chance to finish his investigation due to Ms. Bogue's resignation from VA so she didn't have to cooperate and provide answers that may have implicated her in a criminal conflict of interest.
I have inquired about other issues as well in this ongoing and largely one-sided correspondence with VA. This includes whistleblower retaliation, potential failure to secure information about a publicly-traded company that may have enabled insider trading, and, most recently, allegations of contract irregularities, with senior officials who resigned under ethical cloud receiving tens of millions of dollars in lucrative VA contracts. The VA has failed to answer dozens of questions on these matters, and they'll be in hot water with this senator from Iowa until they do.
I will oppose this nominee due to the well-documented stiff-arm she has given Congress, her failure to protect sensitive veteran information, and her penchant for providing misleading information to the Senate. I urge the Senate to reject this nomination not only because of the nominee's clear inability to get the job done the right way, but to also send a message to the VA that it must put veterans first.