Remember Candyland? DAV Gives Tammy Baldwin Award 'Combatting The Opioid Epidemic' After Allowing It To Fester In Her Own Backyard At Tomah VA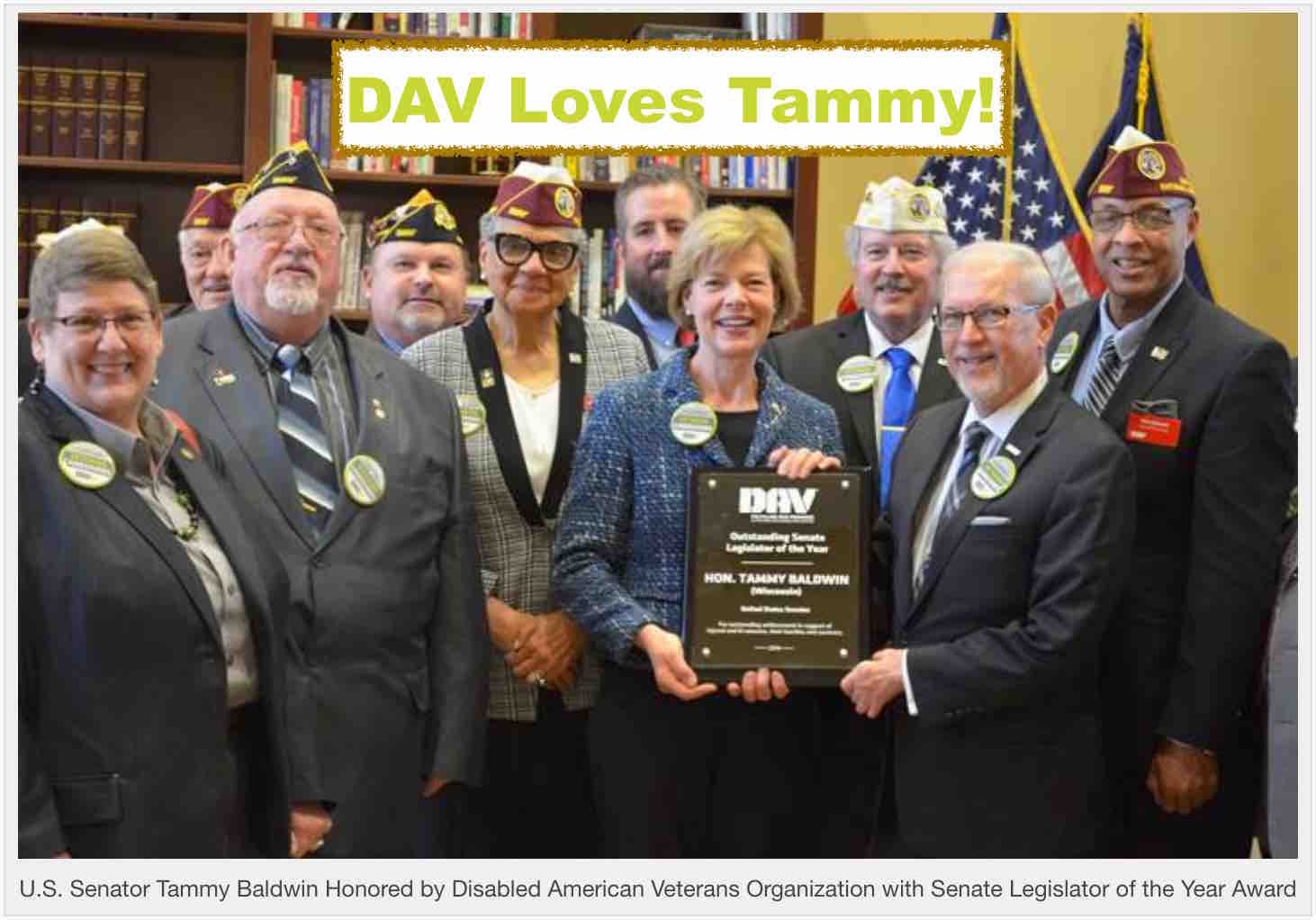 DAV is helping Tammy Baldwin rewrite history by awarding her for cleaning up the opioid crisis after her team sat on reports of massive opioid abuse at Tomah VA.
They apparently forgot she sat on an IG investigation of Tomah VA that verified dangerous acts by clinicians leading up to the opioid crisis where veterans died.
Senator Tammy Baldwin (D-Wi) received the "Outstanding Senate Legislator of the Year" from Disabled American Veterans (DAV) on Sunday for her work "combatting the opioid epidemic with a commitment to ensuring ill and injured veterans have personalized care and safe alternatives for pain management."
That all sounds great so long as you forget recent history leading up to the opioid crisis that developed in her backyard.
RELATED: Tomah VA Psychiatrist 'Doped-Up' Veterans
Remember Tammy Baldwin Role At Candyland (Tomah VA)
In 2014, Sen. Baldwin was accused of sitting on an OIG report exposing massive opioid problems at Tomah VA, which then became the center of all things wrong with VA and its overuse of heavy narcotic cocktails to pacify veterans with PTSD. The crisis resulted in a DEA scandal and blowback against Sen. Baldwin for failing to take reasonable action in time to protect veterans from addiction and death.
DAV is now helping Sen. Baldwin rebrand for her upcoming campaign in the midterm elections as being an "outstanding veterans' advocate", at least in the eyes of the irrelevant dinosaur VSO organization called DAV.
RELATED: VA Pays Dead Marine's Family $2.3 Million For Tomah VA Opioid Scandal-linked Death
Now, in case you have forgotten what happened back then, here is a refresher:
Sen. Tammy Baldwin's office received an inspection report last summer detailing high amounts of opiates prescribed at the Veterans Affairs Medical Center in Tomah, but there is no indication her office took action on the findings until last week, when she called for an investigation after a news report revealed a veteran died from an overdose at the facility.
The report by the VA inspector general, a copy of which was obtained by USA TODAY, noted that two practitioners at the center were among the highest prescribers of opiates in a multistate region — at "considerable variance" compared with most opioid prescribers. That, the report said, raised "potentially serious concerns."
A whistleblower who learned in November that Baldwin had had a copy for months and hadn't acted, repeatedly emailed her office asking that she do something to help the veterans at the center, according to copies of the emails obtained by USA TODAY.
In them the whistleblower — former Tomah VA employee Ryan Honl — asked that Baldwin call for an investigation, that she push colleagues on the Veterans Affairs committee to take action, and that she help bring the issues in the report to public attention. The report had not been made public, but Baldwin's office received a copy in August…
Honl, a Gulf War vet and West Point graduate who left the Tomah facility in October, said in an interview Monday he believes Baldwin's inaction after receiving the report is a "travesty."
RELATED: Tomah VA 'Candyman' Surrenders Medical License
That seems pretty bad, right? How about this:
Baldwin's office declined to explain what she did between receiving the report in August and last week, when she called for an investigation after the Center for Investigative Reporting published details of the inspection report outlining opiate prescription amounts at the center and recounting the overdose death in August of a 35-year-old Marine Corps veteran while he was an inpatient.
The answer is probably "Nothing. She did absolutely nothing."
As a result of the illegal prescriptive practices at Tomah VA, that ultimately became known as Candyland, individuals died. Others became addicted.
VA swiftly responded to the crisis once the cover-up was obviously uncoverable by removing veterans from their opioid prescriptions without following appropriate prescriptive guidelines. The act resulted in many veterans seeking out street drugs like heroin to combat their pain.
Now, before you send another check to Disabled American Veterans, you need to ask whether you agree without the organization is endorsing lawmakers for "outstanding veterans' advocacy" despite failing to act on clear evidence of wrongdoing that endangered the lives of the same disabled veterans who are members of DAV.
Source: https://urbanmilwaukee.com/pressrelease/u-s-senator-tammy-baldwin-honored-by-disabled-american-veterans-organization-with-senate-legislator-of-the-year-award/