VA Employees Threatened To Sign Deering Petition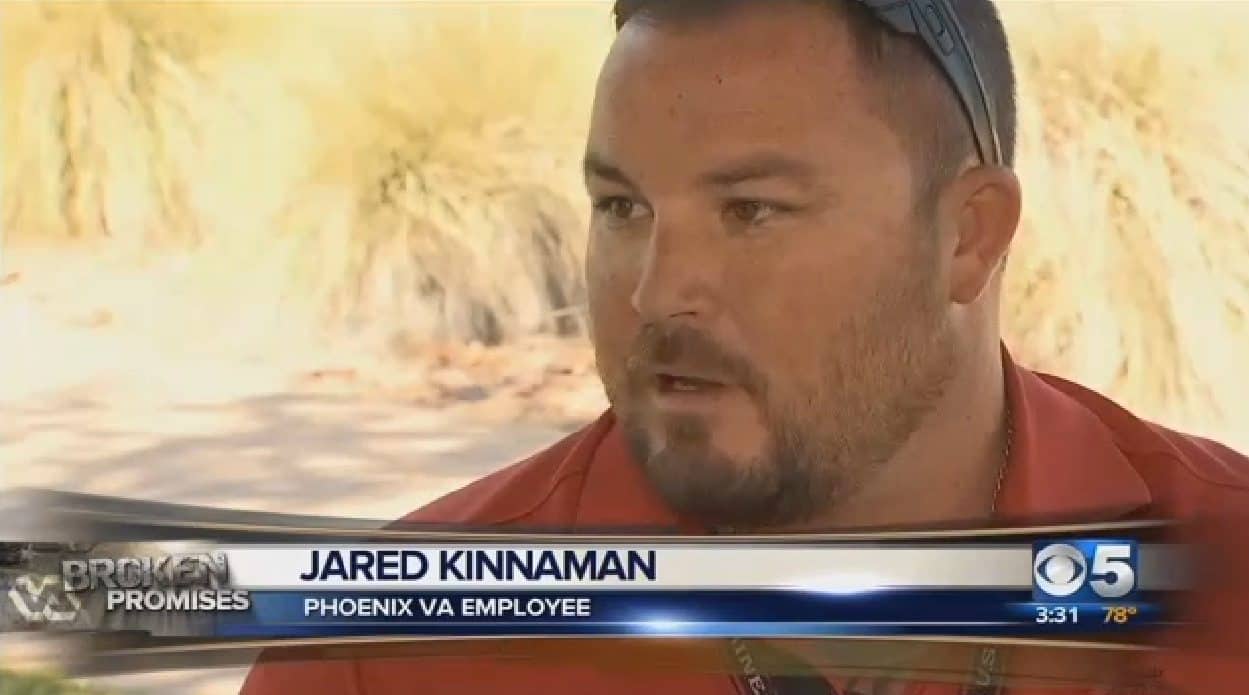 VA employees say they were threatened into signing the Dr. Darren Deering petition to VA leadership. The petition supports keeping Deering despite his role in the wait list.
Whistleblower Jared Kinnaman, a vocational counselor, came forward about the unethical practice to support a Phoenix VA insider, "It's an absolute shocker that that would happen within our system. I can't believe that they would allow that to happen."
RELATED: About Dr. Darren Deering Petition
What Kinnaman is talking about was the petition pushed by Chief of Social Work David Jacobson. "I've had a couple of employees come up to me and say that they felt threatened by the petitions," he said.
Jacobson sent an email to other employees pushing signing of the petition supporting Dr. Deering that essentially thumbs its nose at VA leadership's decision to remove the doctor. VA leadership said it needed Deering gone in order to move past the criminal wait list that was uncovered at its facility in 2014. Dr. Deering stood by former facility director Sharon Helman when the duo told the American public that nothing was going on.
Some veteran signed the petition with the name they think it deserves and commented on it. For example, my favorite was "Youmust B. Shittingme". Luckily, the note from Jacobson included his contact information including his cell in case people wanted to reach out to him about the petition. (see below for cell)
COMMENT ON IT: Dr. Darren Deering Petition
DEERING PETITION – DAVID JACOBSON EMAIL
Jacobson wrote:
"I am considering sending an email to Deputy Secretary Sloan Gibson to express my support for Dr. Deering. I have not drafted one yet and feedback would be appreciated for the wording or any comments you think should be included such as examples of how he supported you. I would like to word it in a way that is positive and shows our support for him. Those of you who would be comfortable adding your name to it, please let me know and I will include you in my email. I will send a draft to those interested in being included before sending so that you would know exactly what is being expressed."
SEE IT: Full Petition Email From David Jacobson
Other leadership at the facility called Deering their "rock" at the facility. He is credited with holding the facility together during the period of the scandal and its subsequent refusal to adopt new accountability methods.
Is Dr. Deering the kind of "rock" you want at your VA?
There is a silver lining here. I am concerned that Phoenix VA executives are willfully ignorant about what veterans want in Phoenix. They seem in complete denial.
You see, I am concerned that Phoenix VA executives are willfully ignorant about what veterans want in Phoenix. They seem in complete denial.
So I want you to have an opportunity to call Jacobson directly to let him know what you think about his petition and the attached email.
Here is David Jacobson's contact information. I am sure he would appreciate knowing what you think about the petition:
David Jacobson, LCSW
Chief of Social Work
Integrated Ethics Program Officer
Phoenix VA Health Care System
(602) 277-5551 ext. 7680
Cell 480-399-4796
Fax: (602) 222-2654
Do you think Deering should keep his job?
Jacobson would love to hear from you. To give some context, Jacobson is the head of the social work department that let suicidal veterans walk out of the facility without care. He is also linked to the harassment and attempted termination of whistleblower Brandon Coleman.
Sound like the kind of leader we should support? Do you think his petition supporting Deering and his subsequent endorsement is something you have an opinion about?
Give Jacobson a call to let him know what you think about the Darren Deering petition.
Source: https://www.tucsonnewsnow.com/story/31561842/va-employees-being-threatened-to-sign-petition-in-support-of-embattled-doctor